Cuban food has come to Johnstown, thanks to Tico Ortega.
The restaurant owner of Ortega's Cuban Café, located in Moxham, has a menu that's a meat-lovers' delight.
Ortega says at different times, the traditional Cuban and the Reuben Cuban sandwiches trade places as the top-selling sandwich. But currently, "It's the pork sandwich."
Cuban food is not hot or spicy, he says, describing it as "flavorful."    
For customers new to Cuban food, Ortega recommends the pork sandwich. Then black beans and rice. From there, he encourages Cuban food newbies to work their way through the menu.
If ordering a Cuban hamburger, don't expect it to resemble the American hamburger.
"A hamburger is usually greasy. The meat is sandwiched between a round hamburger bun and served with a side a fries. With the Cuban, the meat is marinated. There is no round bun. It's pressed bread and a side of coleslaw," Ortega says.
Regardless of the sandwich, the portions are large.
While meat is the primary stable of his business, Ortega is a 20-year vegetarian.
He admits he does not taste the food, but he has test-tasters. Ortega says he has 10 different people sample the dishes. "If the food does not get 10 out of 10, it doesn't go on the menu," he says.
Ortega says he often hears customers say, "This food is good, I can't believe you're a vegetarian."
Ortega says he ran vegetarian options at the restaurant for a week, but it was not a popular seller. He says he is happy to cater to the few vegetarians who come to Cuban Café.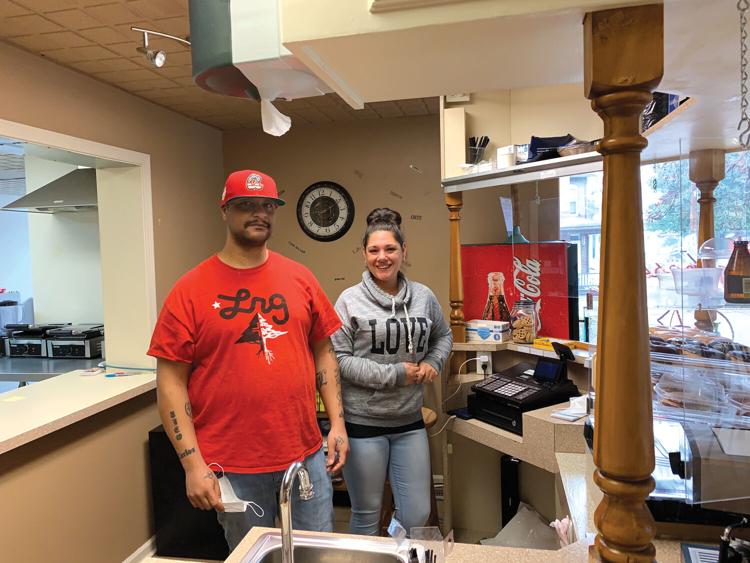 Cooking on his own is how the Johnstown native learned people's food preferences. Giving his followers the taste of Cuba is credited to his father, Alberto Ortega.
"My father is from Havana, Cuba. I grew-up on Cuban food. Growing up, my father was the cook," Ortega says.
Running a family-owned restaurant, Ortega and his wife, Brittany, decided the café décor would be of family. On the café wall are photos of his mother (raised in America) and his grandmother. There also is a black-and-white picture of a young man wearing a Panama-style hat. It's a photo of 18-year-old Alberto Ortega, taken in Havana.
Alberto not only gave his son a love for cooking, but also gave him some cooking advice.
"When I decided to open a restaurant, my father told me to stick to the basics, but put my own twist on it," Ortega says.
Knowing variety is a must, his empandas deliver with various flavors. The name comes from the Spanish verb "empanar" and translates as "enbreaded."
An empanda is a stuffed fried or baked turnover in the shape of a half-moon with flour dough or corn dough. In America, the empanda is known as a "meat pie."
Ortega's empandas are baked and customers can select from beef, chicken, or guava. Even the side dishes have a nice array of cold and hot choices. But, if patrons are looking for a familiar dessert that is tasty, try a homemade gob filled with tres leche filling.
Ortego says that since he moved to the Moxham area, the community has shown him love and support. Customers who are have experienced Cuban food in Miami or other vacation spots are glad to have a local Cuban spot, only blocks away.
The café is doing a lot of take-out orders and, although summer has passed, Ortega's Cuban Café offers outdoor seating. But, down the road, "I will be getting into catering," Ortega says.
To experience a taste of Cuba, head to 603 Grove Avenue.
For an early morning treat, stop in on the way to work and order a donut with a Cuban coffee or espresso.