Call it serendipity. Call it fate. Call it a happy coincidence.
Whatever it was that brought Sheri Hudspeth and her husband, James, to  Johnstown, the result has been great for the couple and even greater for girls who want to play hockey in the city.
In April, Hudspeth became head coach for the brand new Johnstown Warriors girls' hockey team. It's the first all-girl hockey team in the Warriors' 53-year history.
"It was all just the right timing," Hudspeth says. "I think it was meant to be."
James Hudspeth, who owns an energy consulting firm, moved to the area to work with CPV Fairview Energy Center near Vinco and the couple set up temporary residency in Johnstown.
"We usually stay a year at a project and then move on," Sheri says.
"When we move into a town, the one thing I constantly look for is local hockey where I can volunteer my time. I saw online that the Johnstown Warriors were looking to start a girls team this year and I said, 'How can I help?'"
Hudspeth, originally from Toronto, Ontario, has been playing hockey since she was 4 when she was coached by her father, the late Norman Maisonneuve.
"In Canada, hockey is just part of the culture," she says.
She earned a full scholarship from Minnesota State University, where she played NCAA Division 1 hockey, and, after graduation, coached in Canada, NCAA Division 1 Women's hockey, and also played in the NWHL and in Europe.
With more than 30 years experience, Hudspeth wanted to stay involved in the sport and the Warriors organization wanted a coach with a passion for hockey. A month after moving to Johnstown, she was on the ice, leading the new team.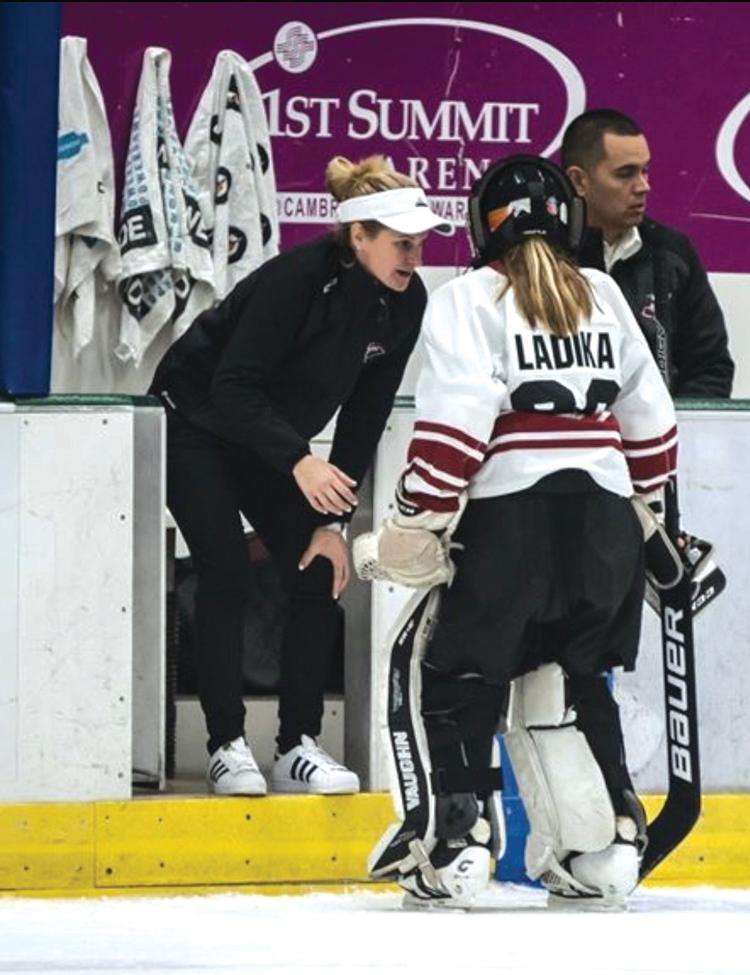 While the inaugural team of 17 girls between the ages of 8 and 12 may not have had a perfect season, they are making a name for themselves.
The team has been featured in articles in regional media, on NHL.com and, last month, in a full-page article in USA Hockey Magazine, which has 800,000 readers.
Johnstown Warriors Girls Hockey has been supported by Adidas Hockey, CCM Hockey, Herbert CPA Associates, Ziggys Sports of Johnstown and the Sunnehanna Amateur Foundation, in honor of the late Johnstown Jets standout Don Hall.
Much of the attention came as a result of a trip the team made to see the Pittsburgh Penguins and star player Sidney Crosby at PPG Paints Arena on Oct. 10.
"We wanted to surprise the girls," their coach says. "We rented a bus and told them we were going to play a game. All the parents were in on it."
Hudspeth had signs made to read "Crosby Girls 87" and, during warmups, the delighted girls held up their signs. "It kinda went from there," Hudspeth says.
A photograph of 10-year-old Lexie Feathers taken by her mother, Jaclyn, went viral and has been seen by more than 80 million people. Feathers, of Davidsville, says she had no idea she had a winning photo.
"Lexie was up against the glass and every time Crosby came near, I just shot like 100 times," she says. "On the way home, I saw it and put it and a couple others on my Facebook page and it just went from there.
"I was kinda shocked I got that picture to be honest."
Lexie was unfazed, as she didn't quite know what getting a "like" on Facebook was all about.
"It was just such cool experience," Hudspeth says. "It really was a nice spotlight for Johnstown and girls hockey in Johnstown."
It was natural for the girls to want to pay tribute to Crosby. In fact, he could be considered the patron saint of the Johnstown Warriors girls hockey team.
All 17 of the girls got their start in hockey by participating in Crosby's Little Penguins Learn-to-Play program, which has introduced ice hockey to more than 12,000 children throughout the tri-state area since 2008. Kids ages 4 to 9 are provided with free head-to-toe equipment, including skates and a coveted No. 87 Crosby jersey, along with 10 lessons to teach them the basics of the game.
"Hockey can be an expensive sport to get into so it takes that cost barrier out of it," Hudspeth says. "It can be around $500 to get the initial setup.
"We thought it would be cool to give back to Sid, since he gave to us," so the girls presented the Penguin great with a signed jersey and a photo plaque of their team, the coach says.
The Penguins organization has made a large impact on the region. Johnstown Warriors, also known as Cambria County Student Hockey League, was started by Hall through a donation from the Pittsburgh team. It was part of a large initiative by the Penguins and USA Hockey to grow youth hockey in the region.
Although girls were invited to join boys as part of the Warriors, Hudspeth says having a team dedicated to girls makes a big difference.
"They were missing that very important locker room experience," she says. "That's where you make friends. Where you are free to be who you are.
"The girl players had to change by themselves at times in a small room. They were excluded from that environment and did not really feel a part of the team. It can be a bit lonely for them.
"Now they get to meet girls from other towns that have the same interests as them. With the boys, they just got the game; they missed out on the friendship aspect of the sport."
Feathers says Lexie, who has been playing hockey since she was 4, is delighted to be on the new team. "We were thrilled to learn that there was going to be an all-girls team," she says. "She is just loving it. She loved hockey before, but now she has a whole new attitude. She is more than excited to be at practice and at every game.
"We couldn't be more thankful for Sheri, for what she has shown these girls. She has given them self confidence."
This fall, the girls were able to see the Women's National teams Canada and the United States when they played an exhibition series in Pittsburgh.
"For them to have that opportunity is pretty special," Hudspeth says. "We skated during intermission and the girls had the opportunity to meet all the USA players.
"It's very important for girls to see a women's hockey game. To see there are opportunities for you. Now, they can have female hockey role models. As Billie Jean King says, 'You have to see it to be it.' "
The coach says she is hoping to have even more girls involved in the team next year. "We have tangible results from this program, which is really nice. It's great for the city and for the community and it brings more positive attention for the hockey here."
Hudspeth is quick to point out that she is not solely responsible for the success of the team and credits "very talented assistant coaches." They include Quinn Hunter from Hollidaysburg, the first woman to play for the Penn State Altoona men's hockey team; Boston Bradley of Johnstown, goalie coach; and Jeremy Almazan of Pittsburgh, defense coach. Almazan is an NHL off-ice official who commutes from Pittsburgh to help the Johnstown girls.
Although the Hudspeths had planned to move on once the contract at CPV Fairview ended, they have found a home in Johns-town.
"We just closed on a house in Westmont," Sheri Hudspeth says.
It's an extra special move for the couple. Last summer, they lost their house in a wildfire in northern California. "We have been trying to look for a place to settle down and I really liked it here and I wanted to stay," Hudspeth says.
"We found not only a house, but a home."