Now the preferred form of exercise for Instagram influencers and Real Housewives, some people may not even realize that yoga has an origin story that reaches back at least 5,000 years. While today yoga is often associated with physical fitness and flexibility, it was first established as a spiritual practice, a philosophical way to understand the world and how to live in it, complete with songs, rituals, sacred texts, and a path to an ultimate enlightened state of being, similar to other world religions.
But even in its divine roots, the focus on the body was always an essential part of yoga practice. In Sanskrit, the word yoga means "to yoke," literally a way to connect two animals so that they could work together. True yoga is more than just backbends and headstands – it fosters a unique connection between the mind and the soul, the breath and the body, the spiritual and the physical, the individual self and a universal consciousness.  
And for some local women, it is this union that provides a path for them to heal from some of the worst experiences imaginable. Since 2013, a program guided by the principles of yoga with a focus on overcoming trauma has offered survivors of domestic violence and sexual assault a safe space to explore themselves, calm their minds, and reclaim their bodies.
***
In America, yoga is regularly connected to the hippie counterculture movement of the 1960s and '70s. Although this may be the period of history that began yoga's journey from fringe fad to its current mainstream moment, it was actually introduced to our country in the late 1800s, when several Eastern yogis toured the country to teach its benefits. Though the '60s revival was embraced by New Age spirituality, by the time yoga was made widely available to Americans through the development of VHS and DVDs in the late 20th century, it was primarily packaged as pure performance, a workout easily done in the comfort of your own home with little mention of its spiritual origins.
This is how local musician, activist, healer, and yoga teacher Rachel Allen was first introduced to the practice that would ultimately become part of her life's work. She took a power yoga class (an intense, fitness-focused form of yoga that emphasizes flexibility, cardio, balance, strength, and stamina) while in college in the 1980s. "I didn't know there was a whole integrated practice with a rich philosophy and ethics until I started studying mantra and chant with a teacher from India," she says. But once she discovered its history and focus on mind-body wellness, yoga spoke to her in a deep and profound way.
"To me yoga is not a class, a style, or a series of movements," she says. "It is living with awareness and being fully alive in each and every moment we are blessed to have in this life."
Allen continued to educate herself, learning more about yoga by studying different styles including Iyengar (focusing on breath control and alignment by holding postures for long lengths of time), Ashtanga (a physically demanding form that incorporates dynamic movement), and Kundalini (combining challenging breath exercises along with chants, meditation, and song). In 2012, she became certified in the Kripalu style of teaching, a gentle and compassionate-based approach that makes yoga accessible to all and encourages observation of thoughts, words, and actions in a space of non-judgment and acceptance.
"I became a teacher because I wanted to teach an integrated practice that included philosophy and ethics, as well as music, which is also a big part of the yogic tradition, she explains."I have struggled in many yoga classes that were about perfecting the form and had a competitive edge. I wanted to offer something that was rooted in tradition and that was not exclusive to ability."
In 2013, Allen attended a conference along with Erika Brosig, clinical director at Victim Services, Inc., a local nonprofit that provides counseling and support services to victims of sexual assault and violent crimes. It was presented by the Yoga Service Council, whose mission is to make the healing power of yoga and mindfulness accessible to all, and the keynote speaker was Dr. Bessel van der Kolk, whose work focuses on how children and adults are affected by trauma.
"He has done some of the groundbreaking research on trauma-informed yoga as an effective and complementary treatment for PTSD, as well as complex and developmental trauma. He shared his research, and Erika and I both cried happy tears, as this had confirmed for us the possibilities (yoga) could offer to survivors," Allen says.
Allen and Brosig are both survivors themselves, so the conference deeply connected with them in a multitude of ways.
"We drove home and talked non-stop," Brosig remembers. "I had already been on a journey to try to find alternative ways to help the survivors I was working with and other ways to further my own healing. After years of work, it became clear to me that traditional talk therapy and cognitive therapy weren't enough. Trauma sensitive yoga is different. It creates space to heal the body and allow survivors to reconnect to their physical selves, which is something I can't help them do while we're sitting in my office."
Shortly after, Allen and Brosig met with Rosemary Pawlowski, who was at the time the executive director of Bottle Works Ethnic Arts Center and looking to use grant funding to support survivors of trauma. In that discussion, the Integrative Healing Group was formed, a program combining trauma-sensitive yoga, creative expression, and counseling.
What makes trauma-sensitive yoga different? It acknowledges the experiences of survivors while, at the same time, allowing them agency in the process. Instructors provide invitational rather than directive language and give participants choices and options in the pace and flow so that each person can cultivate a practice at her comfort level. While physical postures are still a part of the process, the emphasis is not on attaining perfect form, but instead looking inward and recognizing the internal perception of the movements and how they make the body feel. It also avoids some techniques that are common to traditional yoga classes.
"I would never turn down all the lights and instruct people to lie on their backs. So in all my classes, people are given options for their meditation form. I also do not use the word 'relax' which is often a trigger for many survivors," says Allen. "Another addition is no hands-on adjustments. This is a big deal in the yoga community right now because of many allegations of physical and sexual abuse of yoga students by prominent teachers, as well as physical injuries experienced by students at the hand of teachers. If the practice isn't about physical perfection, hands-on adjustments are unnecessary."
For many survivors, years of abuse have negatively affected their self-esteem and the ways in which they view and treat themselves. Allen uses yoga's ethical philosophy rooted in "do no harm" to teach participants how to be kinder and more loving to themselves.
"We learn that we always have our breath, our body, and our voice with us and they can be used as tools for regulation as well as empowerment. It focuses on how we can use these tools to regulate our central nervous system and work with our thoughts, words, and actions towards ourselves. This is learning what to do with suffering," she says. "We are practicing moving from reaction to right action. We are actively working to turn crap into fertilizer. We are learning that the story in our mind doesn't need to drive the bus – and may, in fact, be rooted in fear and the illusion of separation."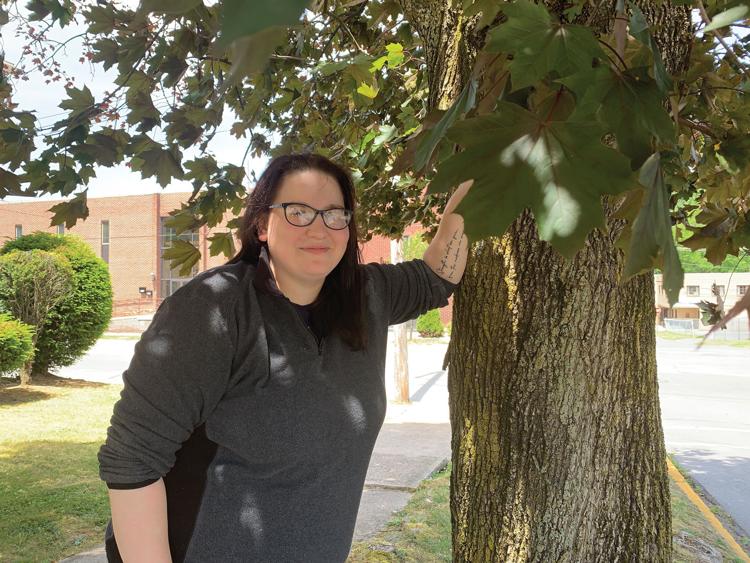 Stephanie Rex, lead counselor at Victim Services, has provided counseling services as a part of the program since 2016. "Trauma affects not only our thoughts and our mind, but also our bodies," she explains. "Some of our clients may experience body memories, where the body physically recalls the moment when the trauma occurred. TSY allows our clients – in a safe, confidential, and judgement-free zone – to focus on the trauma located in their bodies and find ways to release it, whether it be through a yoga moment, during a breathing exercise, or in our meditation phase. We teach them more positive, healthy, and effective coping skills, and TSY adds another way for them to heal their trauma."
Allen knows first-hand how difficult it can be for survivors to regain agency over their bodies. "I know at the beginning of my own journey I had become highly skilled at numbing and distracting myself and lived with the sense of wanting to literally jump out of my own skin. I have lived with the sense that my body was my enemy," she says. "My intention is always to give the participant space and cues to orient them in their own bodies and make choices and options that are right for them. This practice is rooted in mindfulness and bringing the philosophy into this is also helpful."
While designed to provide deep and long-term benefits, Ava Genovese, community education specialist at Women's Help Center, has worked with clients as a part of the program for two years and says that she can also see immediate changes. "Most who participate in the program say that they feel much more relaxed after the yoga practice. This is one of the more visible effects. Clients who participate repeatedly and use these tools in their personal lives can see an improvement in anxiety and depression. We hope that to see an outcome of self-worth, and that TSY has a positive impact on the survivors' healing journey."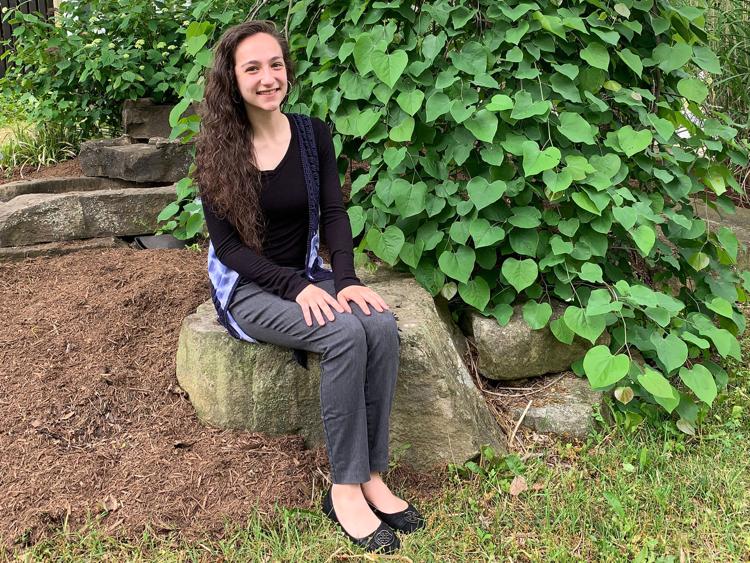 Since 2013, local women have participated in trauma-sensitive yoga with Rachel Allen, either in the Integrative Healing Group or through weekly yoga sessions. The classes are offered free of charge to survivors and associated costs have been supported through grants and fundraising. Most are clients at either Victim Services or the Women's Help Center, but therapists in Cambria and Somerset counties are also able to refer their clients. The classes are also publicized on social media, and some survivors have reached out directly to find out how they could participate.
For Jennifer Penrose, trauma-sensitive yoga gave her "confidence, knowledge, and healing tools." She was dealing with the aftermath of an incredibly abusive relationship, one she was able to escape from with just the clothes on her back.
"It's hard to imagine something that once felt so right and magical could turn out to be so deadly," she says. "I wasn't allowed to look up from the ground at strangers. My abuser choked me into having a near-death experience over a store clerk simply saying hi to me and asking (me) to smile. I woke back up with his fingers in my nostrils; he was dragging my limp body around. So I prayed for a way out. I knew I'd have to leave with nothing – driver license, money, anything of value to me he kept in a zippered pillow case under his head at night. One day the police were dealing with neighbors down the street, so I just ran. For blocks and blocks. I knew it was my way out."
Penrose found services at Women's Help Center: "I was helped with shelter, food, therapy, and a safe place to sleep while putting my life back together. They helped me help myself and remember my independence."
She started trauma-sensitive yoga in 2018. "My first class was amazing. Rachel was so welcoming and so was Ava. I had only tried yoga many years ago at home. It couldn't even begin to compare to having a space with these encouraging women," she says. "A lot of us are isolated. To my amazement, here was this gentle, loving space to feel safe outside of my home.
I actually started coming out of my shell rather quickly. You learn to be silent about the trauma you've suffered but not at TSY."
Penrose stuck with the classes, though it was difficult at first. "The most challenging part for me was facing the initial fear of being around others," she says. But as she continued, "I became stronger and more confident. I went from borderline agoraphobic and self-harming to volunteering at Women's Help Center answering the hotline. The difference in my life now is I don't live in constant fear anymore. I have boundaries with people now, and tools to try and remember to use to calm myself when I'm feeling triggered by something out of my control."
While there's little doubt that the program provides essential tools and healing for the participants, Allen insists that she benefits just as much in her role as teacher. "Survivors are incredibly resilient," she says. "I am humbled by people who are still here on this planet that have an open heart, despite having sustained serious life-altering trauma. My heart is constantly blown open. My experience with survivors is this amazing embodied sharing of tenderness and empowerment."
During her classes, Allen often recites a Sanskrit mantra: "May all Beings be well and have access to essential resources to thrive. May all Beings live free and safe from harm and navigate with ease in their bodies as they show up in their bodies. May all Beings have Peace. May my thoughts, my words, and my actions contribute to the wellness, freedom, safety, and peace of all Beings."
This mantra is not just a resource for the survivors she works with, but the guiding principles for how she makes her way in the world – what she describes as "living the yoga." And because of her gentle and compassionate dedication, along with a network of nonprofit agencies and committed and passionate professionals committed to helping survivors, women who once had little hope are discovering that they too can live the yoga. And as they do, they realize that they don't just have the power to help themselves, but they can also benefit the lives of others.
Says Penrose, "The biggest thing I want people living in domestic violence situations to know is: You don't deserve what's happening to you and there are so many resources. If I can get out and change my life, anyone can."