Jeremy Shearer is co-owner with his wife, Jennifer, of Press Bistro in downtown Johnstown where they are "trying to develop a great restaurant and community scene for downtown Johnstown."
He hails from Boise, Idaho, while his wife grew up in Johnstown. The couple has three children with a four expected in April.
What are some of the challenges to operating a business downtown?
Seven years ago, when we decided to open a restaurant downtown, we knew it would be fraught with challenges.
Downtown has had a cloud over it for a long time … things that go with any steel belt town when it collapses. So we knew it would be a challenge, but we wanted to do something that let us really invest in the city and help others see that it could go in the right direction.
We didn't know if it would work or not. But I am bullheaded from my military days.
We were just really trying to bring this together to make something positive happen here. I think we've done a good job out of it over the past seven years.
Is Johnstown turning the corner?
We've seen a lot of positive changes downtown – a lot more involvement from other parties, new businesses moving in, overall a cleaner feel to the city.
We are certainly seeing a lot more customers. When we opened six, seven years ago, people would not come down at night because they were afraid to park their car in downtown Johnstown after dark
and now that is not a problem.
Our seats can be filled in our downtown restaurant all Friday, Saturday nights.
We get patrons that historically may not have come down here for quite some time.
Why are you so passionate about downtown?
We made the decision to invest here after looking at other properties in other cities. We looked in Greensburg, Indiana, Pittsburgh, Richland Township and Westmont.
We liked the feel of what we saw in downtown Johnstown – the positive vibe that was coming off of small groups that had a vision. We felt their visions and we wanted to be a part of it.
The passion has grown after seven years of being here and seeing a positive change.
It's our home.
What do you wish people understood about downtown?
The struggle really, more than anything, is just the perception that people have about downtown.
When we first moved in, we heard how downtown was so unsafe and that you would need all kinds of systems and buttons in case you get robbed. We never bought into it.
We've never had an unsavory element other than the occasional drunk. I think if you talked to any business owner down here, they would probably tell you the same thing. It's not an issue.
Parking is another issue for some people. I will admit that on a good Friday night, when we're busy, you're not going to park in front of our building most likely, but show me a city where you can park in front of the restaurant you are going to. There is plenty of parking down here, but you may have to walk a little bit. And it's free on the weekends and after 5 p.m.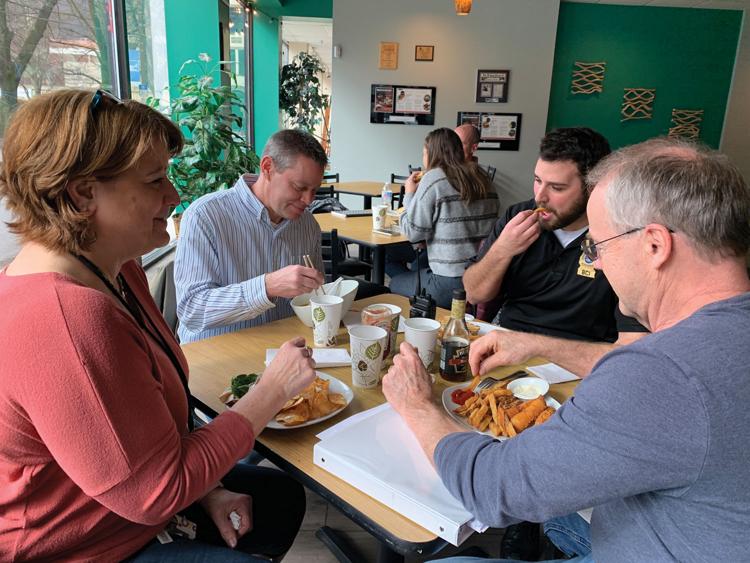 What does a independent restaurant have to offer that chain restaurants do not offer?
The most important thing is the community connection. Who supports your local PTA and your local soccer team? Independent restaurant and business owners do because our kids go to those schools.
When you look at chain restaurants, they don't necessarily create community.
When you support chains, at the end of the day, where does that profit go? It goes back to some corporation somewhere else.
They are a consistent place to go and eat. Every time you order something it's going to be the exact same every time. For us, that's a negative and a positive. We're not as consistent because our product doesn't come in pre-made and frozen and we just heat it up.
If we see items that aren't as popular, we take them off the menu and create something else that is popular. That's how we've stumbled our way into our menu that has a tremendously popular following.
Tell us about Stone Bridge Brewing Co.
It's coming along well. We're a year and a half in. We hit the usual growing pains that any business has our first year, but we've seen business over the last two or three months grow 200 or 300 percent. A lot of that has been due to the fact that we put investment into new equipment to make better product.
We listened to our customers and heard what they liked and what they didn't like and started really focusing on that.
We've started a small amount of distribution. We're getting great success in bars and restaurants all through Cambria, Somerset, Westmoreland counties. It's really positive.
There is opportunity for us with Voodoo Brewery coming to town. There is kind of a coalition of breweries; you have a community that draws that tourist segment that really likes visiting craft breweries. Them moving here only makes downtown Johnstown more attractive to more people.
When we look at competition, we don't look at each other as competition. We compete against the chains in Richland Township and in Greensburg and places like that where we draw a lot of customers from.
This is one more piece that helps us fight that battle against corporate entities.
It's no fun to go downtown if there is just one place you can go to and the night's over. What consumers want is to come here and eat dinner and have a couple of drinks and go there and have dessert and have a couple of drinks and hit a brewery or two and check out the live music here and the live entertainment there. Go to Lucille's and go to Flood City. There is always stuff going on and that increases the overall value of our little district here and makes it a lot more attractive.
What makes Press Bistro popular?
What we hear most from our customers is the flavor of our food. We knew opening a restaurant here, we didn't want to be like every other restaurant. We wanted to put ourselves in an entirely different market segment, so we've always focused on that with our food. We design our food. We prepare everything fresh. Next to nothing comes into our kitchen as a frozen product.
We give attention to detail on how we want the food to taste. Our number one seller, the Ramen Bowl, can be 40 to 50 percent of our total sales in that one dish. We refused to sell it for the first two months, because we wanted to get the flavor exactly right. I think that's what people like most about us. We're inventive with our flavors. We bring different things. There is nobody else doing Tai and Ramen and Korean and Vietnamese dishes.
We're also known for our cocktails and craft beer that you can't get anywhere else. The way people drink is changing. The days of having six or eight draft beers as cheap as you can – those drinking days are gone. It's about getting a really unique flavor. It might be more expensive than some other places, but its going to be a flavor experience that you're not going to get at other places.
Any changes planned for Press Bistro?
Right now, in the short term, we're just focusing on working with our building and making sure that we are having the most responsibly operated space that we can.
After 25 years in the restaurant business, I want to make sure that things are done right.
We have challenges that we need to contend with here. It's an old downtown. These are old buildings.
We see a lot of investment downtown and we see a lot of potential and we want to continue to make our place a shining star for downtown Johnstown.
Our goal is to continue to be a vibrant, productive leader in the dining segment for the downtown. We've feel that we've been one of the leaders for the changes that are happening down here and we don't want to fall behind on that. We want to stay in the front.