On a well-lit stage, the conductor of a symphony orchestra readies his baton. He takes in the panoramic view of the musicians surrounding him. They wait for his cue, prepared to translate the black musical notes on the white pages in front of them into sounds. Into music.
Playing in an orchestra is an intense, demanding, immersive job – a job that some players filling the chairs in our city's orchestra have held for decades.
There are approximately 70 players in Johnstown Symphony Orchestra (JSO). Five have been playing for more than 40 years, and two are currently celebrating their 50th anniversary season.  
Imagine not only playing an instrument for more than four decades, but also playing an instrument with the same orchestra for that length of time. These players' long-term involvement speaks to both their personal dedication and to their love of this city.
The seven orchestra members you are about to meet joined the JSO in the 1970s – a decade that delivered some hard blows to Johnstown. The city was hit with its third devastating flood. Employment at Bethlehem Steel Corporation dropped. The population declined. Yet the JSO played on, giving us hope for the future.
Each decade since has brought highs and lows to the country at large. Wars ended. New wars began. Stock markets rose. Stock markets crashed. Y2K came and went. New products and trends surfaced, some lasting, others fleeting. Bell bottoms. M*A*S*H. High top sneakers. Boomboxes. Facebook. Smartphones. These dedicated musicians have played throughout the most iconic moments of the last 50 years. And they play on, giving us hope for the future.
We need hope. We need music. We may very well need these musicians more than they need us. An orchestra without an audience would be disappointing, but an audience without an orchestra would be tragic.
Meet Annis Rogers and Darlene "Dolly" Lopresti, who have officially achieved "half-century status" with the JSO. It is a pleasure to also introduce Ronald Horner, Dana P. Menser, Julia Gilchrist, Mike Cascio and Rebecca Catelinet – JSO's "five over 40."
The combined number of years that these members have been playing with the JSO? 316 (and counting!).
"We senior members rarely mention how long we've played," Rogers says. "Making music has very little to do with age, although I'm sure it keeps us young."
JSO Maestro James Blachly describes playing in an orchestra for more than 40 years as "not unprecedented, but not common." (For what it's worth, the world's longest-serving orchestra musician played for 71 years.)
"Johnstown has a really wonderful tradition of music-making, and these players are what help make the orchestra what it is. They have this institutional memory and this experience of playing with so many different conductors," says Blachly, who became maestro in 2016 after Maestro Istvan Jaray, who conducted the JSO for 31 years, retired. "They bring a kind of wisdom and wealth of experience that you can't get anywhere else."
These musicians inspire and challenge Blachly to be the best conductor he can be. "I have to admit that sometimes I will check in with them during a performance or a rehearsal, just look over and see what kind of experience they're having with the music," he says. "Because I know when I'm doing my job well, they're playing at their best and they're excited about what they're doing. If you've been playing in an orchestra for more than 40 years, the experience has to be rewarding in order to keep you engaged."
Jessica Satava, JSO's new executive director, relocated to Johnstown from Baltimore this past summer. From her "outsider's perspective," there is no doubt that this city wholeheartedly supports its orchestra.
"It says a lot when a city sustains an orchestra and cares for and nurtures the body of creative people in our city," Satava says. "By definition, an orchestra consists of about 70 people who have dedicated their lives to becoming experts. They think differently than other people. They live in a world of creativity and imagination. It's amazing to have this army of creatives in our city, and to witness the willingness to invest in them. And it's just so powerful to think about how, in our day and age of screens and lights and audio-visual everything, we can sit in a space and experience vibrations together that challenge us to think differently. I like to say that music is a call to action. We're here. We want to be together. We want to move forward together."
The 2019-2020 season (JSO's 91st), "Made in Johnstown," is moving forward, bringing with it seven impressively colorful, experimental concerts ("JSO POPS: Movies from Johnstown and Open Mic Night at the Symphony" is one; last month's Slavic-inspired season opener featuring Tamburitzan dancers was another).
This month, the orchestra will perform "Made in Brahms-Town," which will include a performance of "Symphony No. 1" by Johannes Brahms. Here is something you should know about Brahms as it relates to our seven long-term orchestra members: Brahms waited until he was over 40 years old to premiere his first symphony. "Brahms didn't feel like he could put something out there until he had so much life in him, so much experience," Blachly says.
With life and with experience comes maturity.  
"These players have a depth of maturity about their playing," Blachly says. "Playing in an orchestra is one of the most complex and highly trained professions in the world. But no matter how brilliant you are, you don't get that overnight, and you don't get that with a young prodigy. You only get that by living, and by playing for as long as they have. It's such an honor to share the stage with them. Coincidentally or not, they all happen to be some of the most beautiful people I've ever met in my life."
---
So what's it like to play in an orchestra? How does it feel?
Horner compares it to jumping into a body of water. "Total immersion."
Gilchrist: "Totally magic. Like you are levitating."
"Heavenly," Catelinet says, while Cascio marvels at the "purity" of it all – how the instruments and the people playing them come together without amplifiers and sound engineers and, therefore, take ultimate responsibility for the dynamics and tone quality of the music.
Lopresti considers the feeling to be "absolutely stirring," and she's quick to emphasize the teamwork involved. "It is a large team effort – a team larger than most sports teams. You become part of something much larger than all the individuals making up the whole."
For Rogers, playing in an orchestra allows all "thoughts and concerns to disappear." Total concentration, however, is required – as is the ability to excel at the art of multi-tasking.
"You must always watch the maestro," Rogers says, "and also listen to each other. We count furiously. The rests are as important as the notes, actually more so."
Menser seems to suggest that what he and his musical colleagues accomplish is otherworldly: "We are all reading a foreign language and interpreting the emotion of the message exactly the same way, all with simultaneous mathematical precision. It is something beyond what this earthly world can offer."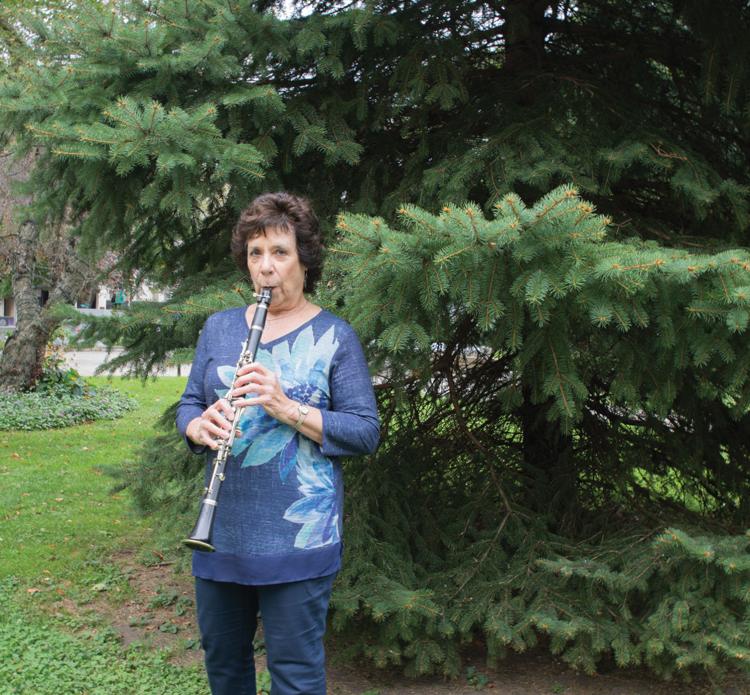 Rebecca Catelinet
41 Years: Clarinet
Rebecca Catelinet played second clarinet with the JSO for 41 years until she retired earlier this year.
Catelinet spent countless hours of her life practicing her instrument, attending rehearsals and performing in concerts. Looking back on her career with the JSO, Catelinet expresses how this experience shaped her life – as well as her family's life.  
"I included my sons in much of my musical life," she says. "Both of my sons played in the Johnstown Symphony Youth Orchestra (JSYO). My oldest son played for two years in the JSO, and both were involved in music in college. They are both very active in music today."
Catelinet emphasizes how much time and effort goes into this job. "Making music in an orchestra is something that requires constant practice – daily – and for hours each day, if possible."
Concert day is a whole other story.
"On concert day, I try to keep the day free for preparation," she says. "I like to have time at the concert hall to prepare mentally for the music to be played. Advance preparation includes making sure that I have a number of clarinet reeds that are broken-in and ready to play. Just one good reed will not do. I don't eat a lot before a concert, since good breath control is critical for a wind-instrument player. Having a full stomach is not a good thing."
In addition to playing with the JSO, she has also contributed her talents to Civic Concert Band (for over 45 years) and Forest Hills Concert Band.
Once upon a time, as a college student at Carnegie Mellon University majoring in music, she wondered what it would be like to play in a symphony orchestra. "Now that I have done it for years, I have found that it is a wonderful experience," she says. "I often see myself in one of the younger players in the orchestra. Young players just starting out have the same spark of excitement and enthusiasm that I did, and I hope that I still have that spark."
Keep an eye out for Catelinet in the community; her passion for music and the arts continues in her roles as a clarinet instructor and as executive director of Pennsylvania Rural Arts Alliance.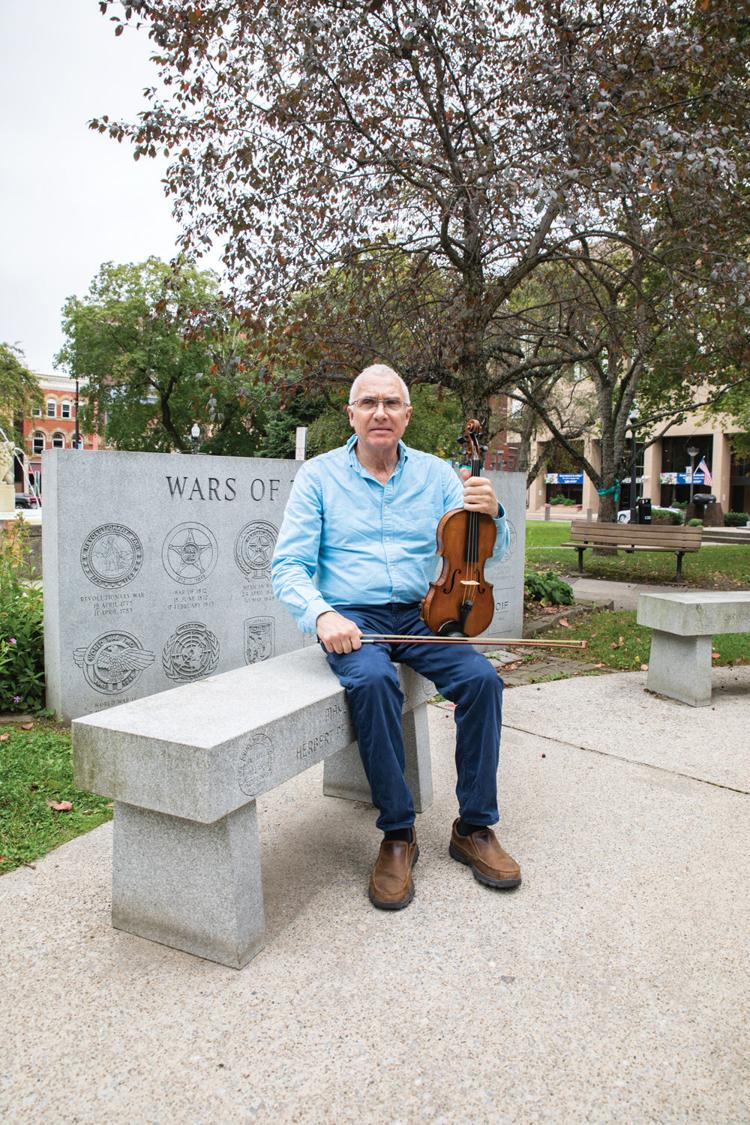 Mike Cascio
41 Years: Violin
In fourth grade, Mike Cascio learned how to play the trumpet. In seventh grade, cello. He exercised his cello skills with JSYO in his junior and senior years of high school, but elected not to play an instrument in college.
He missed playing music, he says. When he returned home from college, he discovered his sister's violin and thought he'd give a new instrument a try. Cascio took private lessons from Jennie Lou (Harris) Klim, a violinist with JSO at the time. "After several years of study, she encouraged me to audition," Cascio says. "With her recommendation and training, I was accepted."  
Cascio has been playing violin in JSO's second section since the 1978-1979 season.
"I've been so pleased to be able to play in a professional orchestra," he says. "It is something completely different than my day job as a business manager. It's nice to focus on music and artistic expression instead of finances and accounting."
He also plays violin in JSO's Community Strings Program under the direction of Beth Pile, JSO manager and librarian. (Pile herself played in the JSO for 27 years.) The Community Strings Program exists to allow string musicians of varying abilities, including beginners, an opportunity to play in an orchestral setting.
Though he's been playing in an orchestra for over four decades, Cascio admits that he finds certain pieces of music difficult to master. When that happens, he does not hesitate to ask colleagues for help. He also finds it worthwhile to practice the particularly tough passages "very slowly, figuring out proper fingerings and positions." When he's ready, he increases the tempo.
Cascio never ceases to be amazed by the works he gets to perform – how each composer managed to "write all these disparate musical lines and make a cohesive statement."
It's a thrill for him to help bring these "cohesive statements" to an audience.
"Orchestras just don't play music from past centuries," he says. "A symphony orchestra can play any type of music. It is important to continue to grow as an orchestra while trying to expand the audience to reach as many as possible."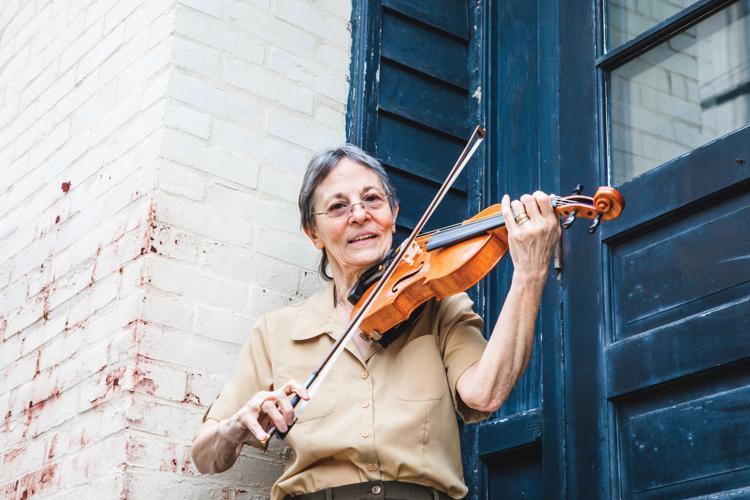 Julia Gilchrist
43 Years: Violin
Julia Gilchrist can still remember the first JSO concert she attended. Her violin teacher gave Gilchrist and her mother two free tickets. "The JSO sounded awesome," Gilchrist says. "I just fell in love with them and the music they were playing. That's when I decided that's what I wanted to do."
She began taking violin lessons at age 9 and quickly found that it was not an easy instrument to master.
"Unlike the guitar, there are no frets on the fingerboard to show you where to place your fingers," she says. Gilchrist stuck with it, though, and before long, it was time for her to audition for Maestro Donald Barra.
"I was very nervous," Gilchrist says of her audition, "but I must have done all right because he accepted me as a member."
Becoming a member of this orchestra was – and continues to be – a dream come true.
"To perform with Maestro Blachly, a world-renowned conductor, and the caliber of musicians in the JSO is truly an honor for me," she says.
The violin Gilchrist plays was specially made for her in 2004 by Robert H. Gordon III from Belsano.
"The violin is gorgeous and the sound is gorgeous, too," she says. "To take wood and make a beautiful violin like that . . . I have no human words to describe his talent."
When Gilchrist is using that violin to play music, she never takes for granted the audience members in front of her. "We have the greatest families, community and audience in the world," she says. "To support us for 90 years is wonderful. They even come out in the worst weather to hear us. I am extremely grateful to all of them."
Grateful, too, to the maestros she has played under – Barra, Jaray and Blachly.
"Each one has his own unique style of conducting," she says. "They all helped us to perform at a very high level to be the very best that we can be."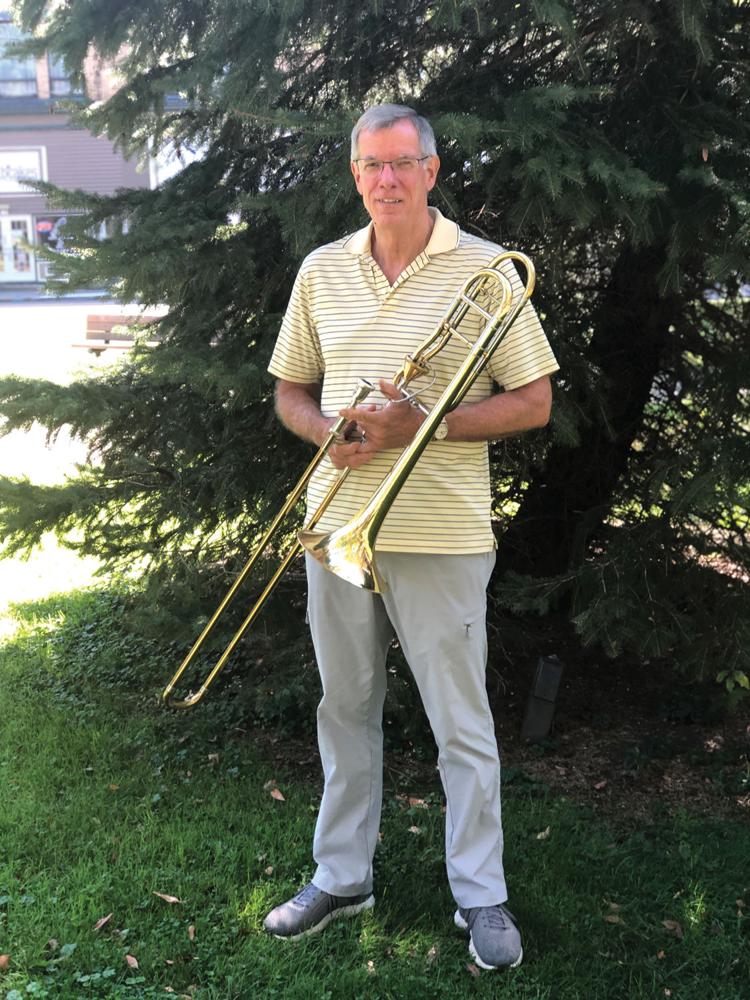 Dana P. Menser
44 Years: Trombone
Dana P. Menser began learning how to play trombone the summer before he entered fourth grade, but he likes to say that he "will never completely finish learning how to play.
"In fact," he says, "I learn something that helps me grow in music every time I'm with JSO, either from the maestro or from my peers."
Menser mentions that he's grateful for Maestro Blachly's vision for the JSO.
"James Blachly's creativity, along with his knowledge of music and leadership, has taken this orchestra to a new height in a very short period of time, and the growth continues," he says.  
Menser's career with the JSO began shortly after he received his music degree from Shenandoah Conservatory of Music. When he returned to his hometown of Somerset, Menser learned from a colleague of an opening in the JSO trombone section. Menser called the phone number he was provided and when Maestro Donald Barra answered, he told Menser that he'd come to him. Before Menser knew it, he found himself auditioning in front of Barra in his father's garage.
"That garage was my practice room," Menser says. "The acoustics were good. I was fresh out of college, pretty much at the top of my game at that point, so I knew all my orchestral excerpts. Donald didn't say to me, 'Here's what I want to hear.' He said, 'What have you got?' I played some excerpts for him, and he said, 'Okay. You're in.'"
In 1980, Menser also secured employment at Somerset Area School District as a music teacher; he taught (and, for 19 years, served as music department coordinator) in the district for 30 years before his retirement.
He credits the JSO for helping to inform his teaching and for giving him a therapeutic outlet.  
"Life comes at you quickly with ups and downs, and creating music with other professional musicians helps to escape the downs and enhance the ups," he says.
There's another reason why Menser won't be putting down his trombone anytime soon: "I've come to realize that it's a lot more fun to make music than it is to listen to it."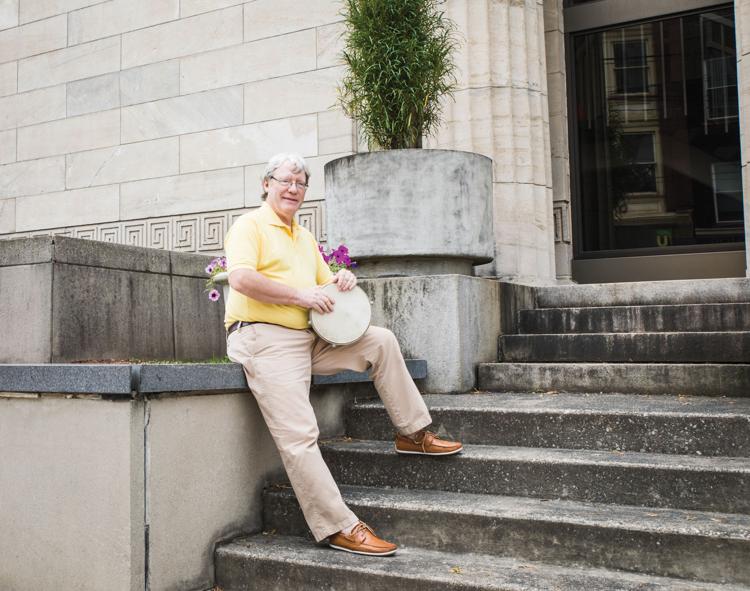 Ronald Horner
47 Years: Timpani
The JSO's principal timpanist (and former principal percussionist), Ronald Horner, jokes that he doesn't plan to stop playing with the orchestra anytime soon because he has "abandonment issues."
"Playing in this orchestra gives me a chance to collaborate with other like-minded performers and artists, which is a really nice thing," he says.
Horner's instrument is unique in that it's a "solo voice" within the orchestra. Although timpani are percussion instruments, they are generally treated as a separate section, identified by locating one musician typically surrounded by four large drums near the back of the stage.
Solos that feature the instrument are uncommon, so perhaps that's why it's easy for Horner to pick one of his favorite memories from his time spent playing with the JSO.  
One evening in March of 1992, the orchestra performed "Concerto for Five Kettledrums and Orchestra" by Robert Parris. For the first time in all his years of playing, Horner found himself at the front and center of the stage as the featured soloist. (He has played one other solo since then: with his other employer, Westmoreland Symphony Orchestra.)
If a musical composition is an entrée, Horner says, timpanists are responsible for seasoning it.
"If we do something wrong, it can ruin the whole entrée," he says.
Walking offstage with the feeling that the entrée was seasoned rather perfectly? A great feeling indeed.
"Every time that happens, it's a treat," Horner says. "Making no mistakes is always my goal. It's everyone's goal, but stuff happens. Coming away from a concert doing exactly what I intended to do with no mistakes and no lapses – for me, that's big. If that's not the case, I can beat myself up for days."
To prepare for a concert, Horner studies the conductor's score; listens to recordings of the compositions he'll be playing ("to hear how everything fits together"); and selects his mallets. He often plays along with a recording, too.
Before rehearsals, Horner tries to decide whether it's better for the timpani "to blend or to project." (And that decision informs his mallet choices.)
"What keeps me coming back for more?" he asks, and then answers: "It's an adrenaline rush. It really is the perfect combination of thrilling and terrifying, depending, of course, upon the piece(s). For me, it's that rush. I can't get that anywhere else."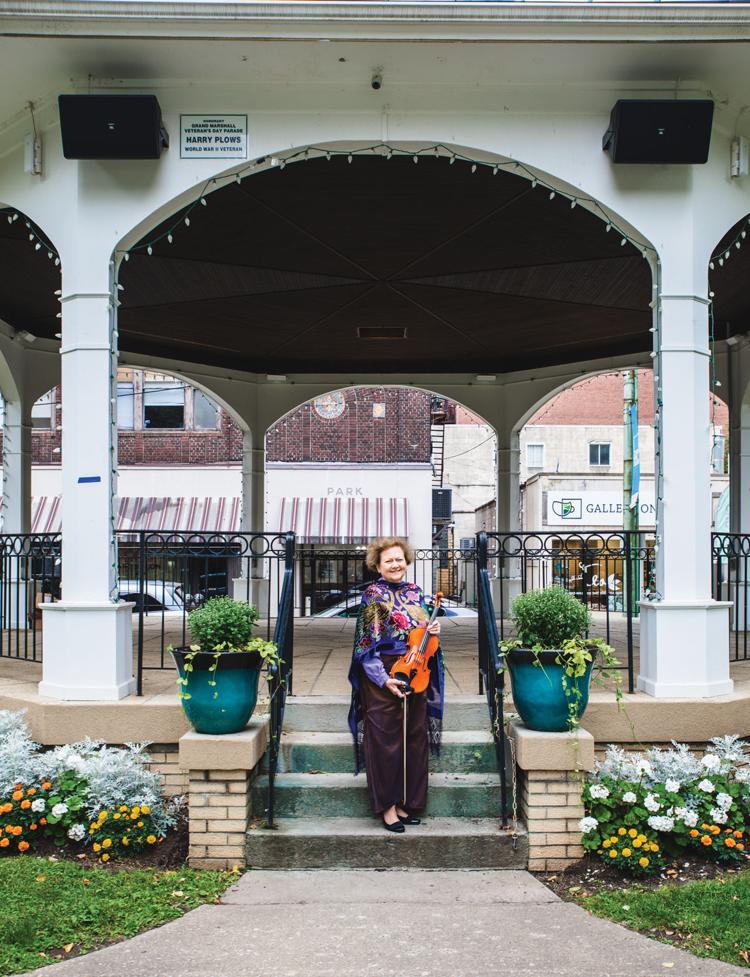 Annis Rogers
50 Years: Violin
Annis Rogers has played in every single JSO season since 1970. Her career playing second violin commenced without an audition (unheard of nowadays, in case you were wondering).
"I slipped into the back of the second violin section," she says. "By the time Maestro Jaray called for auditions, I had not played solo for 19 years."
Let's just state the obvious: Rogers did not lose her chair.
Rogers began studying piano around age 6, and then the guitar during her teenage years in the 1960s. The youngest of four children, Rogers was designated second violin in her siblings' string quartet.
She can still remember her first violin – "a lovely, handmade German instrument a quarter-size violin too big for me." When she eventually outgrew that violin, her father purchased her a new one from the Montgomery Ward catalog.  
"It is a surprisingly fine 1958 Oskar Meinel, which I continue to play today," she says, adding that she also sometimes plays a bolder-voiced 1974 John Juzek Master Art violin.
Rogers has passed on her love for music to her own children: "Each of our three children began attending the full concert season at age three."  
This season, Rogers is thrilled that the orchestra will be performing one of her all-time favorite compositions, "The Planets" by Gustav Holst. "I still remember being overwhelmed the first time I heard the melody of 'Jupiter' in a JSO rehearsal," she says. She's also looking forward to the month of March, when the orchestra is to perform Jean Sibelius's "Symphony No. 2," a piece that Rogers played at age 13 with the Georgia All-State High School Orchestra.
Celebrating her 50th anniversary with the JSO alongside her dear friend makes this season even more special. "I first met Dolly when I was a new bride fresh out of college," Rogers says. "She is a joy to make music with." (Lopresti reciprocates the feeling, saying, "I remember when Annis moved to town. We've been playing on the same stage together for many years, and have had many fun times together.")
As far as Rogers is concerned, the word "stage" will always be synonymous with the word "home."
"It took a few years for the little girl whose knees shook visibly during recital performances to feel fully comfortable on stage with the JSO," Rogers says. "Then, one evening, I experienced a peace, knowing that I was where I belonged."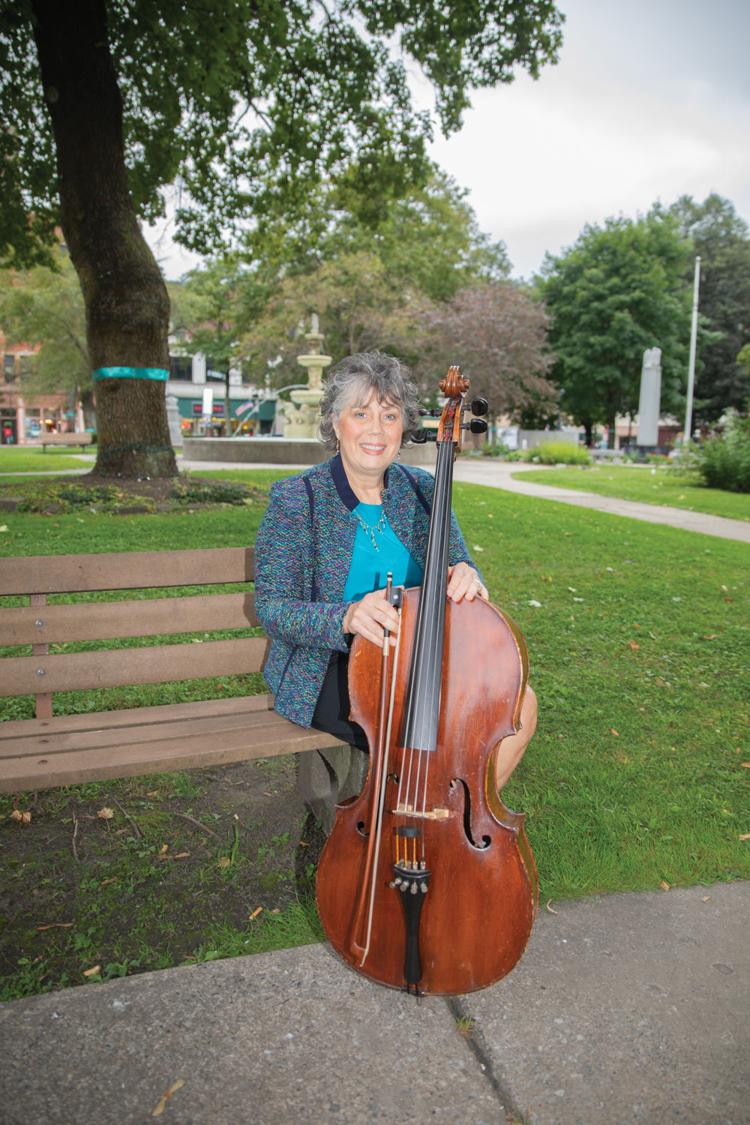 Darlene "Dolly" Lopresti
50 Years: Cello
Darlene Lopresti enjoys listening to recorded music, but even if you were to play her a song through the most expensive speakers in the world, she'd likely tell you that it sounded as if the music was coming at her.
Having spent an entire half-century playing cello in the JSO, she's accustomed to "hearing the orchestra from the inside."
"The passion I have is not for the cello," Lopresti says. "It is for playing my small part in the wonderful sound we produce."
Lopresti's father encouraged her to become a musician. "My dad informed me when I was in fourth grade that I was going to play in the youth orchestra, as my sister already did. I said, 'No, I'm not.'"
She proceeded to play in the JSYO for nine years. Then came the summer of 1967.
"My dad informed me I was going to play in the adult orchestra. I said, 'No, I'm not.' As usual, he knew better." (Over 50 years later, Lopresti can confidently say this: "I've played in the JSO longer than I've done anything else in my life.")
Lopresti's mother encouraged her, too. She drove Lopresti and her big sister to music lessons, to rehearsals, to concerts . . . and when Lopresti had children of her own, and still had rehearsals to attend and concerts to perform, her mother stepped in to help babysit.
Similar to Rogers, Lopresti "snuck into" the orchestra, but has since had to endure the formal audition process. "I had played for Phillip Spurgeon, Michael Semanitzky, Donald Barra and Istvan Jaray without an audition," she says, "but then, some years into Maestro Jaray's tenure, he auditioned everyone. I was a nervous wreck and ended up crying. He was most kind, but I found it too stressful to ever want to do it again."
May she stress no more, especially during her 50th anniversary season.
"Some of the pieces Maestro Blachly has planned for the upcoming season are some of my favorites, so getting to enjoy playing and hearing them will be a delight," she says. "I hope audiences and my musical colleagues will enjoy my 50th season as much as I know I will. Good audiences always make us play better. We love to see filled seats."
---
There will be big chairs to fill when these six musicians eventually join Catelinet in retirement. But none of them seem ready to wave goodbye just yet. Their fingers remain nimble, their timing impeccable, their passion undeniable.  
Give yourself the gift of seeing not only these musicians, but also the dozens of other talented artists who work alongside them. At an orchestral concert, moments lead to movements lead to magic.
"On the stage," Lopresti says, "the music is all around me. Above me, below me, beside me. It is not fixed. It is alive. It moves. It soars out over the audience and touches them. As musicians, we give the audience the gift of what we can create together. Their appreciation and applause are gifts to us in return."