Fire Chief Robert Statler has been with the Johnstown Fire Department for 25 years. When you ask him what keeps him there, it is a simple statement. "I love my job."
It's a sentiment shared by every single firefighter interviewed for this article.
It's the best job in the world," Eric Miller says. Miller, who serves as president of the International Association of Fire Fighter's Local 463, is now going on 17 years with the department.
"There's no doubt in my mind. Helping people get through the worst day of their lives is the best job in the world."
For many, fighting fires for the City of Johnstown, the job fulfills a lifelong dream that started in childhood.
Randy Novosel and Mickey Miller have the most longevity at the station.
The two Johnstown natives have been friends since grade school, graduating from Johnstown High together and now working side by side at the department. They both spent a good portion of their youth involved in volunteer firefighting.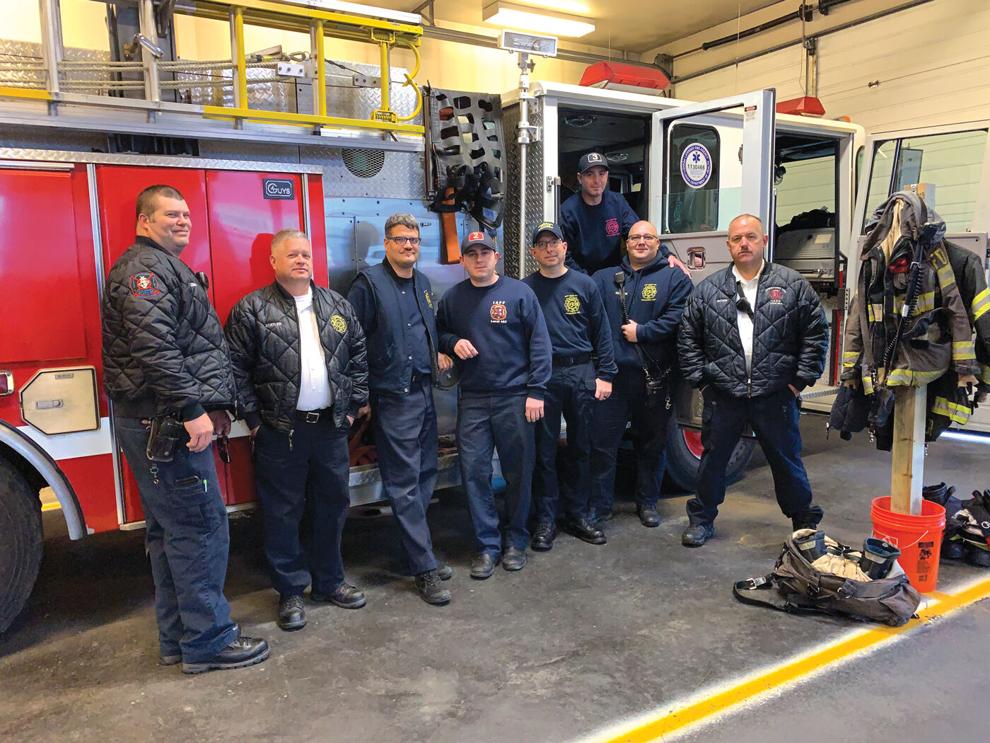 "Not to sound corny, but it is a job I always wanted as a kid," Novosel says.
"My friend's older brother was a volunteer firefighter. You had to be 16 to join at that time. We couldn't wait! As soon as we all turned 16, we joined a local volunteer company and that's where we got our feet wet and learned how to fight fires."
His uncle worked as a Johnstown firefighter, and to a young Novosel, that was the ultimate goal. "We used to visit him at the station when we were kids. I always thought it would be the best job to have and I eventually got to work with him."
For Mickey Miller, now an assistant chief, his path wasn't quite so direct.
He attended Lock Haven University where he played football and earned an accounting degree. Unable to find a job he loved, Mickey decided to take the firefighter test, which in the 1980s and early '90s was crowded with people looking to make it onto the department.
"I remember taking the test at the War Memorial Arena and it was packed with probably over 200 people taking the test," he says. "Two weeks ago – nine people took the test. It's a challenge for some now because you have to be an EMT and have additional training in firefighting and hazmat before you even apply."
For many firefighters, the vocation is a family affair.
Cody Paiano, a 27-year-old from Murrysville, is the newest member of Johnstown's team. He's been with the department for about a year.
His older brother also serves with the department and the family ties to firefighting go even deeper than that. "I grew up in it," Paiano says.
"My grandfather, my dad, all my uncles, my brothers and a lot of cousins all started out as volunteer firefighters.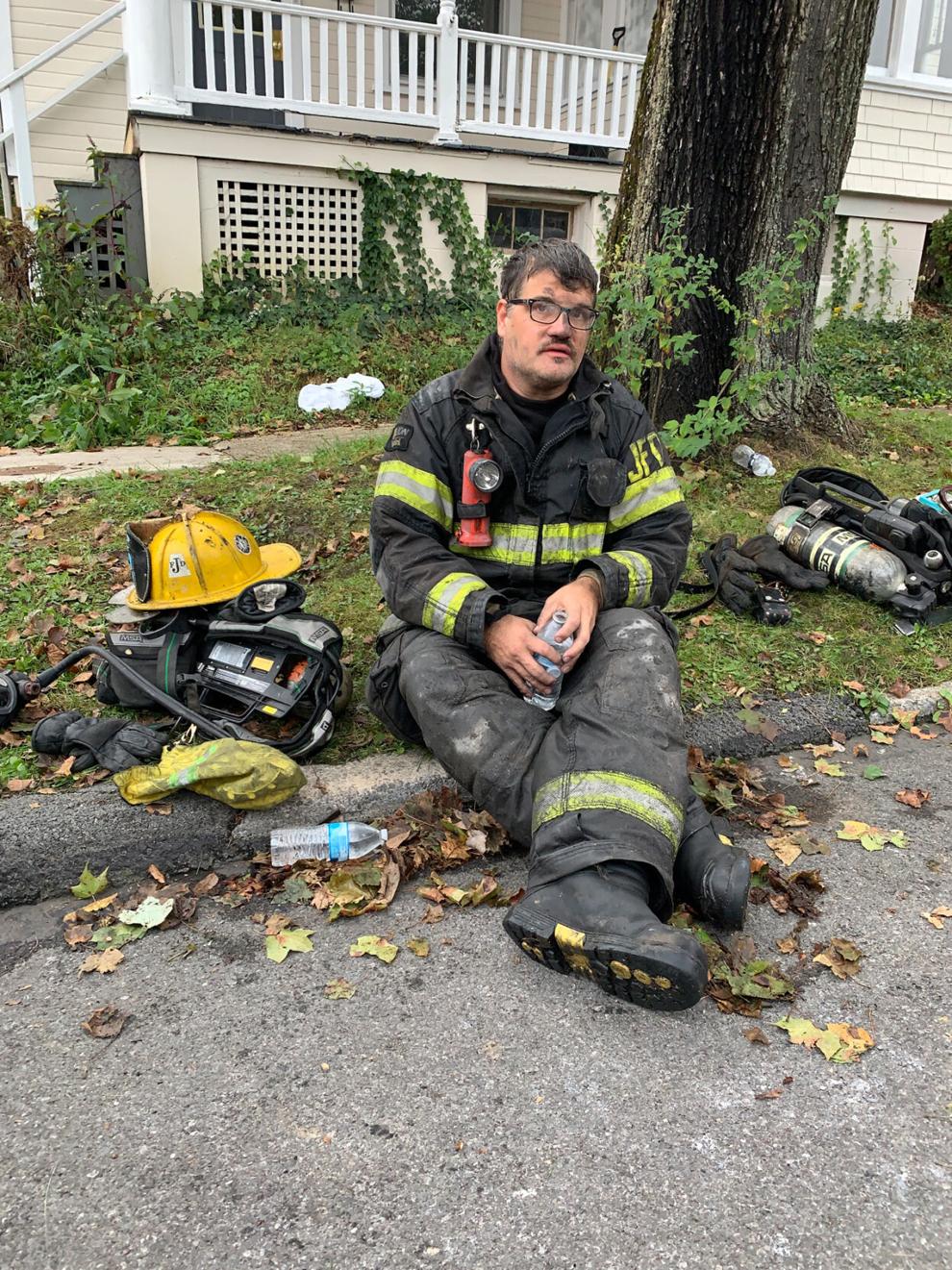 "For me and my brother the end goal was always to make a career of it. We started out volunteering but eventually found ourselves here at Johnstown, lucky enough to make it a full-time career."
The Johnstown Fire Department wasn't always a paid company. It started as a volunteer department but two major fires in the downtown led city officials to move to a professional, full-time, career department in 1906.
"Those fires made them realize they needed a more consistent and quicker response," says Nick Wuckovich, a retired former assistant chief, who now shares the unofficial roll of department historian with another retired firefighter, Earl Musselman.
Wuckovich is another who says being a firefighter is a dream job. "You have to experience it. I love that every day is different and there is great camaraderie among the guys, but truly the best part is helping people. It can be their worst day; their world is out of control, and we can help get things back in control."
Johnstown's 28 full-time and 6 part-time firefighters work three, 10-hour daylight shifts, have three days off and then head into three, 14-hour night shifts. It's a schedule that takes its toll on the body.
"It's definitely tough to get used to the schedule initially, but you get there eventually," Novosel says. "We are allowed to sleep after 10 p.m. but there are many nights we don't get any sleep."
Some may think there is a lot of down time when it comes to being a firefighter, but that's not often the case.
"Last week we got a dog out of the river," says a smiling Chief Statler. "We deal with code issues, if no one is at the Public Safety Building usually it is the fire department who gets called."
In addition to fires, they also go out on medical calls. Every Johnstown fireman also is a certified paramedic or EMT.
"We got very busy with medical calls during the COVID pandemic," Eric Miller says.
"The ambulances were very busy and sometimes we can get there faster. We're all trained to help until the medical personnel arrive."
Training is another big part of the job.
"On the daylight shift we are constantly training," Eric Miller says. "We practice water rescues, trench rescues, high-rise and rope rescues. We also keep up on our medical skills. For instance, today we are completing traumatic brain injury training."
Many of Johnstown's firefighters also have specialized training that helps not only their department but other departments in the area and around the state.
"I have guys with the urban search-and-rescue team out of Philadelphia," Stotler says.
"One of our firefighters went to Miami on the building collapse. They go into hurricane deployments. We have some guys that operate on special teams out of the Pittsburgh area.
"Most of the guys here are on the county's hazmat team, some are part of the county's water rescue team. We are not just firefighters. We specialize in other areas that many other departments just don't do."
When not going out on calls or training, there's always plenty of work to do around the city's three stations.
"When we go to work, we live there," Novosel says. "We sleep, cook, clean. It's a second home."
A second home and a second family.
"You work with the same crew day in and day out, like family. We joke around, pick on each other, argue, laugh – it's like a second set of siblings," Novosel says.
Being like family can be important, especially in 2021 which has brought an unusual number of bad fires with five fatalities – four of them children.
"There are good times and bad, and we are going through bad times right now with these fires," Eric Miller says. "Everyone has been beaten up lately. Mentally, it has been straining because the last few fires have been bad. This year we are at five fatalities – four children and that's never a normal thing. If we get a fatality a year or even every two years, that's a big deal for us."
Eric Miller is trained to help fellow firefighters deal with stress and critical incidents.
There also are national resources available to help them through challenging times.
But sometimes it just goes back to that second family.
"Critical incident and stress teams are available for the guys, but a lot of it kind of gets hashed out at the kitchen table – you have to talk to each other and comfort each other, because a lot of this stuff you just can't take home," Eric Miller says.
"Some of the things you see are tough to deal with," Cody Paiano adds. "But we are a tight-knit group and help each other through it."
Like many industries, firefighting has seen great technological advancements. Horse-drawn steamers and hose carriages have given way to motorized, computerized equipment that helps firefighters do their job better.
"It's a lot more technology-focused," Statler says. "For instance, we now carry tablets so we can pull up maps that show where all of the hydrants are located."
While the technology has changed, some things have not. It is still a very physical job.
"You have to be physically able," Novosel says. "It gets more difficult as the years tack on. Injury is fairly common."
Safety a priority
Firefighting also is still a job that comes with great potential sacrifice.
"It only takes a second, something you don't see coming," Mickey Miller says. "I put that at the back of my mind."
He also long ago encouraged his wife Connie to stop listening to the scanner. "I don't want her worrying every time we get called out."
Keeping everyone safe is definitely the priority.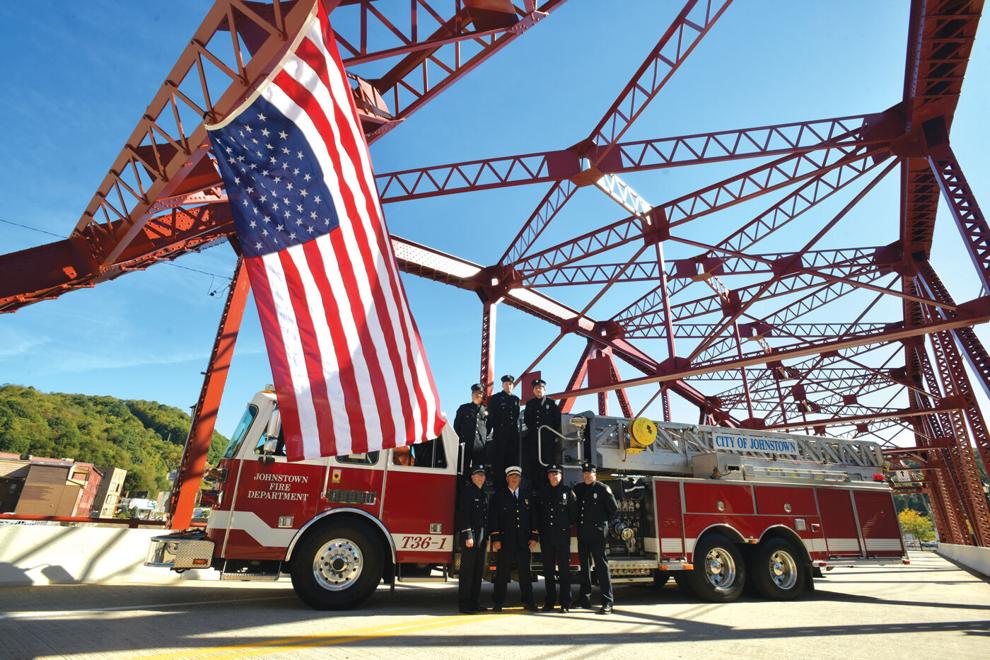 "My mission as assistant chief is that every single person on my shift goes home safe and sound," Mickey Miller says.
In the history of the Johnstown Fire Department, seven firefighters have not made it home safe and sound. Recently, they were remembered with a newly painted and renamed bridge in their honor.
The Franklin Street Bridge is now named the City of Johnstown Firefighters Memorial Bridge.
By next year at this time the second phase of the project should be completed. That will include a Firefighter's Memorial Park near the bridge at the corner of Vine and Franklin streets. The park will include a 16-foot steel ladder sculpture with seven rungs, designed by the artists at the Center for Metal Arts and computerized lighting like now used on Johnstown's Stone Bridge.
Anyone wishing to contribute to the Firefighter's Memorial Park can reach out to the Johnstown Fire Department to donate.
"It's a fitting tribute," Assistant Chief James McCann said on the day the bridge was unveiled.
"Coming into work every day, representing this great city just feels right."