Ray Rizzo has lived a life full of adventure, flying high with the U.S. Air Force and then with commercial airlines and finally with General Motors, taking up residence on land near Detroit with his wife, Nancy.
No matter where his career in the sky led him, though, his heart was always back home.
"Home, for us, was Johnstown," he says. "No matter where we went or what we did, home was Johnstown."
He and Nancy, a retired teacher, grew up in Southmont and Westmont and stayed closely connected to their families as they traveled across the states.
"We had such a marvelous childhood," he says, dialing in from Florida and lamenting that he hasn't been able to come "home" for far too long. "We even taught our kids that. For Easter and Christmas, they knew we were going to come back to Johnstown."
When he retired from being a pilot in 1992, he and Nancy decided to move back and help run Nancy's family's business, Inco Beverage, which they did for 20 years. Now their son, Ryan, is operating the company – a third-generation endeavor, with some interest already from the fourth generation. After 18 years at Inco, they'd had a successful second career well underway, so Ray and Nancy decided it was time to give back.They wanted to do so in a way that was meaningful to them and would offer the benefits of peace of mind, knowing their gifts would be properly managed and tax efficient.
That's when they discovered the Community Foundation for the Alleghenies (CFA).
"I thought maybe we ought to look into a foundation," Ray says. "We knew we were interested in education and kids."
CFA helped the couple direct their investments to causes that mattered most to them, setting up the Ray and Nancy Rizzo Foundation Fund in 2010. Their fund is established as a donor-advised fund, which allows them to make decisions about where the earnings from their investment will be directed. It's also an endowment, meaning it will continue to grow and support their passions in perpetuity.
"We love it, being able to give back to Johnstown," Ray says. "We loved every moment of the time we spent there. It was a great life, a fantastic life."
Without the forward-thinking actions of local business leaders 20 years prior, though, they wouldn't have had a community foundation as an option. The alternatives would have been to establish and maintain a private foundation or perhaps to make a series of one-time gifts. Instead, the Rizzos and others like them can contribute to the region forever through a public nonprofit foundation, a model that has helped build legacies and lasting community wealth in communities across the country. Through community foundations, individuals and companies can support their community's existing needs as well as those that the future may hold, thanks to professionally managed and invested endowments.
Such a model had never existed in Johnstown prior to CFA's founding in 1990.
Founding member Richard Mayer, former publisher of The Tribune-Democrat, says that, at the time, the concept seemed like a promising response to ongoing economic concerns. As is still sometimes the case, many locals measured Johnstown's success by its past.
"The good old days of the 1950s and '60s were pretty well gone by 30 years ago," he says. "The thought was that we ought to have a community foundation to stop the outflow of money leaving town and let people put their money into the foundation for the future."
Mayer, who continues to serve on CFA's directors' board, says he and other business leaders had heard of the model before, but the time was right to make it happen. They studied how other community foundations were established and nurtured and then made it official with the first fund: the Daniel and Marcia Glosser Fund established with $300,000. Since then, the fund has distributed more than $296,000 in grants to local organizations and scholarships for students in the region.
"When Dan announced that he and Marsha would establish the first fund, that was the first or second day of the community foundation," Mayer says. "That was a great kickoff for us."
The first executive director, Bob Allen, who was a recently retired CEO of Sani-Dairy, agreed to work pro bono, and the foundation – then called the Community Foundation of Greater Johnstown – set up shop in a single-desk office in the Penn Traffic building downtown.
Terry Dunkle, another founding member, had moved to the city a couple years earlier to serve as CEO of U.S. Bank, which is now AmeriServ. The late Darryle Myers, who was running the bank's trust department, was especially instrumental in getting the foundation off the ground, he says. Dunkle continues to serve as a board member and CFA treasurer, and he's a member of CFA's distribution, executive, and finance committees.
"I think the hope was we would be able to give back to the community that had given so much to us," he says. He recalls that the foundation grew steadily, moving to a new office in the AmeriServ building, and expanding its geographic footprint with a new name: the Community Foundation of Cambria and Somerset Counties. By 1998, it had surpassed $5 million in assets, and a year later it again expanded to a broader reach, becoming active in Bedford County and establishing the Bork Family Fund to support Indiana County causes through a $1 million bequest from Walter Bork.
By 1999, the organization established with the aim of making regular, small grants in Johnstown embraced a much more expansive vision as the Community Foundation for the Alleghenies. In 2001, CFA brought on current Executive Director Mike Kane, following the Foundation's first non -volunteer employee, David Kraybill.
Today, CFA has a staff of 11 employees, including endowment directors for Bedford and Somerset counties. The foundation devotes full-time efforts to grantmaking and last year awarded more than $11 million in charitable distributions and grants, including through regular spring and fall grants, plus special initiatives such as the Community Initiatives Fund and the Early Childhood Education Fund.
Assets have grown to more than $82 million, and the foundation now also provides support to organizations across Pennsylvania as well as local, grassroots causes, which can flourish with proper administrative and nonprofit backing. In early 2020, the Bedford County Community Fund reached the $100,000 milestone, which will allow for annual grantmaking specific to Bedford County. The Somerset County Community Fund is moving closer to its $1 million goal through the "Somerset County Gives" campaign and has distributed more than $283,000 in grants to Somerset County organizations.
"Once we hired Mike, it really felt like we had everything in place," Dunkle says. "We were able to watch not only the assets grow, but the people grow too."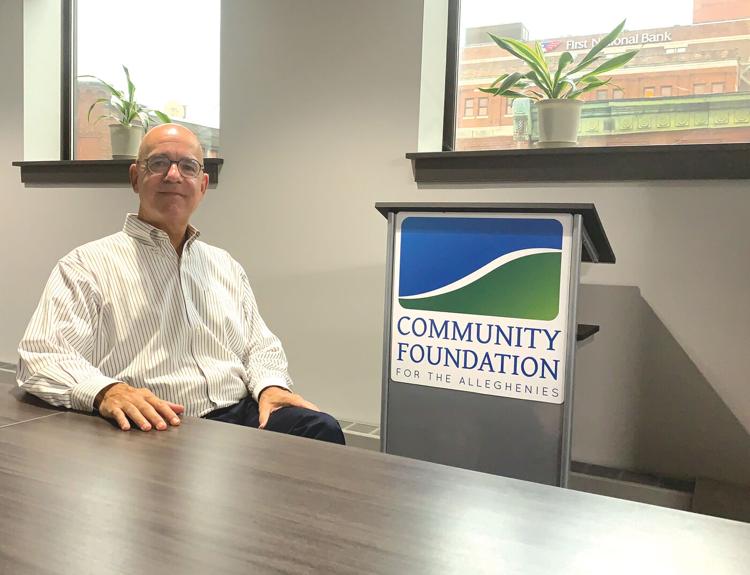 Like the Rizzos, Dunkle is a member of CFA's Legacy Society, which honors individuals who have committed to supporting the community and charitable causes that are significant to them by making a gift from their estate.
"The other rewarding thing for me personally was setting up the Dunkle Family Fund and watching that grow," Dunkle says. "I've enjoyed being part of the semi-annual distribution committee and having the ability to make decisions about where to give."
Transformational Changes
Local attorney Mike Sahlaney has been part of CFA's distribution committee – a group of people who determine how fall and spring grants should be distributed – since the beginning. He's now a member of CFA's board and executive committees. In his mind, the aspirations for the community foundation have evolved from supporting individual projects to catalyzing change.
"I viewed it as an entity that would grow enough to provide small grants," he says. "Initially, if our distribution committee gave out $20,000, we thought that was a big deal. I didn't think it would be transformative as much as helpful."
The foundation was situated to help replace corporate giving that had long been part of the region's heritage, he says.
"There were these big companies who were major contributors to the community," Sahlaney says.
As they relocated – or closed their doors, as in the case of Bethlehem Steel – the foundation offered a replacement for corporate generosity. That vision shifted to helping create community through grants that supported change-making nonprofit and grassroots efforts. CFA's Community Initiatives Fund, established in 2010, directly addresses that vision.
"Now we have been able to strategically support transformative projects," Sahlaney says, referencing an independent analysis of the impact of that fund. "The study really showed that. Before that, for me, the impact was anecdotal. The study helped to quantify what my sense was: This has to be making a difference."
According to an analysis by Pittsburgh-based Fourth Economy Consulting, the fund has directly and indirectly helped create a wide range of outcomes over the past 10 years: creating or connecting more than 77 miles of trails, conserving more than 250 acres of land, serving more than 34,000 young people, engaging 5,000 volunteers to improve the community, and providing health and wellness services to nearly 6,000 people.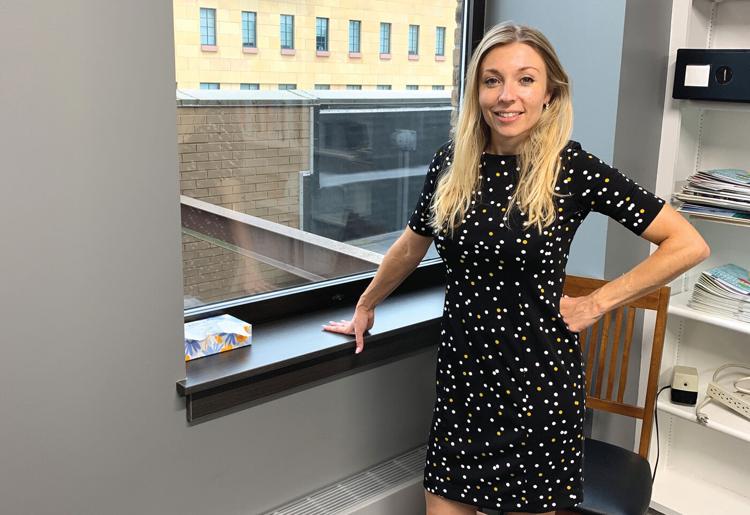 Sahlaney is careful to say, though, that sometimes the small grants, which continue through CFA's annual spring and fall grant rounds, have an impact that can't be measured.
"I'm really proud of the fact that there are a lot of ballfield restrooms and new venues with what they need to get started and bring people in," he says. "The original mission of funding community-based organizations is still fulfilled through our distribution committee. We can only give grants of up to $7,000, but that's bleachers in a little league field or a new hose for a fire company. You see it in the paper and it's not big enough to stagger you, but it matters to a lot of people and to the community."
Always giving back
For founding member Bob Eyer, the community foundation offered an avenue to fulfill a sense of civic responsibility his parents, Evelyn and Eugene Eyer, had instilled in him. He grew up watching them give back to their small hometown of Ashville, Cambria County.
"I would visit my mother in her later years and she'd ask: 'What did you do this past week?'" he recalls. "What she really meant was what did I do in the community here in Johnstown. My parents preached that if you live in a town, you have to give something back."
Beyond family commitment, Eyer, CPA and former president of Johnstown-based Wessel & Company, says business leaders have long played an important role in supporting local causes.
Some level of philanthropy has been a heartbeat of the community since the 1800s, Eyer says, when economic titans helped to provide not only employment but also hospitals, fire halls, and recreational teams. The community foundation created a new opportunity for community-based philanthropy, comprised of a broader group of people, citizens like the Eyers who cared.
Carol Stern, a resident of Somerset County since she was 8, saw firsthand the giving spirit of her friends and neighbors and was happy to help the community foundation grow even deeper roots outside Johnstown.
The Somerset County Community Fund was established at CFA in 2001; when Stern joined the effort in 2008 as director of donor services, the goal was to open an office in Somerset. That happened a year later. At the same time, CFA's Somerset County Advisory Board members decided to launch a campaign to double the Somerset County Community Fund, despite the nationwide economic recession.
They made it. Somerset Trust Company and Highland Tank each provide $50,000 in challenge match funding to double the fund's size to $500,000.
"That was so exciting," Stern says. "It meant we could do twice as many grants. That was a great moment for us, for our whole community. I was so proud." Now, the fund is on track to raise even more with a #SomersetGives campaign to reach $1 million.
Though she has since retired from CFA, Stern continues to stay involved in her community, especially causes connected to kids, and she and her husband Larry, a retired math teacher, are Legacy Society members who established the Stern Family Fund, which is designed to help local children forever. Both of them spent years volunteering with the Boys and Girls Club of Somerset County, and Carol continues to serve as a trustee for the Children's Aid Home Programs of Somerset County.
"My husband and I never could have children, though we have wonderful nieces and nephews," she says. "We just have a place in our hearts for the young people in Somerset County."
She knows there's much work to be done but feels hopeful about the future and the difference she and Larry will be able to continue to make.
"Luckily, there are many in Somerset County who feel the same way, a little army of people," she says. "We pray that when we're gone, they will keep that going. That's why we love the foundation. That legacy will carry on. They have a record of what we want, and we feel so secure in that."