With the sunny days and hot temperatures of summer, people should have been flocking to the area amusement parks to ride roller coasters and splash in the water parks. If the parks seem a bit empty this summer, thank the state's COVID-19 restrictions. Amusement parks have been allowed to reopen, but at half capacity, and that has changed how the parks are operating and what they are offering.
The decision to reopen
The region's four amusement parks – Kennywood, Idlewild and Soak Zone, DelGrosso's Amusement Park, and Lakemont Park – faced tough decisions this year. Could they reopen and keep visitors safe? For most of them, the answer has been yes.
Kennywood Park in West Mifflin has an enjoyable mix of classic and new rides as well as water attractions. It has been entertaining guests for more than 120 years. The management was determined that the tradition continue for 2020. Some of the attractions may not be running this year due to required health and safety measures, but the park is open with plenty of attractions.
"At Kennywood, many of our most popular events had to be canceled, including Phantom Fright Nights. We will instead have summer-style operations through the month of October, with many of our normal summer events being rescheduled to fill the void in entertainment during that time," Nick Paradise, Kennywood Park interim director of sales and marketing, says.
Kennywood's revamped Old Mill is open, although other rides remain closed so the park can adhere to the state's new health and safety requirements for them.
Also, the Show and Character Meets at Idlewild and Soak Zone were suspended to make social distancing easier.
Lakemont Park in Altoona phased in its opening beginning in June with attractions that were easier to sanitize and have people separated. However, the Treehouse Water Park remains closed and most events were canceled. The free movie nights still happen, but attendance is capped at 250 people.
"We canceled anything that could have had a crowd," Park President Andrea Cohen says.
DelGrosso's Amusement Park in Tipton made a decision during the lockdown phase that it wouldn't open this season.
"Many factors played a role in this difficult decision. First and foremost, the safety of our employees and our guests is our number one priority as it has been for 73 years. The uncertainty of when large attractions such as DelGrosso's Park would actually be permitted to open also played a significant role. This delay would only be compounded by social distancing protocols, capacity restrictions and supply chain interruptions. All of these obstacles would make creating a fun, safe and memorable guest experience, like we have done for decades, very difficult," the park announced on its website.
Paradise says Idlewild and Kennywood were committed to opening, but it depended on what the state allowed. "We felt confident that we could make the necessary adaptations to our parks to best protect the health and safety of our guests and team members, and thus open this summer," he says.
Part of Cohen's decision in opening Lakemont Park for the season was to continue introducing people to the new Lakemont Park. "We rebranded last year and felt we needed to stay the course and be open," she says.
The park needed to rebuild brand loyalty and to show off new features, Cohen says. For instance, the Lakeside Café remained open and debuted new menu items this years. The park also offers picnic baskets, which helps people spread out and socially distance while they are eating.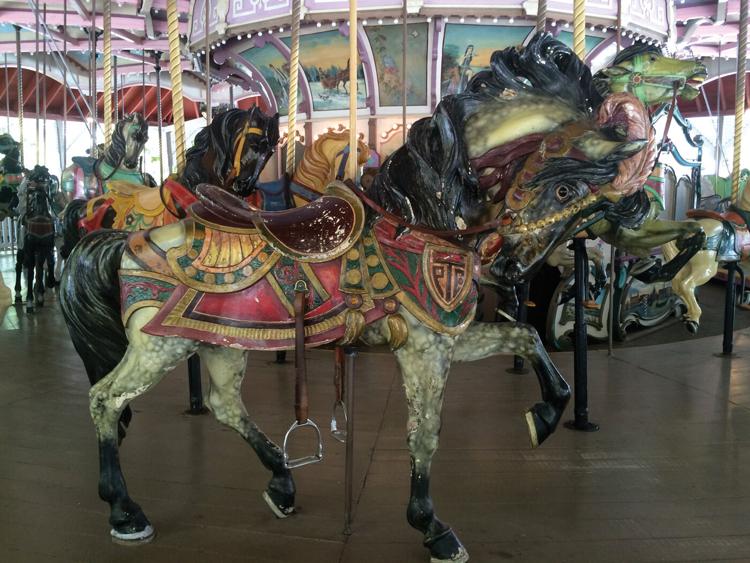 Maintaining safety
Idlewild, Kennywood, and Lakemont added signage throughout reminding guests to socially distance. Lakemont also uses markings on the ground to indicate the how far apart people should be waiting when they are in lines. Guests have their temperature taken when they enter the parks, and they can find hand-sanitizing stations throughout the parks.
"Our team members will remind guests when necessary, and we are also asking all of our guests to do their part and maintain their distance from other travel parties," Paradise says.
Even the rides are spreading the riders out more. Cohen says Lakemont is using an alternate seating plan on rides, which also allows for sanitizing the seats used between rides. Lakemont and Kennywood allow guests who are together to ride together, but each group is separated from other groups by empty seats.
Also, guests are required to wear face masks. The parks based their policies on recommendations from the state and Centers for Disease Control. Face masks aren't expected to create a large problem during the hot days.
"Many of our colleagues in the amusement industry, including those in hotter climates such as Florida, have been open most of June with the same facial covering policy, so we don't expect it be an issue here," Paradise says.
All the parks also have areas where people are more naturally spread out and social distancing can be maintained, so masks aren't required. It allows guests to breathe easier, particularly on hot and humid days.
Hot fun in the summertime
Despite restrictions, people have been returning to the parks.
"I wouldn't say we've been extremely busy, but we've been steady," Cohen says. She added that it has been easier for the staff to enforce the new policies. However, it has had a significant effect on the park's finances. Expenses are up because of the increased cleaning and sanitation and revenues are down because of attendance restrictions.
Paradise says his parks are working to help guests feel comfortable returning. They will also because offering discounts and special promotions to help them in their decisions.
Plus, the simple fact that people have been cooped up for so long in their homes, they want to get out. They want to have fun and not worry about whether they are risking their lives or not. They want to have fun.
The area amusement parks are doing the worrying for them so people can just get out, enjoy the summer, have fun, and look forward to better days ahead.