In the age of coronavirus, being grateful for what you already have can read like a Chicken Soup for the Soul book. With over 30 million Americans claiming unemployment and the Covid-19 death toll crossing the 200,000 mark, life can seem overwhelming.
But, as we go into the winter months, there is a recipe for being thankful for what you already have.
Some inspired local people share a few ideas to help you start feeling appreciative as you look forward to this holiday season.
It Starts with a Changing Attitude
Martina Springer, a social influencer in Upper Yoder Township, says changing a person's attitude is the first step in how a person approaches life.
On her Instagram page, @martinaspringr, her mantra is "Creating A Life I Love."
With pictures of her holding a cup of coffee each morning, she sports T-shirts with motivational sayings such as "Be Brave, Be Bold, Be Kind." Springer encourages her followers to either choose to look at things in a positive way or be doomed to continue down a negative path.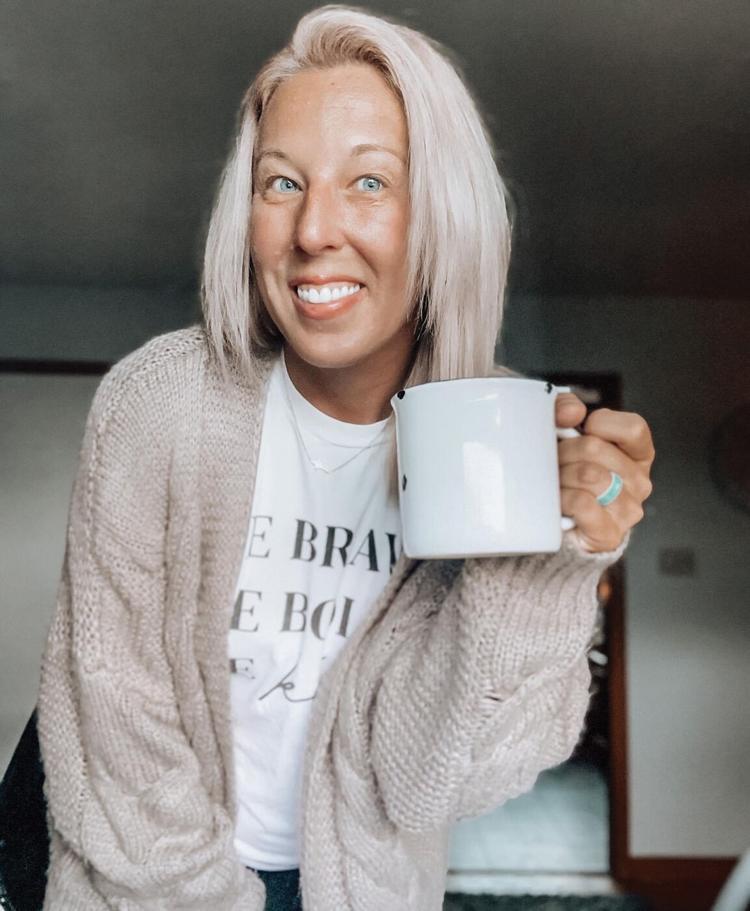 Springer's morning talks in the mirror (#trusttheprocess) inspire her supporters to live in the moment. She asks her followers to develop and keep a positive attitude and to embrace who they are.
"I have always had a passion for helping people," she says. "I inspire people to live the best life that they can. I love quotes to relate to something going on."
She says she often uses Pinterest, an online sharing network, to search for a quote that she hopes will inspire others too.
A full-time business analyst working from home, the busy mom of four says she is grateful for her family every day. "I am a big believer that if you change your attitude, you can change your life."
Search for the Beauty Around You
At the helm of the Cambria Regional Chamber is Amy Bradley, the CEO for three years. During the past year, she has been keenly aware of how the community has struggled economically. But, she points out, this region has had to pick itself up before.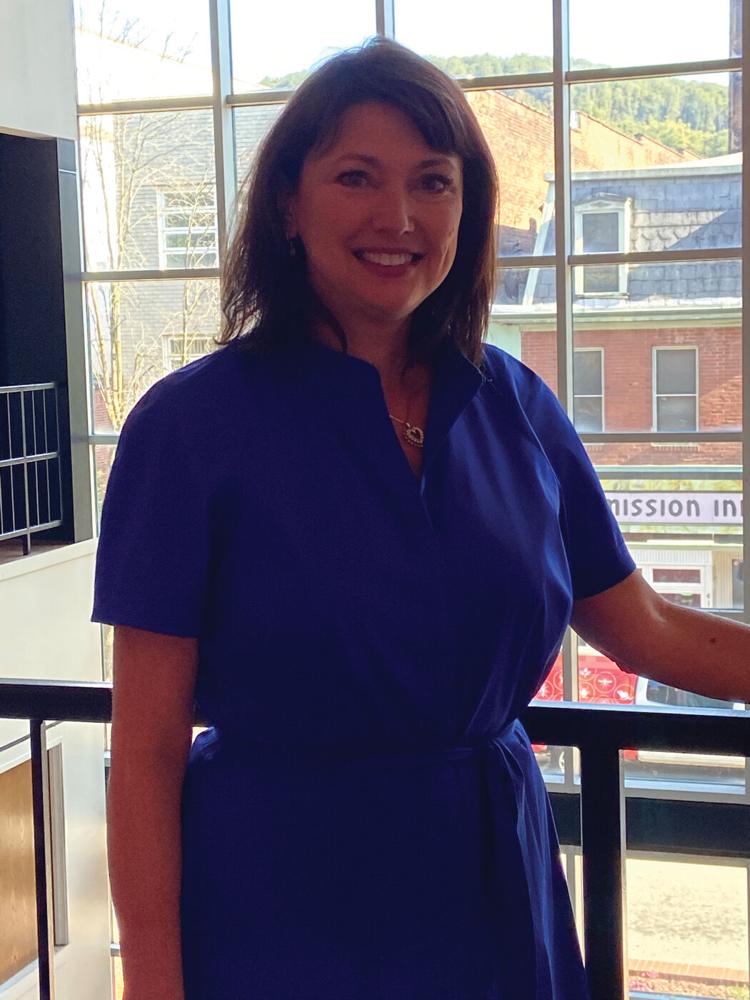 "I would say we have a very giving community," Bradley says. "If the community is aware (of a problem), then they are willing to help."
She points out the Laurel Highlands Lend a Hand Facebook Page that was created in order to serve those who needed help during the quarantine months when many could not get out.
Bradley says the chamber's goals are two-fold. First the chamber works to help its 600-plus members succeed. Second, it works to influence how the public sees the region and all that it has to offer.   
"We are making sure that people from outside the area and people who live here are aware and excited of all of the good things here in our community," she says. "And there are a lot of them."
Bradley says there is a lot to be excited about. Recently, the chamber created a new website, whereadventurelives.org, to highlight attractions within a 45-mile radius of Johnstown. She points out that many people do not know that so many wonderful sites are in and around the region. Some of them include 21 museums and cultural centers, four ski resorts, 48 trails covering 250 miles, 11 colleges and universities, and 14 state parks with 1431 campsites.
"I will forever be an optimist," Bradley says.
"I would just encourage people to look at their own hometown with a different set of eyes and learn to appreciate it."
Helping Someone Feel Special
The saying, "It is better to give than to receive," has been woven in our culture for generations. With the holidays coming up, many are thinking of how they can still pay it forward on a tight budget.
Jen Fultz, an instructor with the Community Arts Center of Cambria County in Westmont, has a knack of making gifts from regular household items. She prescribes to the idea of using anything from ribbon from a used gift bag to old crayons to make something ordinary into extraordinary.
"I get my creative ideas everywhere," Fultz says. "I look outside and I see things differently than most people." She says she watches You Tube channels to get her inspirations, reads blogs and finds interesting and creative people who share their love and enthusiasm with the world.
For those who are looking to stretch their dollar, Fultz recommends searching online.  
"There are thousands of crafters that take things that they purchased at discount stores and turn them into this amazing artwork by just a little detail," she says. "The way to make things on the cheap without making it look cheap are the details, but it takes a little time. So, you are trading a little bit of money for your time."
Fultz's latest idea is a book that is recycled into an ornamental tree. She says the books can be personalized. Some examples are a period novel, children's book or even a holiday tale.
The steps are pretty straightforward: Fultz folded several pages until it looked like a full tree, printed out a graphic (you could even use an old holiday card) and glued it on the book and finally used embellishments found around the house – such as buttons, ribbon and glitter.   
For those who take her classes, but don't think they are crafty, Fultz hands out words of encouragement and this advice – take your time and read instructions.
"Don't do it the night before (you need it)," she says. "That is the recipe for disaster."
Fultz says it is best to start a few weeks before and practice before attempting it for real. And for those who insist on hands-on instruction, the arts center has classes.
"We have Arty Parties for $15 and you can walk away with a gift!"
Grateful for Home
For Danielle Kendig, home is where the heart is. And making a house into a home is one of Kendig's passions. Aptly named Grey House 1910, her home was featured on the Old Westmont Holiday Home Tour last year.
Due to its huge size, Kendig had to come up with creative decorative strategies for the tour and she had to do it on a limited budget.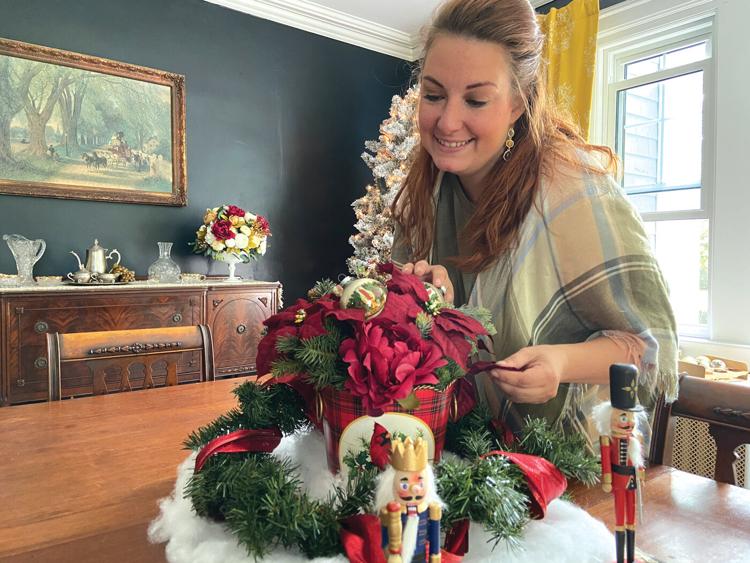 Kendig, who is studying to become a minister, says she likes to use a lot of florals and fruit in her decorating because of the home's Victorian look.
She visits area vintage and thrift shops in search of items that she can use throughout her home. Often, Kendig says she goes straight to the holiday section of a store, sifting through flowers and pre-made arrangements, looking for what she can salvage and make into something of her own.
"I am really particular with the florals with what I get. I will even paint the centers to make them nicer with gold," she says. She recommends those who are thrifting to look for things that can be useful. Kendig paired a lace curtain panel she found at a thrift store with ribbon draped around it and then set a glass centerpiece that she already had in the middle.
She recommends setting out old family photos among the centerpiece to enjoy at dinner and reminisce on.
Kendig says using different textures is a way to make any centerpiece or decoration feel full and alive. Items can often be used differently than what they were intended for. Adding a different decorative touch can add a personalized feel to a focal piece.
"Remember to think outside of the box," she says.
"Walk around your house and look at what you have. Think about how you can repurpose items."