When five historic ethnic churches in Cambria City were consolidated into one congregation in 2009, it looked doubtful that the abandoned structures would see life again.
"Churches are typically single-use buildings and it can be difficult adapt them to other purposes,"  Richard Burkert, executive director of Johnstown Area Heritage Association, says.
But thanks to the vision and dedication of those who refused to accept defeat, the remaining structures have bright futures.
Resurrection
"The churches of Cambria City are the character-defining features of the neighborhood, the highest expressions of the immigrant culture that built them," Burkert says.
But the Roman Catholic Diocese of Altoona–Johnstown, citing a declining number of priests and a dwindling population, merged St. Columba, Sts. Casimir and Emerich, St. Stephen, St. Rochus and Immaculate Conception into Resurrection Roman Catholic Parish. The former St. Stephen became combined congregation's home and the former St. Rochus became part of the parish complex. That left St. Columba, Sts. Casimir and Emerich and Immaculate Conception vacant.
A nonprofit group, 1901 Church Inc., eventually took over the three buildings.
In 2015, Sts. Casimir and Emerich was sold to Chad Pysher and Steven Biter, owners of Cambria City Flowers, who plan to turn the building into a restaurant and cultural center.
Plans are being developed to turn the former St. Columba into a theater.
And what of the former Immaculate Conception?
Now known as The Grand Halle on Broad Street, the magnificent structure has become one of the premier concert and event venues in the region.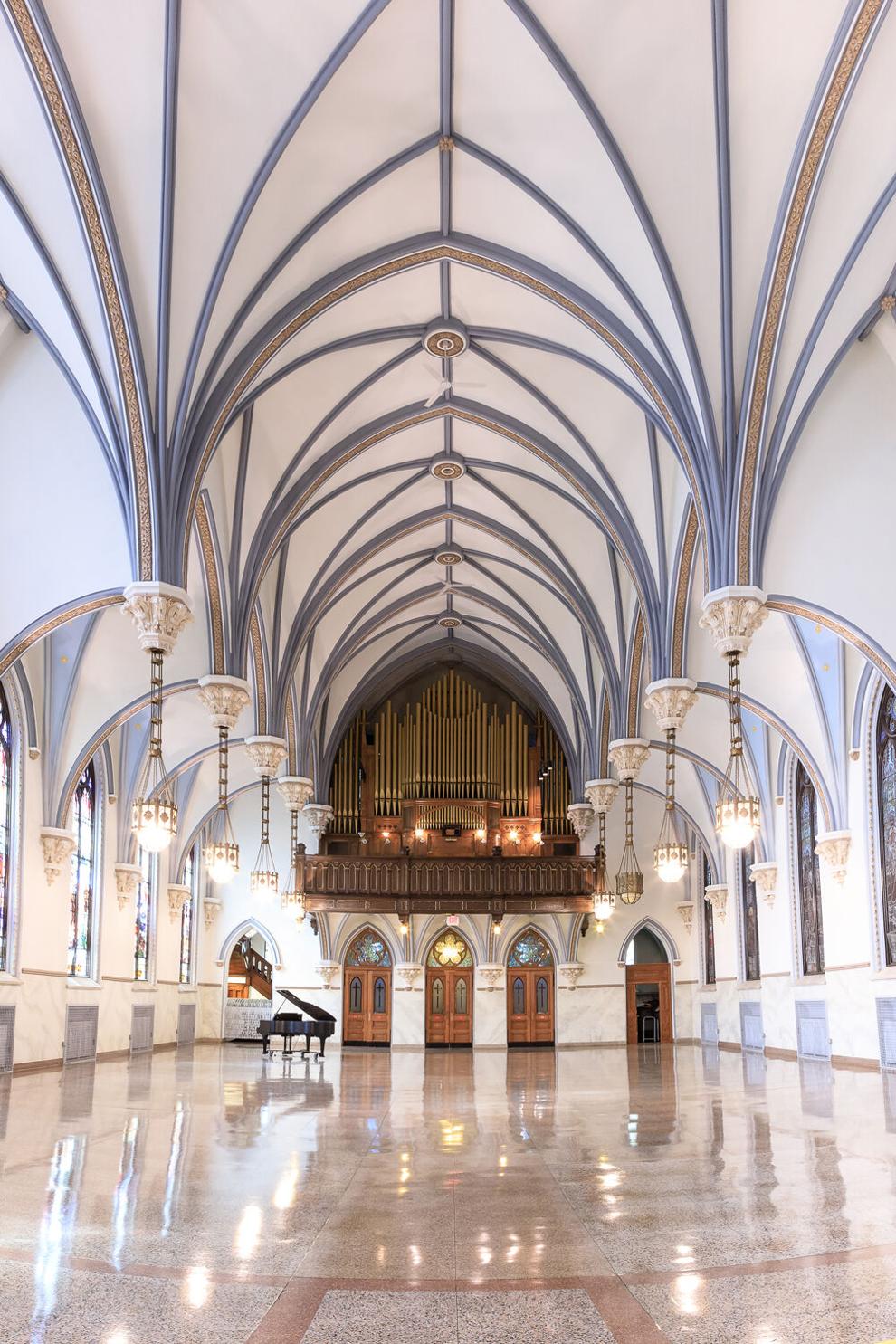 Renovations
Under the care of Dave Hurst, project manager for The Steeples Project, sponsored by 1901 Church, the structure has undergone extensive renovations. The second phase of the Grand Halle Renewal Project has just been completed.
Hurst, an author and former reporter for The Tribune-Democrat is in his element in the massive hall where he speaks with passion on Grand Halle.
It's hard to pick a favorite element in the structure, he says. But if he had to pick just one, it would be the stained glass which, he says, was made in the Munich style. "The more you look at that stained glass, the more the detail jumps out at you. It is so lifelike. For example, you look at the window with John the Baptist baptizing Jesus and you can see the hair and texture of the animal hide he was wearing."
Hurst says the says the first phase of the Grand Halle project repaired a very defective slate roof. "Just about every time it would rain, I would come up here and there would be plaster on the floor," he says.
"Roof repair sounds really pedestrian," Hurst says. "But that was a  $330,000 (project) and the reason it was so expensive was that it required a roofer that specialized in slate and metal work and they spent the better part of four months here.
"There was a lot of copper and a lot of work.
"But that was what was allowing the water to come in."
Once the roof was repaired, interior renovations could be done without danger of more water damage.
"We had our last event, The Service of Lessons and Carols, here in December," Hurst says. "That was on a Friday. On Saturday we brought a bunch of volunteers in and moved everything to our other building and then, the following Monday, Major Builders came in, laid plastic and started erecting scaffolding.
"We were within one week of having this entire project wrapped up at the end of March when the state shut-down happened. The construction crew was pulled off and everything sat here unfinished for two months. They came back toward the end of April."
Workers completely restored the plaster work, including one of the elaborate corbels that had deteriorated from water damage. "You cannot tell that there was a huge gaping hole and they basically just pieced it together," Hurst says. The crew also painted the entire hall including the blue and white ceiling. The floor was restored to its original luster.
Cambria Glass and Insulation was brought in to stabilize the largest of the stained glass windows.
"It was dangerously weak," Hurst says. "You could hear that window creak, when the wind was blowing.
"What kept me awake was imagining that thing failing during a strong wind event when there were people in here.
"We had some wind events where I literally came down here first thing in the morning, half afraid I was going to find the window on the floor."
Cost
The price tag for the entire project came in at just over half a million dollars.
"The real key to this whole project, was the formation of the Cambria City Cultural Partnership," Hurst says. The partnership is made up of: Bottle Works/Arts on Third Avenue, Johnstown Concert Ballet/Dance Works, Venue of Merging Arts/VOMA and 1901 Church, Inc./The Steeples Project.
"Between us and the three other partners, all located within a block of each other here in Cambria City, we were collectively able to exceed the match needed for the capital grant of $1.2 million provided to the partnership by the 1889 Foundation.
"(Our portion of that) provided roughly half of the funding. We also received a $178,000 matching grant from an anonymous donor. Between that and the matching funds from the Cultural Partnership and 1889, we were able to pay for the roof project.
"Inside, we received an $85,000 Keystone Historic Preservation Construction Grant and a $50,000 donation from the McKenna Foundation in Latrobe. We were able to match those grants."
Future
Hurst says there is no Phase 3 at this point, although there are still plenty of projects. "There are always things, both inside and outside, that need to be done," he says. One project would involve the restoration on the hall's massive pipe organ. "It desperately needs cleaning," Hurst says. "That sounds simple, but (just cleaning it) is a $20,000 project.
"Nothing is cheap in these buildings."
Before COVID-19, Grand Halle was on tap to host 27 weddings. Most have been cancelled or rescheduled.   
But Hurst expects things will quickly pick up once the pandemic subsides.
"It's become a destination wedding venue," he says. "It's one of the premier wedding venues in this entire region."
Hurst says many couples are drawn to Grand Halle upon seeing photos on line. "We have people who book this strictly on looks," he says. "They could book anywhere in southwestern Pennsylvania. They come here because they fall in love with this place.
"We get a lot of bookings from all the surrounding counties. We get couples from State College and Pittsburgh who have no connection to Johnstown."
Of course, weddings are not the only event that take place at Grand Halle.
"This is a community hall, so we are open to any number of different uses," Hurst says. "We see this primarily as a concert hall and a special-events venue.
"Because of the acoustics in here, it lends itself well to certain things. Amped music doesn't work in here. 
"The room was made for choral music which is just spectacular here. It does a marvelous job of framing the pipe organ. Instrumental music also works very well in here.
"We've had some great choral concerts. Major university choirs come through here and every one of the directors absolutely loved it.
"We're hoping to do a lot more of that type of thing."
St. Columba
Now that things are in good shape at The Grand Hall, development for St. Columba takes center stage.
"We're excited and getting close to the point where we will be able to reopen that building," Hurst says. "We are hoping to be able to do that this year.
"It will be in rough condition. But what we want to do is offer a dedicated theater for dramatic arts – which this region does not have – at least in terms of one that can be open year-round.
"So we're planning to reopen it – in rough condition – and basically offer it free of charge for theater companies to use for rehearsals, workshops, performances.
"We are offering it free of charge, because we learned early on that theater companies don't have deep pockets. Yet they need this facility and we want to put this facility to use so that is why we are taking this approach and we're raising the necessary operating support from other sources.
Hurst says a noteworthy supporter is the Ancient Order of Hibernians. "We have a chapter here in Johnstown," he says. "The Hibernians is an Irish-Catholic fraternal organization and it has pretty deep roots with St. Columba. That was the Irish parish in Cambria City and they have a real love for that building.
"They entered into a partnership with us where they are providing regular support and also are committed to doing fundraisers to help us develop that space. So we're excited about that.
"We have a $3 million adaptive reuse project (we are working on) for the ultimate development of that as a dedicated theater. Right now we're in the design phase for that.
"We hope to finish up design work this year and then we'll start the fundraising for the actual construction."  
Burkert says a lot of factors came together to save the historic Cambria City churches.
"Fortunately, we had great consultants and tremendous support from the public and the Diocese of Altoona," he says. "Johnstown will be a richer and more interesting place because these beautiful churches were preserved."