For over a century, the YMCA and the YWCA of Johnstown have been meeting the needs of men, women, children and families. While they have seen many changes through the years, from serving only boys and men at the YMCA to being a women's home at the YWCA, both continue to change and grow with the times, which, no doubt, is the reason to their longevity.
Let's get physical
It is getting busy at 11 a.m. on a Friday at the downtown YMCA as people line up at the door, checking in with Darla Morrow at the front desk. A new member is signing up for a senior membership, while another is swiping her card at the ID scanner. Behind her, others pull out their cards, waiting patiently to be let in through the door of the main building. Darla takes a phone call while she buzzes each new member in through the door, multitasking this mid-morning chaos.
Shawn Sebring, executive director, answers questions and opens the secure door for those with a membership ID.
"It's busy like this a lot," says Sebring, who is fairly new to the position. Still on the phone, Morrow nods in agreement.
In his first month, Sebring got to work, asking members to fill out questionnaires about the Y.  "Connecting with the members has been positive," he says. "I am just excited to be able to learn and connect to be able to serve all of them better."
His one-on-one conversations were a start to learn what members want and how to facilitate new and innovative programming at the center. "We want to be transformative in terms of delivering a product and services."
Ernie and Barbara Petersen of Westmont come into the building at least five times a week for Body Pump, a barbell class. Members since 1986, they use the gym to get healthy and stay fit. Both are excited about the new energy.
"I like the people and I like the atmosphere of the Y," Ernie says. "And I like the Y's mission. They promote a healthy community and they do that by involving themselves with children. If we get that right, then our future is better."
Barbara's favorite thing is the exercise bike, where she can compete against herself. "It makes me feel wonderful after I have a good work out," she says. "The more I have exerted myself, the better I feel. It makes me healthier the rest of my life."
Over in the gym, Dolores "Dee" Kmecak teaches a Silver Sneakers class four days a week. She used to teach an aerobics class, but when her knees started to weaken, she moved into the low-impact senior fitness class.
Kmecak, who has been leading the class for 15 years, says Silver Sneakers teaches seniors balance, strength and conditioning.
"They are like my second family," she says. "We stay positive and help each other out. When we see someone hasn't been to class, we will get a card for them. We are very motivating to one another."
Looking to the future
The YMCA, celebrating 150 years in the Johnstown community this year, is ushering in many new changes, from programming to technology. Established in 1869, it was originally used as a one-room library. Over the course of several decades, it has changed locations before permanently moving to 100 Haynes Street, where there is an Olympic-sized swimming pool, a full-sized basketball court, an indoor track and a newly renovated cardio/nautilus room.
But Sebring says the Y offers something more than a gym membership.
"Most people see it as a swim-and-gym, but I don't see it as that in the long run," he says. "It is our connection to the community. Whether it is helping with food gaps, or becoming involved with the after-school programs, we are choosing to be an organization that is committed to the community."
Sebring and his team have an ambitious plan to roll out new initiatives that keep kids connected in what he calls Learning Loss Prevention programs as a way to help kids continue to learn while they are out of school. He is partnering with United Way of the Laurel Highlands, The Learning Lamp, and the downtown Johnstown Public Library to provide a new educational component to the Y's traditional day camp.
"We wanted to grow and think outside the box," says Julie Sheehan, board president of the YMCA. "There's just so many opportunities coming available to us. Just the fact of adding this learning aspect to our summer program, it's just huge."
They also are implementing a new technology in which members and non-members can use an app on their phone to register for programs, check their account and sign in. And new security will allow members to use a key FOB to enter into the facility without waiting for someone to buzz them in. These added conveniences are meant to enhance the experience for all participants at the YMCA.
Sheehan says their focus moving forward is to be an open environment for everybody to share.
Last year, $183,000 was raised for scholarships for memberships for lower-income families and individuals. This year, as part of their sesquicentennial celebrations, they discounted the youth membership to $12.50 a month and introduced two new categories of membership – young adult and single-parent household memberships, both at a discount.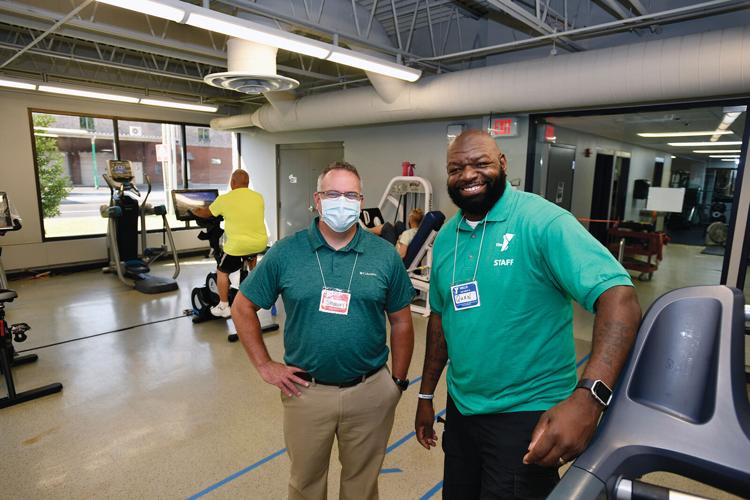 "This community supports this YMCA and they have been behind us. We are anxious to get our feet under us because there is a lot of need and there are so many kids and families that need us," Sheehan says.
Come on in, the water's warm
Debbie Goodman of Ferndale has been swimming at the YWCA since 1969. At first, she came  after work. Then, after she retired, she started to come during the day to help teach water aerobics classes. Now, she is an instructor.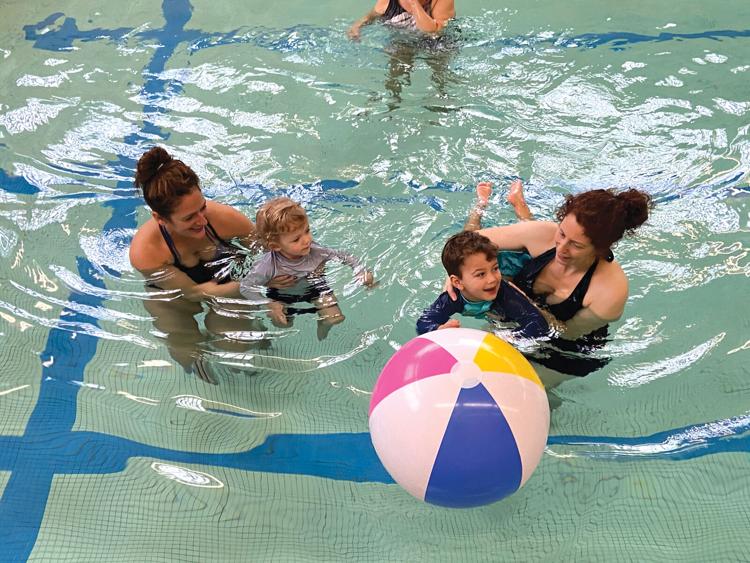 "When you have artificial joints, it helps you to relax," Goodman says. "Our pool is between 87 to 89 degrees. You can work out in the gym, then come into the water." In addition to the water aerobics courses, she teaches water safety to children as young as three months old.
Sarah Pruss enjoys taking her son, Teddy, to the Mommy and Me class. "I want to get him used to the water," Pruss says. "And I like that it is warm for him too."
Instructors do a series of paddles back and forth in the water with mom, then paddle to a big beach ball. A sequence of fun games help get the tots used to being in the water.
"The kids have a lot of fun, but it is meant to teach safety too," Goodman says.
The warm water pool is the centerpiece of the YWCA, says board president Diane Lopez, who learned to swim there as a child. At the helm of the board for 12 years, she is paying it forward.
"The water temperature is geared towards those who have arthritic and limb and joint replacements. Our exercises are geared towards these replacements."
According to Lopez, it's the only warm-water pool of its kind in the area, so members come to the YWCA seeking its benefits. For women especially, having warm water adds to their comfort. Lopez calls these particular women "Water Babies," because they aren't the kind of women you would normally find in a bathing suit. They come to the Y for health reasons, she explains.  
"You can do a jumping jack in the water and have the resistance versus doing it on land. It is kinder to your joints, so that is what we are selling," she says. "Some of our instructors are in their 80s and 90s and that alone shows their longevity."
Empowering Women
Located on Somerset Street, the YWCA is housed inside a turn-of-the-century mansion, built in the early 1900s by architect Thomas W. Myton and owned by the president of the Smokeless Coal Company, James P. Thomas. Fundraising through grants and private donations have helped to upkeep the building and, earlier this year, $82,000 was raised for a new roof over the pool area. A new goal has been set for interior repairs for windows, ceiling tiles in the pool area, and any unforeseeable costs as they move onto Phase II of the project.  
Over the course of the year, the YWCA holds several events to raise money, including a ladies golf outing and a tea to help offset costs associated with the maintenance of the building. The most popular fundraiser is the Tribute to Women dinner, which keeps in line with the YWCA's mission to lift up and recognize women in the Johnstown region. Started in 1987, the event highlights women in the community who have made significant contributions in several categories, including non-profit services, education and business.
"We get 30 to 40 nominations every year and they are read blind by the committee," Lopez says. "So it is truly done anonymously and it is amazing what some of these women do."
Lopez was the 2013 Yellow Rose recipient, an honor given to a woman every year by members of the board.
Nominees are selected by members of the community through an application process and a biography. A selection committee reads through the applications and narrows down the nominees by masking their names, revealing only their accomplishments.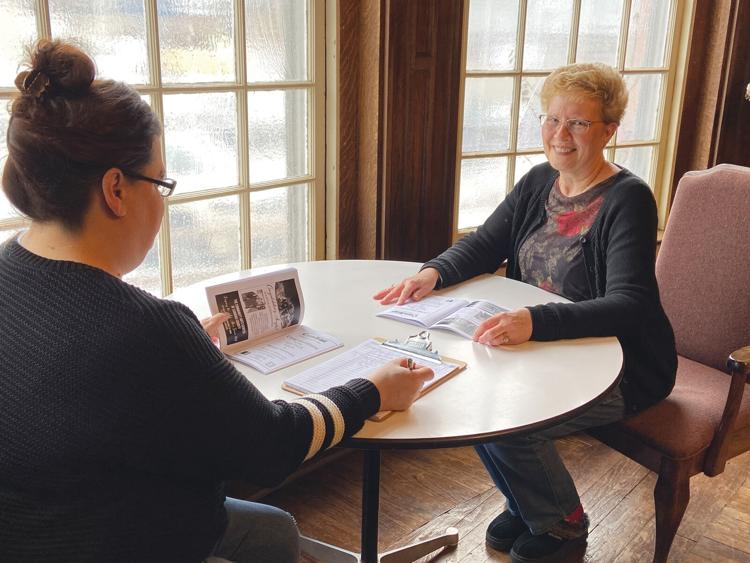 The YWCA also opens up their building to other programs and non-profits as a shared space to use as a way to help further their common missions.
The Cinderella Project, housed at the YWCA for 14 years, collects prom gowns all year round. On two dates in March, organizers open the third floor and invite high school girls to try on dresses, leaving with an entire outfit at no charge.
The program's founder, Megan Livingston, started the Cinderella Project with her mother, Debora Seese, after being inspired by an Oprah show. From there, they collected lightly worn dresses and gowns from neighbors and friends. Now, with the help of over 32 volunteers, they have grown their labor of love into a full project.
"I thought it fit in with the (YWCA's) mission and that it would be a great place for us," Livingston says. "We started out with just a few 100 dresses and now we have two full storage rooms." To date, they have dressed over 1,600 young women.
They also give out beauty bags, which are filled with donated items like deodorant, shampoo and other beauty care items, which the girls receive in addition to their outfits.
Any young woman with proof of identification like a driver's license or report card can participate in the program.
Another program the YWCA offers at its building is Hope for Johnstown, an organization that curbs violence in the city through events for youth.
"We give (free) space at least two times a month for them to do activities," says Mary Parson, executive director of the YWCA.
The organization uses the building to teach sewing and art projects to young people in the area. "What they are trying to do as a community organization falls in line as our mission," Parson says. "They are teaching their kids life skills."
Parsons says the YWCA works to connect with organizations that are in line with their goals. "We are here for the betterment of the community and we offer enrichment activities for people."
The YWCA often collaborates with other organizations who promote their objectives through events and programs as well as grants. For instance, YWCA is working with Conemaugh Memorial Hospital and the Stork Nest program to provide a basket full of baby items for new mothers who complete a wellness program.
Furthering their cause to help people is a new grant, identified through the Rev. Dr. Carl S. Fisher Foundation, a non-profit that was formed through the sale of the former Presbyterian Home in the West Hills section of Johnstown. Lopez is excited about the new possibilities the funding will mean for the YWCA and how it will provide for elderly women in need of quality-of-life issues.
"If a woman is in need of emergency health support, we can help them," she says. "Things like adult diapers, a walker, and a chair lift are some of the things we can help with." Lopez says they can supplement memberships with this grant, which is something that they are excited about. They hope to bring quality-of-life services to many women who come to the YWCA for support.
"We are still here in the community and we appreciate the community's support," Lopez says. "We feel like we are relevant. Women are still considered, in some arenas, second-class citizens, whether it is human trafficking or equal pay. We have single moms raising children every day and we want to be a source of support for them."
Parsons agrees. "I think a lot of people don't realize that we exist," she says. "Yes, we are a fitness facility, but we are also a community minded organization. We try to give back to the community as much as we get."