While it may seem that the only games people play these days are electronic ones, millions of adults, kids and families alike play games of all sorts – unplugged. According to the website Ranker, an online voting community that ranks everything from movies to sports, the best board game of all-time is chess, voted UP at over 10,000 by their community. It is followed by Risk, Settlers of Catan (or just Catan for the persnickety), Battleship and Clue.
The new card game, Exploding Kittens, raised almost $9 million in 30 days through a Kickstarter campaign in 2017, a record at the time. It is listed at number two on Amazon (Jenga is at number one and holding steadily).
While video and computer games are certainly popular, don't discount these low-tech past times. There is something to be said for a timeless game of Go Fish – or a good old-fashioned family game of Monopoly.
Role playing and dice throwing
In the backroom of Codex Comic Shop on East High Street in Ebensburg, Nick Weiland, the Dungeon Master, holds court. He is seated at a table surrounded by a half dozen eager adventurers who came prepared with character sheets – names, traits and back stories for their role-playing characters they worked on for hours. They anxiously wait for their DM to take them on a journey of Demigods and Deities, rolling the dice on what will surely determine their destinies to be in a lengthy Dungeons & Dragons session.
"My job is to tell a story to these guys. It can be as long as one session, a few months, or a year. It can take a long time," says Nick, who also works at the shop and is the son of the owners, Robert and Karen Weiland.
Nick uses comic book references as inspiration for some of his storylines. The cult classic comic book series Savage Sword of Conan from the 1970s is one of his favorites to draw upon and is based on Robert E. Howard's Conan the Barbarian. Weiland also uses video games as a backdrop.
"Sometimes it just pops into my head," he admits. Inspiration isn't far away – as he is surrounded by the shop's hundreds of comic books. "It depends on what kind of story I want to tell, like a mob boss kind of a one-shot thing where they go in and take him out, or do I want to tell the kind of story that has a bunch of elements that they find something that leads to something else." Weiland says he switches his campaigns around so his adventurers continue to be interested for the long haul.  
Brianna and Ben Bellomo are brother and sister adventurers who attend the Wednesday night sessions. Ben, an eighth-grader at Central Cambria Middle School, wanted to expand on a particular interest of his. "I'm a fan of a video game called Dark Souls (2011)," he says. Dark Souls is an action role-playing game of undead characters. "After doing some research, I found Dungeons & Dragons to be quite a lot like it. I also watch an unhealthy amount of the D&D show Critical Role."
Brianna agrees with her younger brother. She listens to people play D&D on Twitch (a live-streaming service) and YouTube, Critical Role being her favorite source of information. The show features veteran voice actor and DM Matthew Mercer. Now in its second campaign, the show attracts over a half million viewers each week to its platform.
At her college, Mount Aloysius in Cresson, Brianna says she felt alone in her interest – until she began reading through the D&D rule book and found Codex.  
"The history of Dungeons & Dragons is what intrigues me, like the Satanic Panic of the 1980s and the early '90s," Brianna says, referring a moral uprising the game set off that pinned the game to teen suicides and violence without any real facts or evidence. "The moment a bunch of people will start saying something is bad, I immediately want to start looking at it. But this game has a lot of depth. You can do anything, provided you roll high enough. There's not really anything that's a bad idea."
Kyle Harabaugh, a fellow student at Central Cambria school district with Ben, started a D&D club at his high school after trying to find other players. A junior, Kyle says he always liked stories such as "The Hobbit" or similar comic books, and thought it would be cool to be on an adventure he could get through on his own.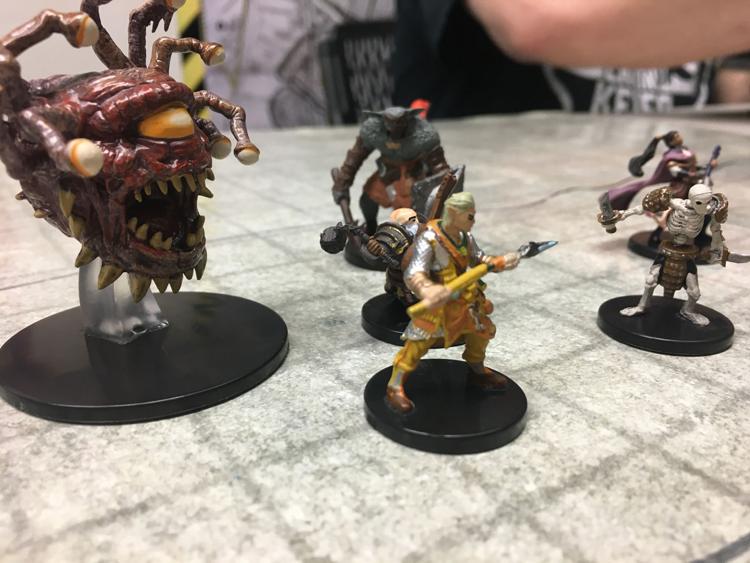 "I got the Dungeons & Dragons starter kit and I read through it and I loved it," says Kyle. "It took me like a year or two to come here (Codex) and figure out that they did it." Kyle says escaping the stress of school and enjoying a night out with his friends is what it's all about.
The group welcomes players of all ages and levels. Shannon Price played D&D in college more than 20 years ago. For her, she always loved anything that is storied. "I am interested in comics, video games, TV, and cartoons," she says. "Through Dungeons & Dragons, I can be part of the story, either as a character or as a DM."
Codex Comics & Collectibles holds evening gaming sessions at 6 p.m. Wednesdays and Thursdays on High Street in Ebensburg.
Cards can make the mind stronger
On the second floor of Westmont Presbyterian Church, a group of seasoned duplicate bridge players gather to play the same hand of cards until one couple wins. The intense afternoon of card playing is different from social bridge – they are all out to collect points to boost overall totals, posted to the American Contract Bridge League (ACBL). Who will prevail? It's a nail-biter, that's for sure.
The card game of bridge draws an estimated 25 million players, most of them over the age of 50, according to AARP. Among them, Warren Buffett and Bill Gates who are avid weekly players and use the game for its mental challenge. A 2000 study by the University of California at Berkeley found evidence that playing bridge stimulates the immune system, suggesting it may be because players use their memories, visualization and sequencing. Leonard Melander became the oldest player to win a U.S. national duplicate bridge championship in 2007 at the age of 82. Four years later, he won again in the senior division.  
Jean Livingston, president of the Johns-town Bridge Association, agrees with the game's intense mental exercise. Because the game has a lot of rules and regulations to memorize, she says, you have to stay focused on what you are doing. On most days, the group sets up between five to six tables of four chairs – one hand of cards will be played five times.
Her husband David, past president of the club, says it must be a good partnership between two players of the same team.
"You are a judge on how well you perform the exact same hand. North and South are a partnership and East and West are partnered," David Livingston says. "Depending how well you play, you get either a high score or a low score."
"All of us belong to the ACBL," Jean Livingston says. "Our points accumulate. And there are opportunities to travel and compete in local and national competitions if people want to increase their point levels." It can be quite exciting to travel to destination competitions, she explains, but those who compete at these higher levels are much more competitive. The couple recently travelled to Daytona Beach, Florida, where players can earn Gold Points, a higher point assessment collected toward masterpoints, which will ultimately count toward Life Master. They are planning to go on a cruise out of Miami early this year that is dedicated to duplicate bridge players working on masterpoints.
The group welcomes novices who are interested in learning how to play.
"We have people here who are beginners and people who have a lot of points," says Jean Livingston. David Livingston often runs a practice session for anyone who wants to learn how to play a half hour before their games or for those who want to sharpen their skills. He also has offered Learn Bridge in a Day seminars on Saturdays, which has brought in a few people interested in learning.
"To master it, it will takes years though," he confesses.
"I grew up in a pinochle family, but I started playing bridge in college. We had our kids and got away from it, and now we are back into it," David Livingston says.
"It's never too late to start again or learn."
George "Bud" Kury is the club's resident expert. He has been playing for more than 25 years. He is a Gold Life Master, collecting more than 2,700 points. Bud says someone in his class can collect upwards of 10,000 points as an amateur player, but he is satisfied with how far he has come. "It is strictly an ego thing," he says. "You play for the prestige and play among your peers. When you go places, people know you." As a competitor in his class, the farthest he has traveled to play was St. Thomas in the U.S. Virgin Islands. These days, he stays in the Pittsburgh area.
"When I first started playing, I went six months without winning," recalls Kury, who says he is a very competitive person. "Then I started reading everything I could get my hands on, and playing as much as I could, playing against better players. It was my hobby. If you play, you want to be better."
Like Kury, Marjorie Hughes has been playing bridge for over two decades. The 95-year-old started after her husband passed away and a friend appeared at her door with a deck of cards.
"It keeps my mind going . . . you have to think." She believes playing cards have helped keep her mind sharp all these years. Asked if she will be the next national champion, "I like it right here," she says.
Anyone interested in keeping their minds sharp can find out more details at  www.johnstownbridge.com.
Red Dragons take over the library  
On a Wednesday afternoon at the Cambria County Library on Main Street in Johnstown, you will hear words such as "Crack," "Bam" and "Red Dragon." It's a rhythmic dance of placing 144 green and white tiles drawn and then discarded until a player calls out "Mah Jongg" – matching four melds (Pongs, Kongs, or Chows) and a pair (eyes). Sometimes, the group of players draws a crowd of on-lookers sitting on lounge chairs surrounding their game tables. The odd words and clicks of the tiles steal their eyes up briefly from cellphones, wondering what sort of game they are witnessing. It is a sight to behold among the computers and books, adults stretching their minds, thinking in a different way.  
Bill Neatrour, a retired teacher in the Greater Johnstown School District, is still learning this complicated game after two years – he's the newbie of the group. He neatly lines up his tiles in a row and quickly decides on a strategy as the tiles come pouring in.
"It's a thinker. You really have to put your brain all in," Neatrour says, crediting his playing dominoes for giving him a slight advantage to learning the game right from the start. It's the strategy that he now has to groom.
Helen Pedaline has been playing the longest in the group, over 10 years. In fact, she taught many at the library to play. She herself was taught by a friend from China at the senior center in Richland Township with whom she still playing. Her concentration and patience set her above the rest. "I like the challenge with this game, but it's also a lot of luck," Pedaline says.
One of Pedaline's students, Lydia Dutko, first started playing online. Then she began playing at the senior center downtown, where she met Pedaline. There, she says, she picked up better skills because of the personal interaction with everybody.
Dutko says the group subscribes to the National Mah Jongg League each year to get updated cards full of new hands and rules. It also gives the group tips on the game that they all learn together.
"I like it because there is a little Q&A that gives people like us a lot of information, and you can learn a lot from that. I do," Dutko says. She says people often times will write in to the league with questions that are reprinted on the cards for clarification.
While they all play for fun, there is a competitive mood to the game. After some time, players get a clear sense for what a particular player is going for.
"And that's where the strategy comes in. You can keep them from winning and decide to break up your hand," says Dutko. "Sometime in the middle of the game, you may be going for tiles that they are throwing out that you could use, but you can't pick up. So then you have to find some other way to use what you have in your hand."
The history of board games
The evolution of board games has been David Ruckser's hobby since he was a small child. A retired graphic arts manager at The Tribune-Democrat, he loves figuring out board games, many new, many obscure. On the topic of playing cards, he is most excited to teach how Tarot cards went from a regular old deck of cards to forecasting the future. Ruckser boasts collecting every version of chess out there and prides himself on knowing the history of the earliest versions of board games and its advancement. Oh, and he makes his own pieces for games that are lost and designs chess pieces with a 3D printer.
At his house, Ruckser invites friends and neighbors for table-top gaming sessions to try out new games and even play longstanding favorites for good old-fashion fun that can last upward of four hours. Sometimes, players' children sit in on the gatherings and roll the dice.
A first-rate collector, Ruckser has amassed a selection of board games and playing cards from different people who  know he enjoys them, or thrift stores that have bargains. Other times, he buys them online or from fellow collectors. Once secured, he catalogs his find on the website, Boardgamegeek, then watches a video on how it is played, reads over the rules, plays the game, and then finally, rates all of his findings on the website. Ruckser's process is time-consuming, but he wants to be accurate. Right now, he is doing his own review of a multi-player pyramid-building board game, Valley of the Kings, which comes highly rated on Amazon and Boardgamegeek. He's eager to see if the ratings hold true.
"The mark of a good game is you want to play it again and it will change each time," Ruckser says. "The very best games will be that you do not know until the very last second who is going to win – that is how some of these games have lasted for centuries." Even chess has evolved. The way we play today is not how we played 500 years ago," he says.
Ruckser is moving along ancient board games with his friend, Frances Serenko. They started playing The Royal Game of Ur, the first-known game found in a tomb in the ancient Sumerian city of Ur (in modern-day Iraq). This ancient Egyptian game is a spiritual journey of Ka (a person's double) into the afterlife. Then, they moved on to Senet (which means "passing"), an offshoot of Ur, that is another representation of the afterlife where players meet hazards, both good and bad, on their journies. Queen Nefertari is shown playing this game on the wall of her tomb, and King Tutankhamun was buried with at least five of the games, according to the Metropolitan Museum of Art in New York City.
Ruckser and Serenko wrapped up their historical gaming session with Backgammon, traced back to Mesopotamia (modern-day Iraq). A two-player dice game, it has 15 checkers that move between 24 triangles. The first to move all of their men off of the table wins. As they played all of the games in their proper historical timeline, both men were educated a little more about the significance of each, paving the way to games we have now.
"It's a way to relax, to help the brain," Serenko says. Right now, he is taking time off from his job as a conductor with a railroad company to heal from a traumatic brain injury. "It is therapeutic for my recovery, so it has a double benefit."
Serenko says the fact that the games have a history behind them is what intrigues him, a common bond between he and Ruckser. "They would use them (the games) to unwind or settle disputes. Sometimes land or countries would be at risk because of a game," he says.
On how they employ their strategies: "Frank usually beats me at the strategy games. I tend to play as a knee-jerk reaction," Ruckser says with a laugh.