When COVID-19, a respiratory virus that spreads from person to person, shut down the country in March of this year, many in our area – both in the medical field and service industries – braced for impact. Keeping the community safe while basic services remained open was a balance to be struck in the face of a virus that was killing hundreds nationwide every day. Now, several weeks later, our unsung heroes reflect on what it is like working as front-line workers during the pandemic.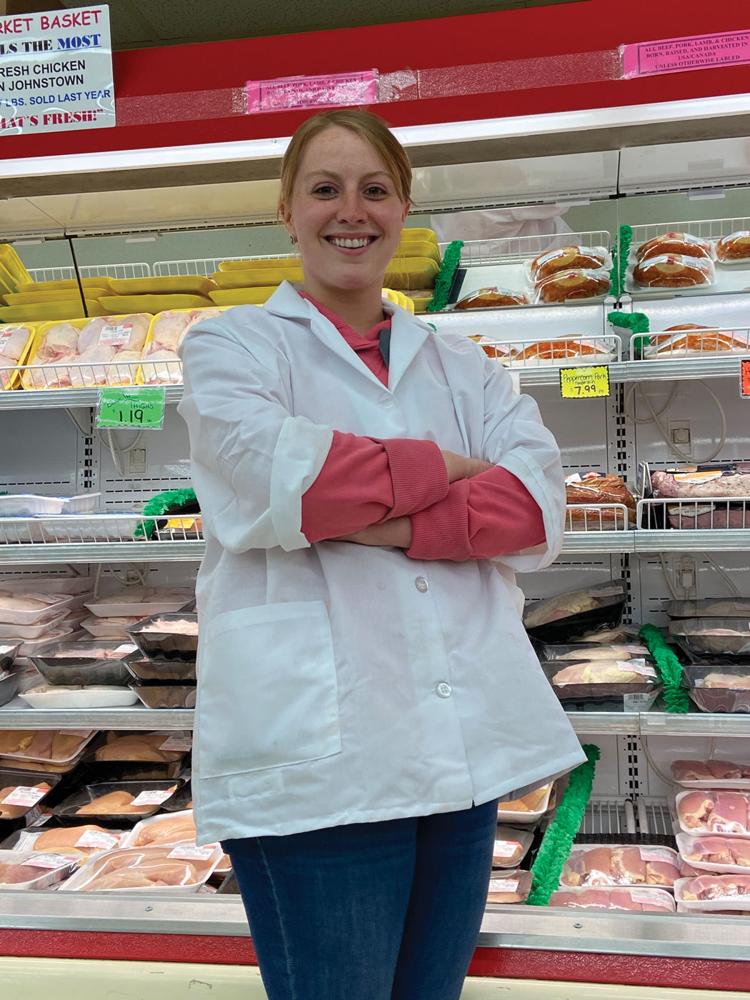 Kelsey Siehl
Holsopple, Somerset County
Kelsey Siehl, 25, of Holsopple in Somerset County has worked at Market Basket in Richland Township for six years. Recently, she was named the first female meat room manager in the company's 40-year history. Taking on the new position in the midst of the coronavirus was a big challenge, but Siehl says she was ready to help make sure customers were served.
"I just try to stay positive," she says. "We are all in the same boat together and we just can't let it get to us. These days have been super long and hard and hectic. I just try to get everyone else to be as excited as I am.
"I am just happy to be here."
Siehl says her job is very fast-paced in the meat room, especially now with meat being in such high demand. She keeps busy ordering and cutting meat and making sure her department is clean according to protocols put in place by the Centers for Disease Control and Prevention (CDC). But she is especially concerned about getting product to her customers.
"Most people have been very pleasant," she says. While a few customers have expressed frustration, Siehl says the majority have been great. "I know, just like everyone else, I am ready for this to be over."
When she is not working, Siehl and her husband, Kory, garden and raise chickens and ducks on what they call their own little farm.
"That keeps us very busy," Siehl says.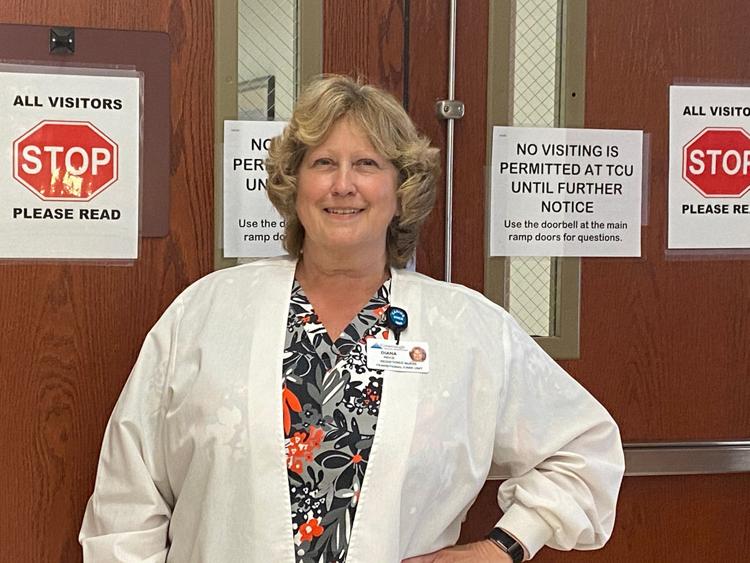 Diana Price
Lower Yoder Township
Lee Transitional Care is a skilled nursing home with mostly an elderly population with acute illnesses who need someone to help them go from a transitional period of care back to their homes. For the last 12 years, Diana Price has overseen that care as infection preventionist and registered nurse case worker. Her position has been especially important during the coronavirus outbreak, as she oversees preventative policies and procedures that protects the population within Lee Home.
"We are always prepared for infections," Price says. "We are always prepared for emergencies and we have been planning for any type of infection on a continual basis." Price says that her job is a state-mandated position that is constantly informing her staff on how to prepare for these emergencies.  
"We're always looking to prevent any type of harm to our patients, which include infections, and mitigate anything that would happen in the future," she says. "As a basis, we were prepared for transmission-based isolation and quarantine-based patients and we knew what to do." Price says that knowing what was happening in the eastern part of the state allowed for further preparations within their center and therefore allowed them to prepare tighter restrictions for their vulnerable residents.
Some challenges arose with the isolation of their residents, but Price and her staff received support from the community in the form of coloring pages, notes, books, and new ways of communicating with their loved ones via the platform doxy.me that allowed residents to talk to family members face to face. She says, while it has been a struggle for some, most have adapted to the changes.
As for herself, Price has missed being a grandmother to her grandchildren and missed out on a planned vacation to the Netherlands with a close friend.
"It has been very hard because I am isolated from my own family," she says. "I really miss the kids." She says she has been walking more as a result of the quarantine and hopes that the exercising will be a positive outcome in all of this.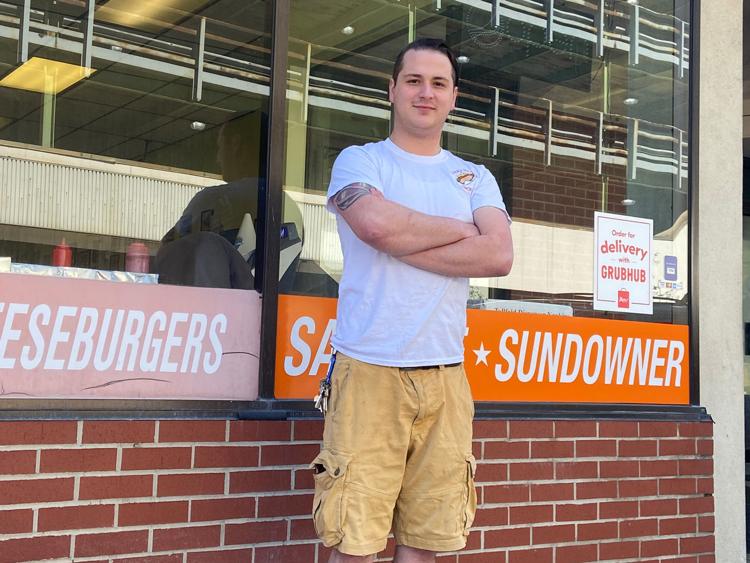 Taylor Clark
Johnstown
Taylor Clark is best known for slinging hot dogs and sundowners at Coney Island Lunch in downtown Johnstown. So when local school districts were closed due to the coronavirus, the 26-year-old went into action.
"I was sitting at home with my girlfriend, Lilah, and I said, 'I think a lot of kids depend on those meals,'" he says, adding that he realized that kids would be affected by state closings, but also his own business. Lilah encouraged his idea of free meals and, after consulted his parents later that night, Clark started the project the next day.
"The program has evolved since that first day," Clark says. "At first, we asked for some kind of ID, but now we don't even ask for that." To date, they have served more than 3,000 meals.
Clark, who is the owner of Coney Island, reopened the restaurant in July of 2018 after the retirement of Sam Contacos. Clark adapted his business during the state's red phase, which restricted businesses to take-out only.
He taped off the seating area, put up plexiglass to protect his servers and customers and had his workers wear masks.
"I'm just taking this seriously," he says.
Parents with kids can pick up meals from 11 a.m. to 1 p.m. and 5 p.m. to 7 p.m. until school resumes again in the fall. Children have a choice of a hot dog, cheeseburger or grilled cheese with fries and a drink.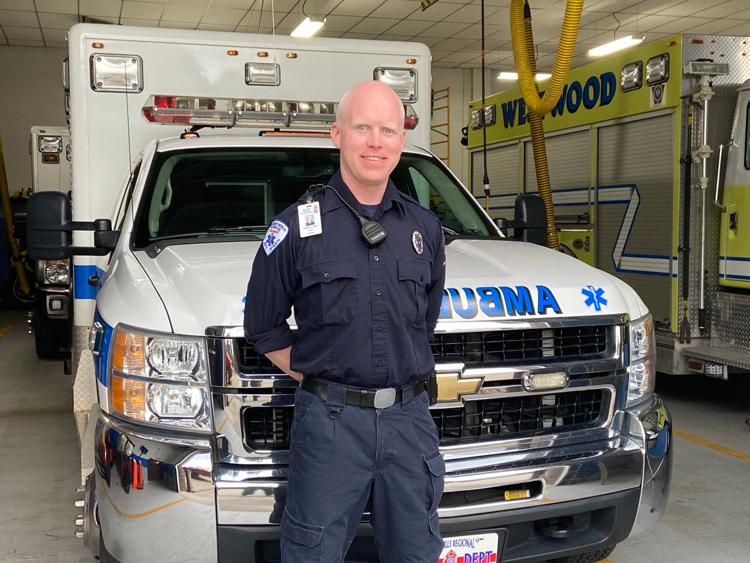 Justin Henning
Strongstown, Indiana County
Paramedic Justin Henning of Hilltop Ambulance Service in Westmont Borough has been in the emergency medical field for 16 years. Henning serves as not only the emergency medical service manager, but also crew chief who manages payroll and other administrative duties.
But being a paramedic isn't his only job. Henning is a full-time elementary gym teacher at United School District. During the coronavirus, which forced schools to shut down for the rest of the year, he stepped in as a second-grade distance-learning teacher to help support his colleagues where needed.
"Since school closed, it gave me more flexibility with distance learning to be (at Hilltop)," Henning says. His flexible schedule allowed him to work nights and weekends and pick up the necessary hours needed during the crisis, especially in the beginning.
"Initially, there was a lot of planning once we saw the numbers add up and it was going to be bigger than we had originally anticipated," he says. "There was a lot of preparation, changing our protocols and initiating temporary protocols." Henning says it got quiet in the month of April, once the stay-at-home order was instituted.
Henning says he and his crew were initially anxious over the possibility of being exposed to the virus. They put new safety procedures into place to disinfect the station, interview patients, choosing what equipment to take into homes – all in an attempt to keep the crew and the patients protected.
"I think we have a good system here, so I don't get too stressed out," he says. "We are always wearing a mask and patients are always wearing a mask whenever possible."
Henning says he runs to alleviate stress. He tries to be outside as much as possible, hanging out with his wife, Chanie, and his three boys, Jackson, Bodin, and Cavan.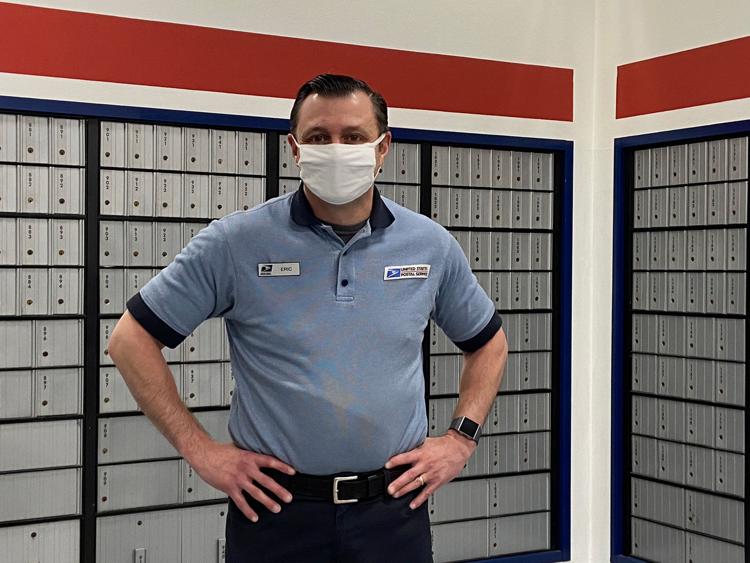 Eric Anderson
Upper Yoder Township
If you have visited the United States Post Office in downtown Johnstown, you may have met Eric Anderson and been greeted by his warm smile.
A 14-year-veteran with USPS, Anderson started with the postal service after serving with the United States Air Force.
"My kids seem to think I know every person in Johnstown," Anderson says with a laugh. He is the father of two daughters, Lauren and Lindsey, both in high school. "It is just simple math. I have been here at this station for six years – 500 people a day, 300 days a year. I do interact with a lot of folks and a lot of the time they are repeat customers, which I like to think is because we treat them well."
Although Anderson is separated by a pane of clear plastic from his customers, he still manages to make each person feel at home.
"I derive a great deal of satisfaction from it because an overwhelming amount of time I am helping somebody," explains Anderson, who is also an instructor at the postal service's sales and service academy. "Whether it is helping somebody get a birthday card to grandmother, or helping someone get a package to someone deployed, or to a loved one overseas. Or even helping someone process a passport application to take that dream vacation or their honeymoon, the majority of the time it is a positive experience on both parts." Anderson credits the team he works with at the post office for making it a positive work environment.
"It is nice to work somewhere where you feel that everyone is pulling in the same direction," he says.
Anderson enjoys working out in his home gym. He is looking forward to playing a round of golf or two with his wife, Amy, and his daughters now that they are taking lessons.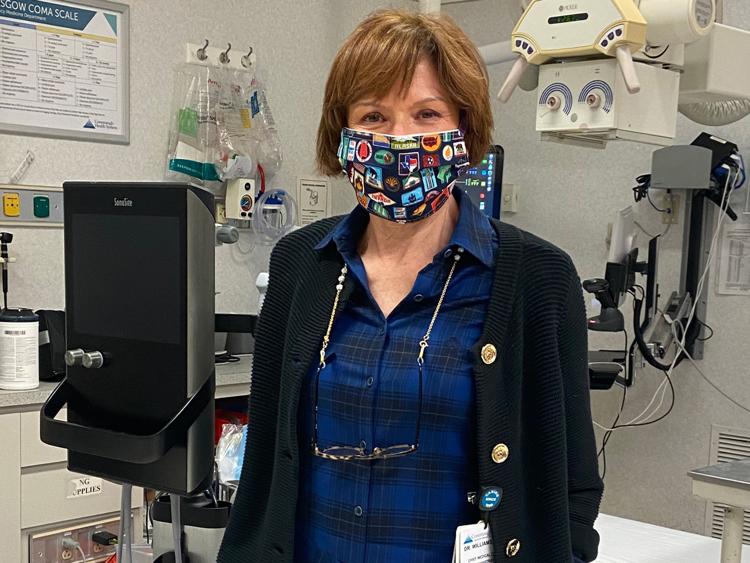 Dr. Susan Lyman Williams
Southmont Borough
Five years ago, Dr. Susan Williams moved to Johns-town from Philadelphia to become Conemaugh Memorial Medical Center's chief medical officer. Now she is helping the hospital navigate a worldwide pandemic.
"I am extremely lucky to have a very committed medical staff, very committed nursing staff, and a very committed ancillary staff," Williams says. "Our interactions have been very focused because COVID is a huge problem. It's really complex to manage an infectious organism throughout the hospital."
Williams credits the collaborative efforts of all of the different departments and employees who work together to make sure the hospital is a safe environment. "It's been longer hours, and it's tougher and I have been impressed with how that's gone."
Williams says that her job is to make sure there are policies and procedures in place that ensure the safety of the community the hospital serves. In doing that, it helps the front-line people in the hospital get their jobs done safely.
"It is one of the most gratifying parts of my job," she says.
A positive outcome of the pandemic is telemedicine. Since many people have been at home and unable to go out to doctors' offices, telemedicine has become a more popular option.
"We would very much like to see (telemedicine) continue and believe the providers and insurance companies see the value and, if that comes out of that, it would be great," Williams says.
Self-care also is an important part of  Williams' routine. She says the message of taking care of oneself is a really good one – one she believes can contribute to a better workplace and a healthier self. "You see again and again that, with poor health outcomes or just unhappy people, they haven't taken care of themselves.
"I also think that all of us spend all of this time at work. And the environment in the workplace is hugely important and I think all of us contribute to that environment every single day," she says. "So when you do come to work, you do want to be there for your colleagues, your patients and that is actually very gratifying."
The natural beauty of the Laurel Highlands is the backdrop of  Williams' self-care schedule.
"I am a runner and that is amazing for stress reduction," she says. "When your entire being is focused on breathing, all the stress goes away.
"I also enjoy golf, although my golf game does not reflect how much I enjoy it, but it is fun to get outside."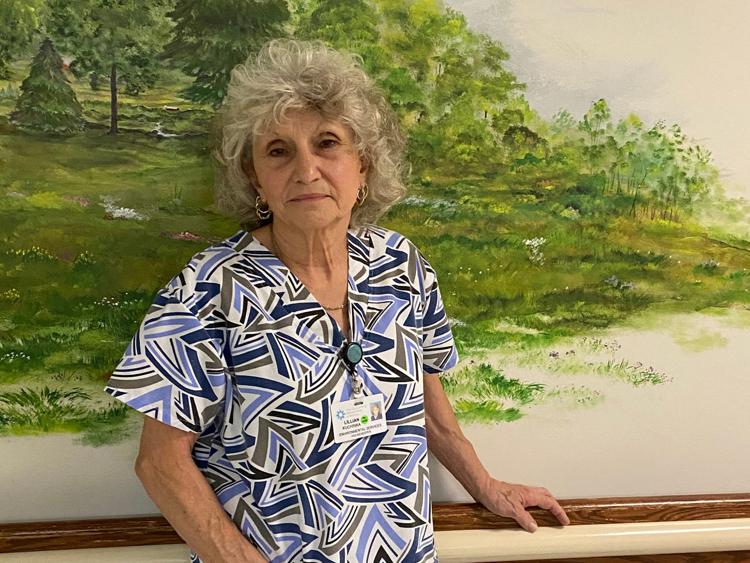 Lillian Kuchinka
Central City, Somerset County
Lillian Kuchinka of Central City, Somerset County, is one of the workers who keeps Chan Soon-Shiong Medical Center in Windber clean. Since March, her normal cleaning pattern has taken an unexpected turn, including how to disinfect rooms where people have tested positive for COVID-19.
"When this first happened, it was overwhelming. It really was," says Kuchinka, who has been cleaning for the hospital for over 43 years. "We didn't really know – it was all new and we didn't really know if we were doing it right or wrong." Kuchinka says they knew how to prepare isolation rooms, but for a health concern such as the coronavirus, it was new to them all, including the nurses and doctors.
"We all learned together." Kuchinka says there is a lot of hands-on cleaning of the rooms. First, she sprays down a room with disinfectant after a positive test occurs. She then waits an hour to clean it, wiping down all the surfaces by hand, scrubbing it clean.
"You go through the motions every day and this makes you think. I'm really lucky," Kuchinka says. Her husband, Michael, had open-heart surgery six years ago and she still has a teenager, Evan, at home. "I have to worry about (Michael) more than anything," she says. While both still work, her husband is immune-compromised.
"I don't think we will ever be at ease."
Kuchinka and her husband enjoy antiquing when they are not working. They have found several lucky spots in Irwin, Hancock, and Beaver Creek that they love visiting.
Kuchinka's positive outlook coming into work each day is what keeps her going. "If everybody works together, I don't care who you are, I think we will get through it."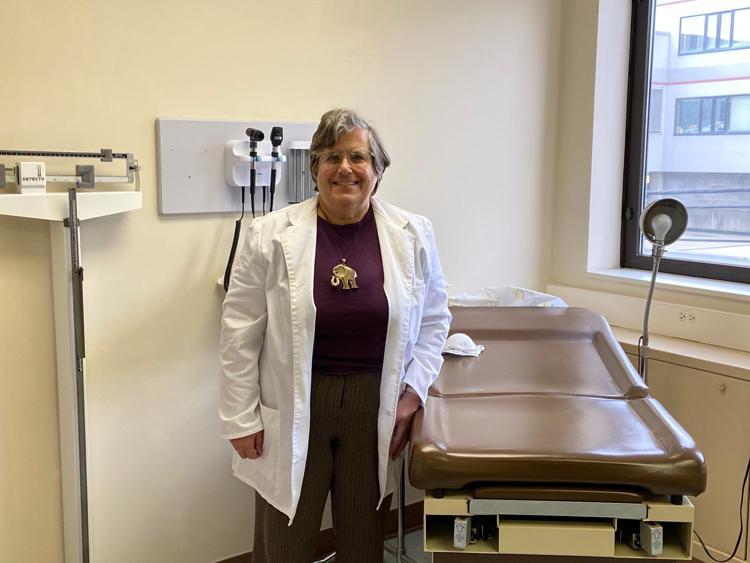 Dr. Loretta Opila
Westmont Borough
Years ago, early in Dr. Loretta Opila's career, she met a young man who had a massive stroke in the emergency room at Conemaugh Memorial Medical Center. He lost his job as a result of Bethlehem Steel closing. He could no longer afford to take his high blood pressure medicine, a relatively inexpensive medicine. And now he was paralyzed for the rest of his life. That incident led Opila to start volunteering at the Johnstown Free Medical Clinic.
"The fact that not having insurance could have caused such catastrophic outcomes got me interested in taking care of people who had no health insurance," Opila, medical director at the clinic, says.
Fast-forward two decades and Opila is still working with the under-served population that has become the hardest hit by the coronavirus in many parts of the country.
"One of the biggest obstacles we face is we do not get any government funding," she says. "We have to rely on foundations to give us grants."
Opila says most of the clinic's personal protection equipment has been provided by business or private donations. "We have been amazingly lucky."
Recently, Johnstown Free Medical Clinic was moved to a new downtown location to make it more accessible to public transportation. Opila hopes the move will give more people access to the facility. The clinic has doubled in size and two more exam rooms were added.
The space is needed since, in the past year, the clinic saw a 35% increase in cases.
Opila and her husband, Jim Wolfe, are looking forward to resuming orienteering with the Western PA Orienteering Club when it starts back up again.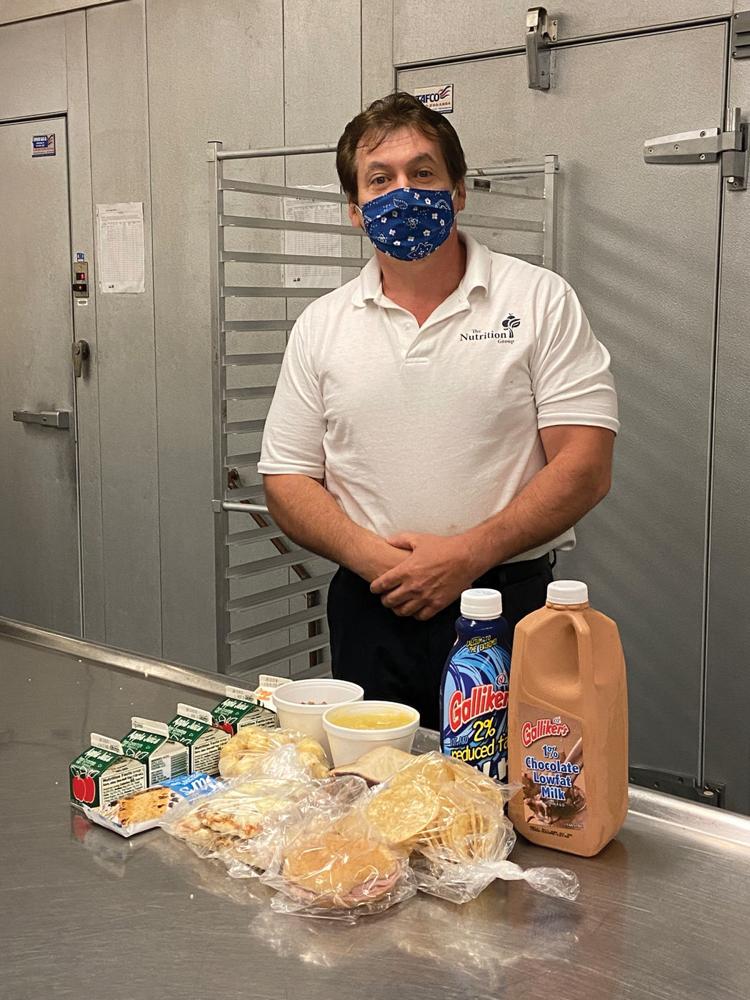 David Trotz
Geistown
David Trotz is passionate about feeding kids. An employee with Nutrition Group, which serves Greater Johnstown School District, Trotz has been feeding children for 18 years, currently as the school's food service director. During the COVID-19 pandemic, he is directing meals to children while they are out of school, making sure they are fed even if it is not in the school cafeteria.
"Without these meals, a lot of these kids would be hungry," Trotz says. "These kids look forward to these meals. You see the need for it."
Trotz says the school serves 450 meals a day during the week. Meals include milk, juice, protein bars, fruit, and a wide variety of side dishes and entrées such as sloppy joes, and sandwiches that the kids take home and eat each week.
"Our staff here has been incredible. Each and every one of them asked to be here," Trotz says. Team members, including himself, work in the kitchen at Johnstown Middle School on Messenger Street where they remain at least 10 feet apart. They also serve out of trucks at several locations around the city.
"We try to tell (the students) to keep at a distance, which is tough for the younger kids," Trotz says. "We put the food out at the end of the truck and the workers are toward the back and they grab what they need.
"We are all here for the kids," Trotz says.
When he is not at work, Trotz enjoys working out at the Johnstown YMCA with his wife, Lisa, and playing racquetball.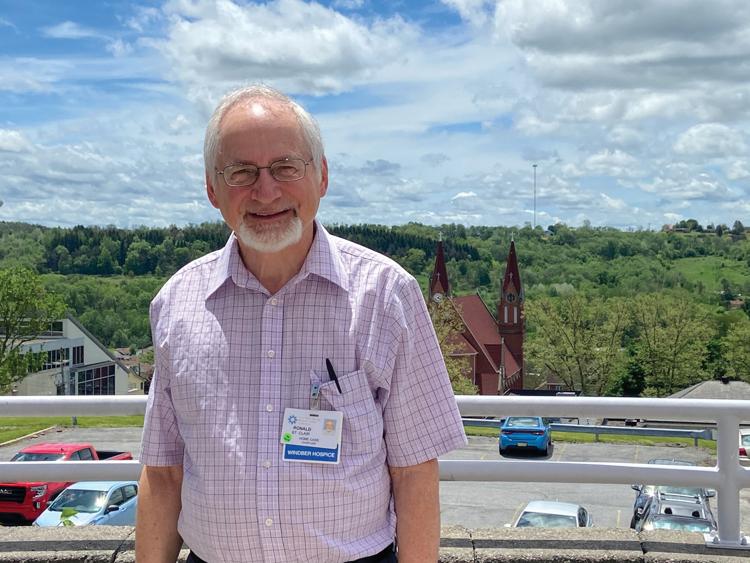 Rev. Ron St. Clair
Windber
When the Rev. Ron St. Clair took over as chaplain at Windber Hospice three years ago, he never imagined he would be serving during a quarantine. The obstacles of assisting families who are grieving via the telephone or the digital platform Zoom wasn't in any play book. And yet St. Clair, like so many others in his position, is making it work as best he can.
"We did a virtual memorial service for those who lost a loved one this past year and made a link for families," St. Clair says. The service, normally done in person, was meant to help with the grieving process. The virtual service was a reminder of those who have passed on and is now just a click away.
The Windber Hospice program, serving several counties including Cambria, Somerset and Bedford, provides palliative care – not to cure, but to make patients comfortable and to give them as good a quality of life each day as they can have. In the transitional time, St. Clair usually visits patients in person and their families, but with coronavirus, patient contact was limited to only those gravely ill. He continued to visit patients and their families at home and called others over the phone to offer his support and prayers.
St. Clair meditated in prayer during the quarantine, as there were many who were angry about what happened, and still many others who were sad.
"I pray over Philippians 4, 'Do not be anxious about anything,'" St. Clair says. He was previously pastor at Scalp Level Church of the Brethren for 25 years. He and his wife, Shirley both use their time together to ask for God's help by praying on matters they need more guidance in.
"I have been casting my cares upon Him," St. Clair says, when asked if he was anxious.
"I have been reading a book on the Psalms (When Your World Falls Apart) by a preacher named David Jeremiah. That has been helping me, not just in my own personal prayer time, but it has also helped me to identify with patients who it might seem that their world has fallen apart Because some of those residents in nursing homes may not understand completely why they are not seeing their family and feel like they are forgotten."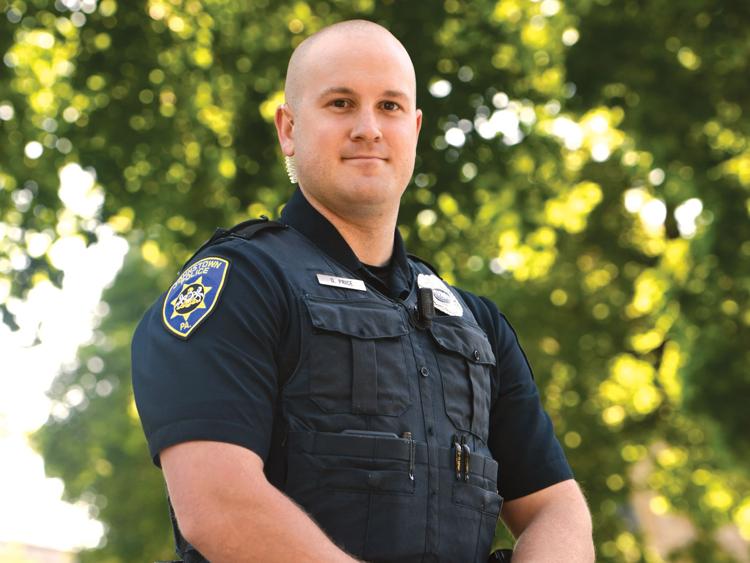 Officer Dan Price
Johnstown
Dan Price says he became an officer with Johnstown Police Department because, "I wanted to work in the community that I live in.
"I'm from Johnstown. I was born and raised here. My entire family was born and raised here.
"My wife works in the hospital. My mother works in the hospital.
"That service back to our community, any way that we can, that is important to me."
Price says the majority of the police department lives and works in the community.
"That makes it easier for us to do our job here, to understand some of the struggles people are going through and help out when we can."
The officer says COVID-19 caused some unease with the force. "We were nervous like everybody else," he says. "We didn't know what to expect.
"We just do our best to educate the public and make sure we are doing our best to prevent spread."
Price has been a police officer for five years, starting with Dale Borough and Stonycreek Township, right after college graduation. He has been with the Johnstown department for a little over four years.
He is a graduate of Westmont Hilltop High School and Indiana University of Pennsylvania, where he earned his bachelor's degree in criminology.
Price, whose patrol area covers downtown, says his favorite part of the job is "the day-to-day interactions with people.
"This job definitely keeps you on your toes," he says. "You're busy."
The officer sees conditions improving in Johnstown. "I think we have a good thing going on downtown. You see people out enjoying the day and enjoying what the community has to offer here.
"I think we make a difference every day," he says. "We have a lot of guys getting out there and really making connections with the community. I think you see it every day. People are coming up to us, talking to us, telling us what's going on."
So, what are the officer's plans for the future? He doesn't intend to go anywhere. His goal is to serve the Johnstown Police Department until he retires.