Roberta Schomburg was a senior in college when she first noticed something special happening in child development. It wasn't what she was learning in her courses. It was unfolding on TV, of all places.
"I can remember coming home from college and sitting on my mother's sofa to watch," she says. "My mother said, 'What are you doing?' and I said, 'I'm fascinated by this man and how well he knows children and how he speaks directly to children.'"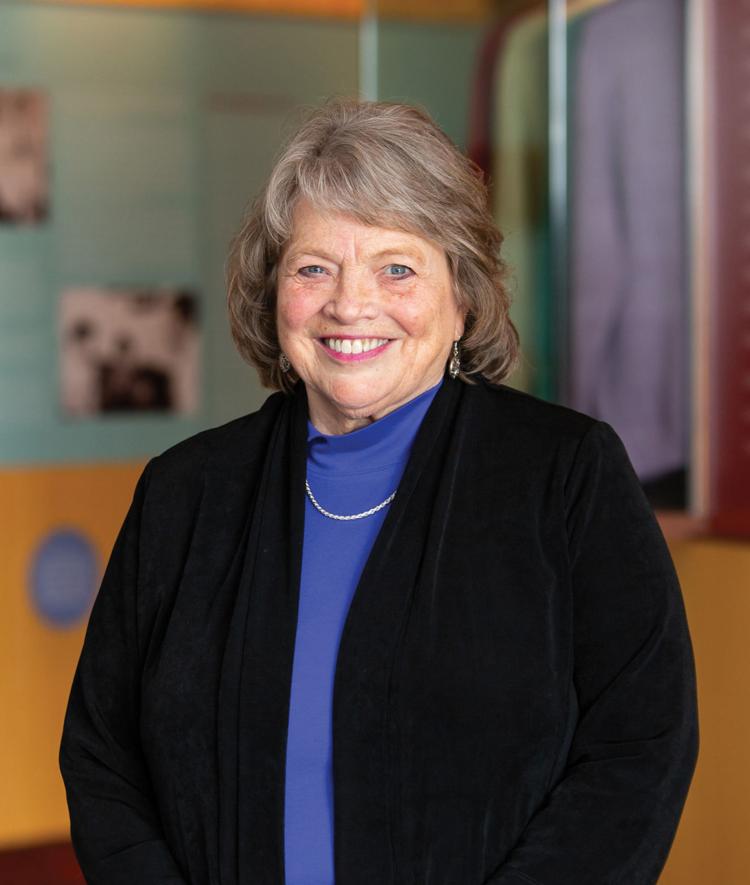 The year was 1968. The television program was "Mister Rogers' Neighborhood."
Schomburg went on to work in early childhood development for the next five decades, beginning her work with Fred Rogers in 1982 with a pilot project to support kindergarten teachers using "Mister Rogers Neighborhood" as a learning opportunity, complete with supplemental material. That work continued into the '90s. She's now executive director at the Fred Rogers Center for Early Learning and Children's Media at St. Vincent College in Latrobe.
As it happens, she's also – again – working with a colleague on a new project for a large study group of kindergarten teachers who are planning to use the television program as a learning tool in classrooms. Through those shows and the continued research and training happening at the Fred Rogers Center and the Fred Rogers Archive housed there, Fred Rogers is still teaching little ones and their teachers.
"The fact that he was communicating directly to the child was really important, then of course the messages about feelings being mentionable and manageable, the importance of wondering and asking questions, being curious – I mean all of those things are very, very important in the field of early childhood," Schomburg says, sitting in a room at the center that Fred Rogers designed with the Steinway his grandmother gave him when he was 8, the one he played throughout his life, behind her. "That was just a part of who he was. He took children so seriously."
While Schomburg says the field of child development often moves in cycles – from progressive movements of the '20s to more regimented classroom focused around drills and memorization that followed and back again – she's seen the focus shift over the past 10 years to putting child development first and building a curriculum that incorporates creative activities and symbolic play.
The gentler Fred Rogers approach, to teach preschool-aged children by building trusting relationships and creating engaging environments that invite learning, falls in line perfectly with what many local child care and preschool providers are working to achieve, she says. Schomburg's own writing and research has focused on play therapy and connections between play and cognitive development, social skills and literacy.
"In play, children have the chance to control their environment and they also have the chance to create their own stories," she says. "There's such a strong link between the stories that children create and their interest in reading stories of other people as they get to the age of reading."
Challenges remain, of course, especially in rural areas such as western Pennsylvania. Those nurturing environments require higher staffing levels than many providers can afford and many families struggle or are unable to pay for early learning opportunities for their children. Schomburg says the good news is that more communities are realizing the importance of those early years, including businesses that want to invest in the next generation.
"I think we're moving in a positive direction, but it's always important to remember that there's really a gap," she says. "If we are preparing children to be ready for school, then these are really critical times. We can't just not pay attention to what's happening to children in these early years."
Her colleague Dana Winters, director of Simple Interactions and academic programs at the center, advocates for another reason to focus on making sure providers and families have the help they need to get preschool-aged kids off to a good start. While research shows that quality early learning can yield a high return on investment to society (as high as $12 for every dollar invested according to a 2009 study of Perry Preschool in Michigan), using that as an argument doesn't sit well with Winters.
"This is something we wrestle with in the work we do and the work advancing the legacy of Fred Rogers," she says. "I'm personally uncomfortable with return-on-investment discussion. I don't like to think of our children as part of a savings plan for the future, but that investing in them as they are right now helps them to be better 3-year-olds and helps them to be better 4-year-olds, and we should want that for them. We should be able to look at children as they are right now and say, 'I want to give you the best possible foundation for where you are, irrelevant of where you're going, but knowing that, right now, you deserve the best possible care.'"
When it comes to how to create better opportunities for those children, Winters thinks the best approach is to support the adults who care for them now.
"More rural areas do have challenges in not only children accessing quality early childhood education, but also support for helpers and credentialing that's necessary," she says. "I think the best thing that we can do is build out the helpers who are there. Coming in and saying, 'We're going to build new quality centers,' I don't think is likely, and I don't think it's an answer either. Building the knowledge base and the support and the confidence of those doing the work already – I think that can move mountains."
Winters spends about half of her time working with early child care providers and calls the teachers and staff "helpers," a nod to the iconic Fred Rogers quote. Even there, in the quotes attributed to Fred Rogers, she sees an opportunity for more thorough consideration. She also teaches a course called "What Would Fred Rogers Do?" and one of her regular assignments is to have students research the context of a frequently cited Fred Rogers quote. When Winters tried the exercise, she chose "look for the helpers."
The story goes that, as a boy, Fred was scared and asked his mother what he should do. His mother told him to look for the helpers.
"I dug a little deeper," Winters says. "What I found was that he goes on to say that his mom told him to look for the helpers because, 'When you find people helping, you know there is hope.' I think that's the even more important part of all of this. There are so many helpers who feel unsupported who are still out there providing that hope for our communities and for children and for families every single day. I can only imagine what they could do if they had the full support of a community behind them."