Last month, while discussing ideas for Dueling Spoons, Caroline and I decided we both have recipe boxes full of recipes we have never made. Wouldn't it be fun to pick a random number and make that recipe in the box? We decided on 30 and counted back until we came to our 30th recipe.
Not surprisingly, Caroline's was far healthier than mine. My 30th recipe was cut from the newspaper 20 or more years ago. I had never tried it, but here it is: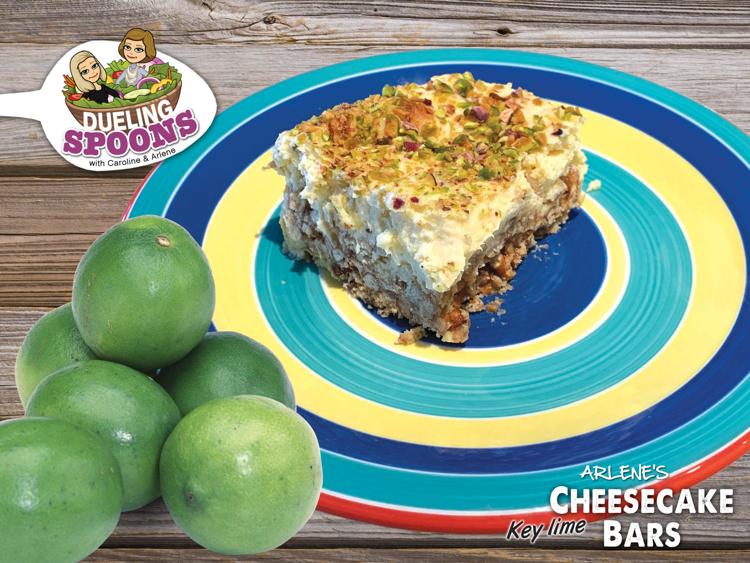 Arlene's Key Lime Cheesecake Bars
Ingredients:
• 1 cup crushed pretzel sticks
• 2 tbsp. sugar
• ½ cup melted butter
• 2 (8-oz.) packages of cream cheese, softened
• 2/3 cups sugar
• 1 tsp. vanilla extract
• 3 eggs
• 1 ½ tsp. finely shredded lime peel
• 3 tbsp. bottled lime juice
• ¼ cup chopped salted pistachios
• Lime slices (optional)
--------
In bowl, mix together pretzels, 2 tbsp. sugar and melted butter. Press mixture into the bottom of a greased, 2-quart baking dish. Bake 10 minutes in 350 degree preheated oven. Cool.
In a large mixing bowl, beat cream cheese, 2/3 cup sugar and vanilla until well blended. Add eggs and beat until just combined. Stir in lime peel and lime juice.
Pour cream cheese mixture over crust.
Sprinkle with pistachios.
Bake in oven for 20 to 25 minutes or until center appears set.
Cool, then cover and chill 4 to 24 hours before serving.
Garnish with lime slices.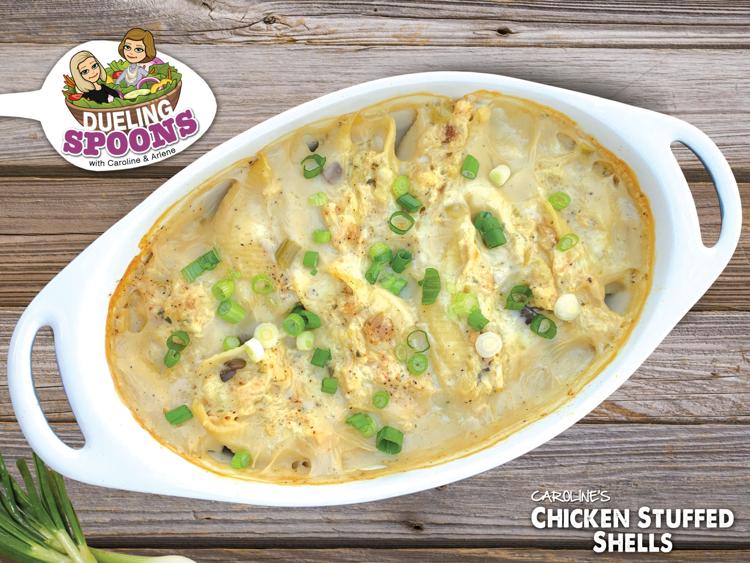 Caroline's Chicken Stuffed Shells
Ingredients:
• 2 chicken breasts (cooked, diced)
• 1 box jumbo shells
• 1 box Stove Top stuffing
• 1 can cream of mushroom or chicken soup
• 1 can cream of celery soup
• 2 cans water
• 1 cup mayonnaise or sour cream
• Parmesan cheese
• Green onions
--------
Directions:
Preheat oven 350 degrees. Cook shells according to box, set aside. Prepare stuffing according to box. Mix cooked chicken, mayonnaise and stuffing together. In separate bowl, mix soups and water together. In 9x13 dish, pour a little soup on the bottom of pan.
Stuff shells with chicken stuffing mixture.
Line stuffed shells in pan. Pour rest of soup over top. Sprinkle with Parmesan cheese.
Cover and bake 45 minutes. Uncover, and bake 15 additional minutes. Top with chopped green onion.
--------
Collect more recipes as our Dueling Spoons go head to head every month in Johnstown Magazine.