Ask anyone who has made a trip downtown lately and they most likely will be quick to tell you that things are changing!
Sure, there are still empty mills and a few empty storefronts, but things are looking up. There's a buzz. There's activity. New businesses are opening.
Much of the forward momentum is due to a dedicated group of volunteers who put their time and efforts into projects to beautify the city, but there also are young professionals who are opening new businesses in the city. Hope Cyclery, Gallery on Gazebo, Art of Tea, Flood City Cafe, Balance, Lambcakes, Press Bistro, Carrie's Kitchen and other new downtown businesses are being run by individuals who don't just want to make a profit. They want to make a difference in the city they love!
Recently, Michele Kupchella Adams and Jennifer Galiote joined the group with the opening of their new shop – Classic Elements. The shop, located at 345 Main St., is part café, part bookstore, part gift shop.
The two women, who met while working together at Mountaintop Technologies and have been friends for years, say they often talked of opening a business downtown. "One of the things we knew was missing was a book store and a gift shop," says Adams. "There really was no place to go to pick up a gift and we felt like it was needed.
Adams wanted to open a coffee shop and a gift shop; Galiote wanted to open a book shop and a wine bar. "We were having dinner outside at Balance, talking about downtown and all the things happening, when we decided to consolidate both of our ideas."
After that, Adams says, "everything just came together and fell into place."
Classic Elements had its grand opening on Oct. 18 and has already drawn lots of praise from shoppers who love the selection as well as the atmosphere. "It makes you feel like you're at a friend's house," says Ed Davis of Johnstown. "I like it when you walk into a business and they call you by name."
Galiote says that's the kind of emotion they hope shoppers feel when they enter the shop. "It's about a sense of community," Jen says. "We want to create an experience for our customers."
The shop features the work of numerous local artisans with unique gifts – many with a Johnstown theme. There is a nice section of books. The middle part of the shop is a self-serve coffee bar with a selection of desserts created by local bakers. The back of the shop features a comfortable seating area where patrons can access free WiFi.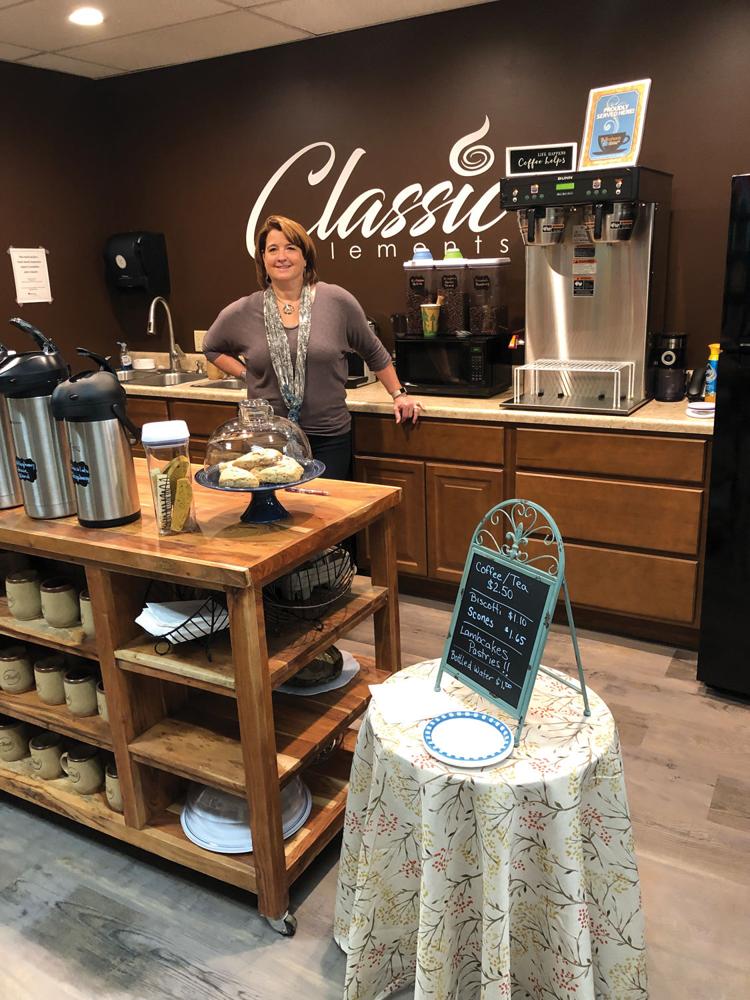 A private 750-square-foot room is available for business meetings or private events such as a baby shower or art party. The room features a large-screen television and both casual and formal furniture and can accommodate groups of 30 to 40.
"We had lots of community involvement (in the planning of Classic Elements)," Adams says. "We were looking for voids we could fill and one of the things we were told was the need for an event space."
Neither Adams nor Galiote had any experience running a business and say they know there will be a learning curve. "We're trying to figure out what works best as far as hours to be open and what the city needs," Adams says. "We want to understand what people want when they are downtown."
Both women are committed to their new venture and to the city of Johnstown.
Adams grew up in Kentucky and spent 19 years in the Washington, D.C. area where she met her husband and raised two sons. "We were in D.C. during 9-11, the anthrax scare and the D.C. sniper," she says. "At that point, Johnstown was looking pretty good."
Although they did not know each other, both her father and husband grew up in Nanty Glo so moving to Johnstown was a bit like returning to their roots. The family moved to Westmont and both sons eventually married local girls. "I think they are going to stay around," Adams says. "I though they would want to go back to the D.C. area where they grew up, but they want to be here, which I find very promising."
Galiote and her husband both grew up in Johnstown, but moved to State College after they were married. A job opportunity brought them back and they made their home in Johnstown.
Both women enjoy being part of the group of entrepreneurs in the city. "Since we chose to stay here, we want to be part of this town," Galiote says. "We want to help create a place where our children and grandchildren can grow up.
"We wanted to be part of the momentum taking place in the city right now. We hope to change the mindset and encourage people to come downtown and enjoy what we, as a community, have to offer."