When U.S. Navy Chief Petty Officer Chad McLaren bought his house in Morrellville, it came with treasures that spoke to his heart.
A Naval chest and an old-fashioned wardrobe filled with military items from World War II were among the things left behind when he took possession of the house in July. McLaren says finding the items was a gift and he is doing his best to make sure the artifacts are preserved.
"It is really amazing that someone kept all of this," he says. "These things have so much meaning and I don't want them to pass into obscurity."
The artifacts will be on display this month at Gallery on Gazebo. Military talks by local veterans are scheduled as well.
Rosemary Pawlowski, director of the gallery, says it is the mission of the center to develop and present programming that is relevant to the community. "The most meaningful exhibits are those that tell a story, or many stories, or allude to untold stories," she says.   
"The gallery is grateful for a most unique opportunity to a share this story – through an exhibit of a local World War II Naval family.
"This is how we are celebrating Veterans Day on November 11th – in the best way we can."
McLaren's new home was was owned by Anna Mindala who died three years ago at 92. It was the home in which she grew up and where her three brothers went off to serve in World War II. Two of the brothers served in the U.S. Navy and one in the U.S. Coast Guard. Two of the brothers later served in the Korean War and one in the Vietnam War as well.
"Auntie kept everything," says her niece Natalie Osborne, who now lives in Indiana. "Her brothers were her life."
Items from the deceased Mindala brothers – Michael, Stephen and Joseph Jr. – are all part of the display, "A Family in Service – The Mindala Story."
Osborne says the brothers sent items home where they were stored. A large oval photo of the brothers is one of the items she has in her possession. It is something she treasures. "It hung above the sofa at my grandmother's house," she says. The photo is part of the display.
Among the items left at the house were several uniforms. One, a Navy chief's dress blues, was elaborately embroidered with what looks like Asian art.
"It was great to be able to see uniforms that I had previously only seen in photographs," McLaren says. "Some have changed a great deal and some haven't changed much."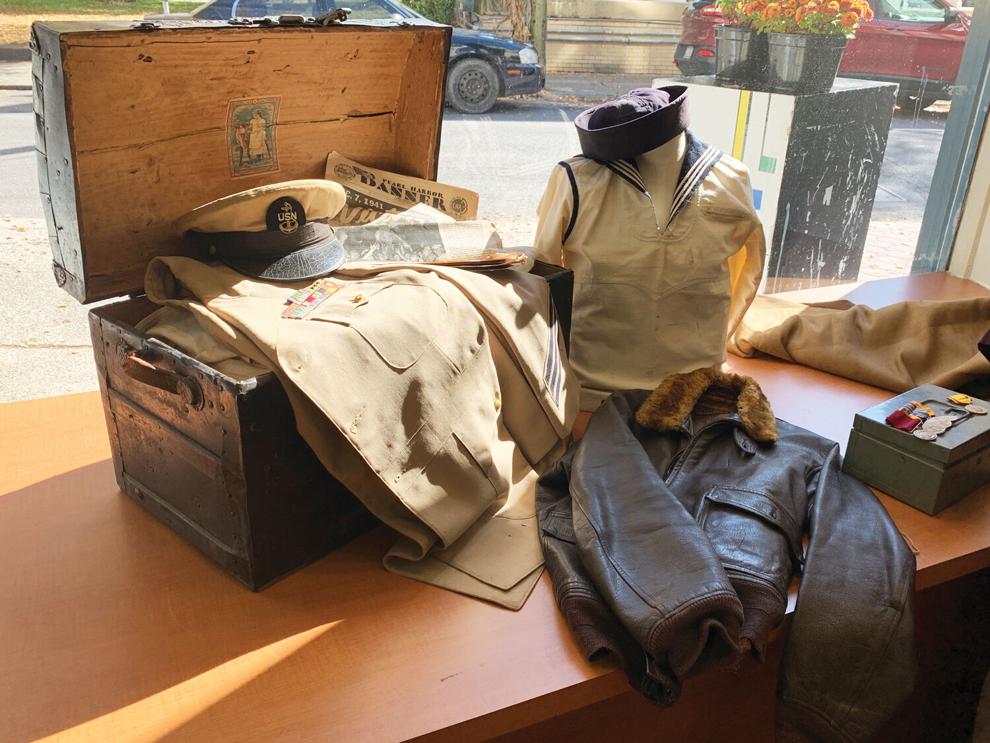 An article written the Johnstown Democrat in 1951 relayed the story of how the ships carrying Stephen and Michael Mindala passed close enough for the brothers to see each other twice – once during World War II and again during the Korean War.
According to the paper, during the North African invasion, the two were serving in the same task force which was softening up the enemy installations and giving fire support to infantry landing forces.
"Suddenly, in about the wink of an eyelid," Chief (Stephen) Mindala says in the article. "I saw my brother's ship get hit.
"The ship was sinking fast with a big, gaping hole in midship. Men were leaping off the deck into the water, and soon a general rescue alarm sounded.
"About a month later, I found out from home that my brother was one of the survivors, and was given a 30-day recuperation leave.
"I sure shuddered when I saw that ship go down."
Osborne says her father, Michael, did not talk about his experiences. "He was like other World War II veterans. He did not like to talk about it," she says. "What I know, I learned from my aunt."
Osborne says the family is honored that the brothers are being remembered. "This is such a tribute to my dad and my uncles and all the others that were involved."
Vaughn Burnheimer, digital editor with Johnstown Magazine, designed the exhibit, which was curated by Emily Smith.
Tom Vargo, whose own military experience is told for the first time in this edition, will be on hand at the gallery Nov. 12 to discuss his experience. The talk will be moderated by Retired Col. Doug Lengenfelder, former president commissioner of Cambria County. The public is invited to attend, although, due to COVID-19 restrictions, reservations are recommended.
Everyone who visits the display will be entered into a drawing for a special Navy basket.
Osborne says she believes citizens need to remember the sacrifices that were made for freedom. "It's important to remind people, especially our young, what happened," she says. "It is history."
Her cousin, Joe Mindala, says the brothers would have been pleased to know they have not been forgotten. "They were Navy through and through," he says. "They bled Navy. They loved it."
The connection is not lost on McLaren who early this year transferred from active duty to Naval reserves. He says he plans to make sure the military items are treated with the respect they deserve. He feels the same about the house.
"The house was extremely well maintained and cared for. I am honored to be one to write its next chapter."
Mindala says McLaren's purchase of the house was "meant to be.
"We are so happy someone got it who appreciates it for what it was."
For more information on Gallery on Gazebo, go to www.galleryongazebo.org.