Although many of our usual holiday traditions have been cancelled this year, there are still places to see light displays – many without leaving the comfort of the family car.
Here are some spots to view outside Christmas lights – some are close to home, but some are a couple of hours from Johnstown.
---
Downtown Johnstown
We have to start with the light display that is nearest.
Central Park in Downtown Johnstown is once again ablaze with 72,240 LED lights on a 36-foot animated tree synchronized to holiday music.
The park itself is transformed into a Christmas village with dozens of tiny houses sponsored and decorated by local businesses and organizations.
A holiday train will take kids around the park Nov. 11 and 12 and an old-fashioned European market will be in place Dec. 4 and 5.
Movies are shown on a giant "screen" on the side of AmeriServ.
At Gallery on Gazebo, Hall of Trees will feature 12 decorated trees with the public invited to choose their favorite. A Christmas basket will be given to one lucky visitor.
Price: free
---
Lakemont Park
For over 20 years, Lakemont Park in Altoona has been transformed into a glittering wonderland for its annual Christmas light display – Holiday Lights on the Lake.
Originally established as a way to keep seasonal park workers employed a little longer, these days the drive-through display includes over 1 million lights spread across 51 acres.
The exhibit is set to specially chosen holiday music that can be played on the park's private radio station.
Depending on Covid-19 restrictions, a model train exhibit and Santa's Gift Shop may be open for visitors.
Price: $13 per car
---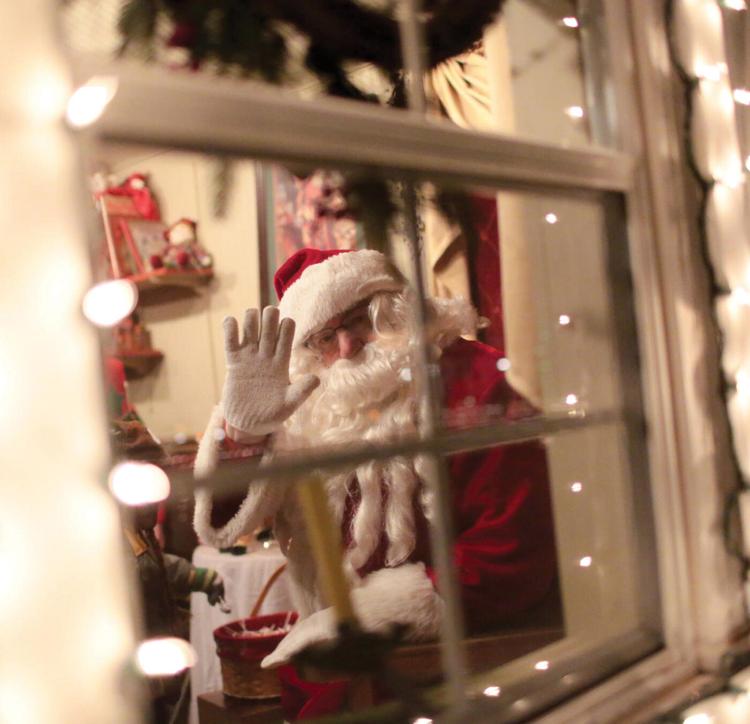 Overly's Country Christmas
It all started in 1956 when Harry Overly decorated his rural home. It was small at first, but soon grew to included animation. According to Overly's website, it was one of the first animated displays in the country.
The display area grew to eventually encompass seven acres and was moved to Westmoreland Fairgrounds near Greensburg.
Normally, Overly's includes a walk-around Christmas village, horse-drawn sleigh or wagon rides and visits with Santa. This year, the display is drive-through only and some activities will be cancelled or changed.
Staffed primarily by volunteers, Overly's has raised over a million dollars for the Free Care Fund at Pittsburgh Children's Hospital and children's medical services at Westmoreland Regional Hospital in Greensburg. Most of the money is raised by donations from visitors.
Price: $20 per car. Cash only.
---
Shadrack's Christmas Wonderland
Shadrack's Christmas Wonderland in Butler started in 2015 and is one of seven locations in the country to host a Shadrack display.
The exhibition takes place on a three-mile track at Butler Fairgrounds where, according to its website, visitors can check out "custom-built light displays all dancing in perfect synchronization" and set to holiday music played on your car.
The folks at discovertheburg.com says Shadrack's has "some of the most technically advanced displays in the country."
The display includes a 300-foot, drive-through RGB tunnel with a 50-foot tree.
Giant LED displays put a comic spin on "The 12 Days of Christmas."
Price: starts at $25 per car
shadrackchristmas.com/pittsburgh-pa
---
Pittsburgh Zoo's Zoo Lights
This year, Pittsburg's zoo is hosting its first Zoo Lights Drive-Thru.
"Guests will enjoy driving through the zoo at night while guided by a themed audio tour as thousands of environmentally friendly LED lights transform the park into an unforgettable winter wonderland," says Brittany Balandis, director of marketing at One Wild Place.
Zoo Lights may or not include live animals. "It is depending on the night, due to staff availability, animal needs, etc.," Balandis says.
She reminds visitors to get tickets in advance and bring binoculars for better views as some exhibits will not be in clear sight from your vehicle.
Price: $60 per car or $40 for members
All tickets must be purchased in advance online.
www.pittsburghzoo.org/zoo-lights
---
Hersheypark Christmas Candylane
Hersheypark holiday displays includes rides and coasters, Hershey character experiences, Chocolatetown and visits with Santa and his nine reindeer at Santa's Reindeer Stables with newly expanded viewing platform.
Visitors also will be able to drive through Hershey Sweet Lights which includes 600 illuminated animated displays with 5 million lights along two miles of wooded trails.
Not to miss is the Kissmas tree and Show Noel, which features more than 250,000 lights dancing to classic holiday tunes.
Price: starting at $22.15
---
Oglebay
Oglebay Resort in Wheeling, West Virginia, holds its Festival of Lights every year and is billed as one of the nation's largest holiday light shows.
The display gets more than a million visitors a year and features more than 300 acres of twinkling lights over a six-mile drive. Over 90 lighted attractions contain more than a million LED lights.
Price: $20 per car suggested donation
---
Harmony Light Fest
This year, for the first time, Camp Harmony will have a Christmas display at it 18-acre camp in Hooversville.
Harmony Light Fest, a drive-thru celebration of Christmas, takes place from 6 to 9 p.m. Dec 4, 11 and 18.
Jen Vickroy, the camp's executive director, says 18 area businesses and organizations sponsored and decorated a building or cabin. Drive-thru visitors will get a chance to vote for the best decorated structure. The winning organization will win a free retreat.
After driving through the light show, participants will have the opportunity to visit the outdoor Christmas village with concessions, Santa, bonfires and wagon rides.
"We thought it would be a great way to encourage our community during the holidays, even amidst the pandemic," Vickroy says.
Price: $5 per car