Rex Brown doesn't remember much about his grandfather, Otho.
He was just 9 years old when the onetime World War I Army medic passed away in 1973.
But Brown has vivid memories of the vibrant trays of dahlias his grandmother, Gertrude, planted at his grandfather's grave every Memorial Day weekend afterward – even when she was well into her 90s.
"It was important to her," he said, working alongside his wife, Dee, at his grandparents' memorial Sunday at Grandview Cemetery.
"She always made sure she took care of his grave – and she loved those flowers," Dee added.
"We're just carrying on her tradition."
It was a familiar scene across the sprawling Upper Yoder Township cemetery – and the region – on Sunday as area residents made quiet tributes at grave sites and places such as Veterans Park in downtown Johnstown.
'Every Memorial Day' 
Memorial Day honors those who gave their lives in the nation's wars.
But for many area residents, it has also become tradition to honor veterans who died in the years afterward by making visits to area cemeteries to decorate loved ones' graves.
For Jane Haberkorn, of Geistown, that was the mission Sunday.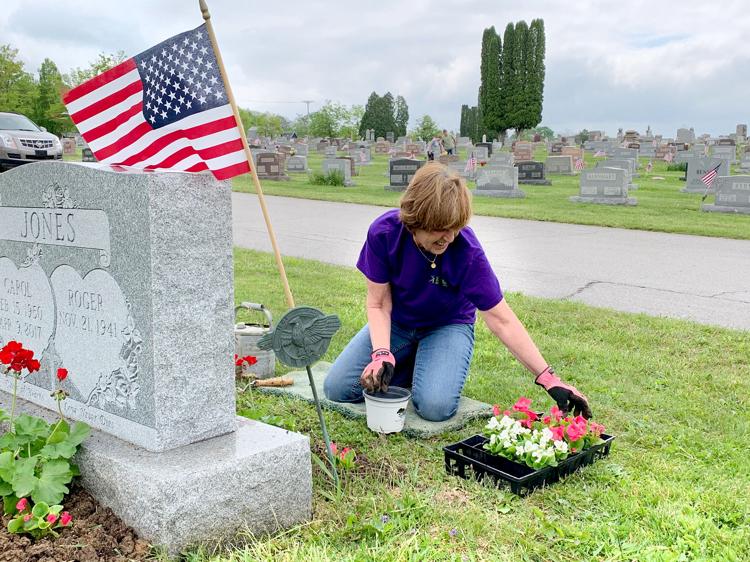 Her father, Steve Mayerscik, served in Germany as a tech sergeant during World War II. 
Mayerscik was once recognized by the nation for saving a fellow infantryman's life after he'd he was shot in the neck during combat.
But Haberkorn remembered the onetime Gautier millworker as a friendly, selfless man "who'd do anything for anyone."
She said: "He'd give you the shirt off his back."
On Sunday, Haberkorn and her husband, Ed, planted geraniums in memory of her father, mother and sisters at Grandview.
"We bring new flowers up every Memorial Day," Ed Haberkorn said. 
Johnstown ceremony 
With COVID-19 guidelines limiting gatherings to 25 people in the region, adapted tributes by area veterans have been taking place since Saturday – instead of larger-scale public events.
The Conemaugh Valley Veterans, assisted by VFW Post 155 Ritual Team, held a ceremony Saturday at Veterans Park adjacent to 1st Summit Arena @ Cambria County War Memorial.
Two war veterans placed a wreath at Cambria County's Veterans Park in Johnstown as a volley of ceremonial shots rang out and a bugler played taps in memory of those who gave their lives in the service of the country.
There was no keynote speaker and no public attendance, to avoid spreading the coronavirus.
But this year's Memorial Day event was especially meaningful, said WWII veteran Harry Muncert, because it follows the 75th anniversary of V-E Day. On May 8, 1945, the Nazi regime surrendered, marking the end of World War II in Europe. 
'Ultimate sacrifice' 
Muncert is a World War II veteran who entered the Navy in 1943 after high school.
"A lot of our boys didn't come back here," he said. "I lost a classmate at the Battle of the Bulge. We are here ... honoring those who didn't make it back home."
Muncert placed the wreath at the memorial with Dave Wainwright, a fellow Navy veteran.
"It's our 16th annual wreath-placing ceremony here," Wainwright said. "It was important to honor those who made the ultimate sacrifice."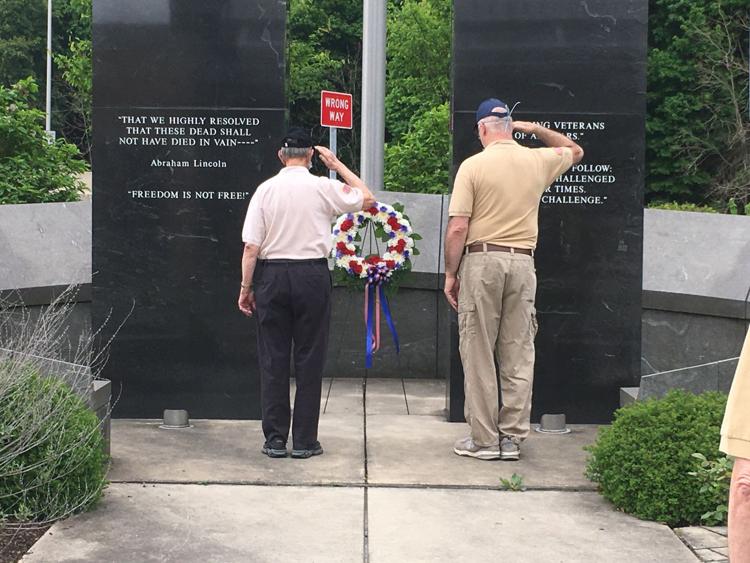 Conemaugh Valley Veterans member Marty Kuhar, a retired U.S. Army lieutenant colonel and Vietnam War veteran said with vast majority of ceremonies canceled, the veterans thought they should at least pay homage at the county's memorial.
"It is important to remember the sacrifice of men from Cambria County. Just in the 20th century into the 21st, there were1,223 deaths: there were 201 in World War I; 863 in World War II; 77 in the Korean War; 72 in the Vietnam War; 2 in the Gulf War; 8 in Iraq and Afghanistan," he said. "Cambria County has done more than its part to safeguard the freedoms of this nation. That's why, without the public, we at least wanted to put the wreath under the county's veterans memorial as we do every year."