Cambria County's 43 COVID-19 deaths over the past week ranked fifth statewide, behind four of Pennsylvania's largest counties.
Even with the state seeing record rises in COVID-19 cases in all corners, Cambria's total was behind just Philadelphia (83), Allegheny (65), Luzerne (52) and Westmoreland (45).
To Cambria County Coroner Jeff Lees, the alarming spike should be a wake-up call.
"I've never seen anything like this before," said Lees, whose office has handled 35 confirmed COVID-19 cases in the past six days.
Lees served as coroner during the height of the opioid epidemic in 2016 and has seen flu seasons claim waves of older residents in years past when the weather turned cold.
"But they don't compare to this," he said, pointing to his caseload. "Numbers don't lie."
It's getting to the point that funeral homes are running out of space to store bodies, the coroner added.
"The toll this is taking ... it is knocking down a generation," Lees said.
"This virus is real. It's here and we all need to take note."
Lees on Sunday said he's worried procedures and precautions issued by the state Department of Health and federal Centers for Disease Control and Prevention are still being ignored by too many area residents – particularly younger generations.
His office handles cases involving anyone who dies in Cambria County.
His youngest COVID-19 death involved a 49-year-old.
The oldest: 100 years old.
But many are in their 60s, he cautioned.
And while nursing home residents continue to represent a high percentage of Cambria County's cases, "a substantial amount are people being treated at hospitals (brought in) from a private residence," Lees said.
"If this virus was killing people who are young, I'm sure the elderly would be doing everything in their power to protect us," Lees said. "We need to do the same for them." 
Hospitals 'challenged'
State health officials are warning residents that hospital rates have also been surging, filling up available beds statewide that are also needed for other health emergencies.
As of Sunday, 5,300 people were hospitalized in Pennsylvania with COVID-19 – up from 4,500 a week earlier, state data show. More than 1,100 are now in intensive care beds, leaving a little more than 16% of the beds statewide available.
In Johnstown, Conemaugh Memorial Medical Center's emergency room was rearranged to add treatment space beyond the department's typical 37 beds, according to Emergency Medicine chairman Dr. Matthew Perry.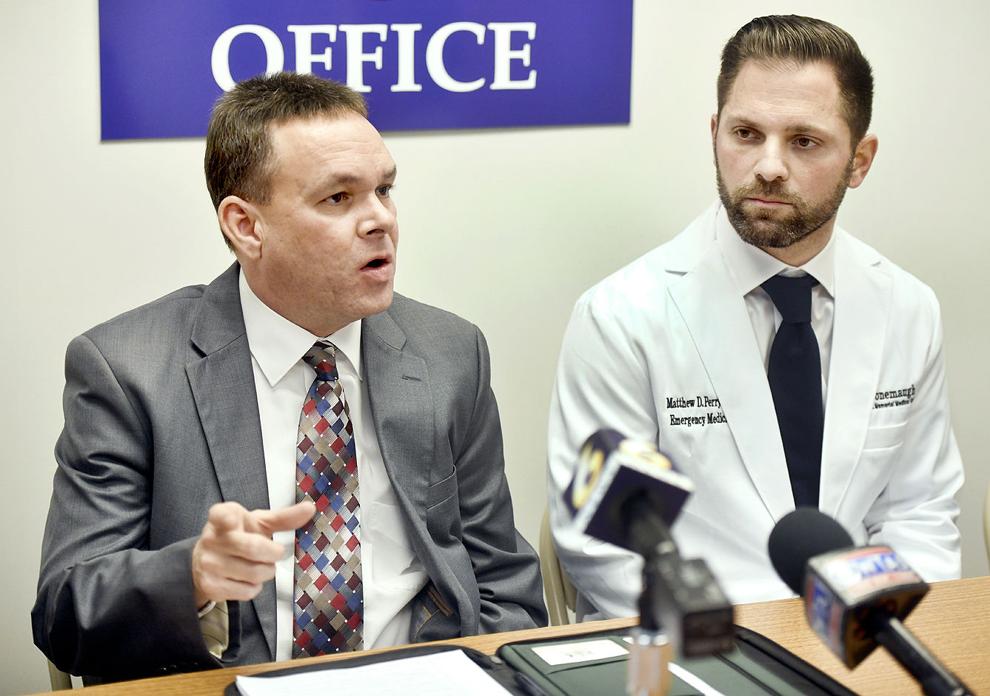 Triage areas have been set up both inside and outside the ER to treat patients based on the seriousness of a patient's concerns, vital signs and symptoms, he said.
When it comes to COVID-19 patients, there have been a growing number of cases where people arrive in varying stages of respiratory failure, needing supplemental oxygen to keep them alive, Perry said.
And that isn't always enough.
He described COVID-19 as an "unparalleled" challenge for the hospital and its staff – and one they recognize may only get worse in the coming days.
"But we are preparing for it and planning for it," he said.
"What we're dealing with, it's exhausting at times," Perry said. "But we signed up to take care of patients in some of their worst possible moments. And I give credit to the physicians and entire staff for trying to stay positive through this – for lifting each other up when we're down and working as a team to provide the optimal level of care we can give."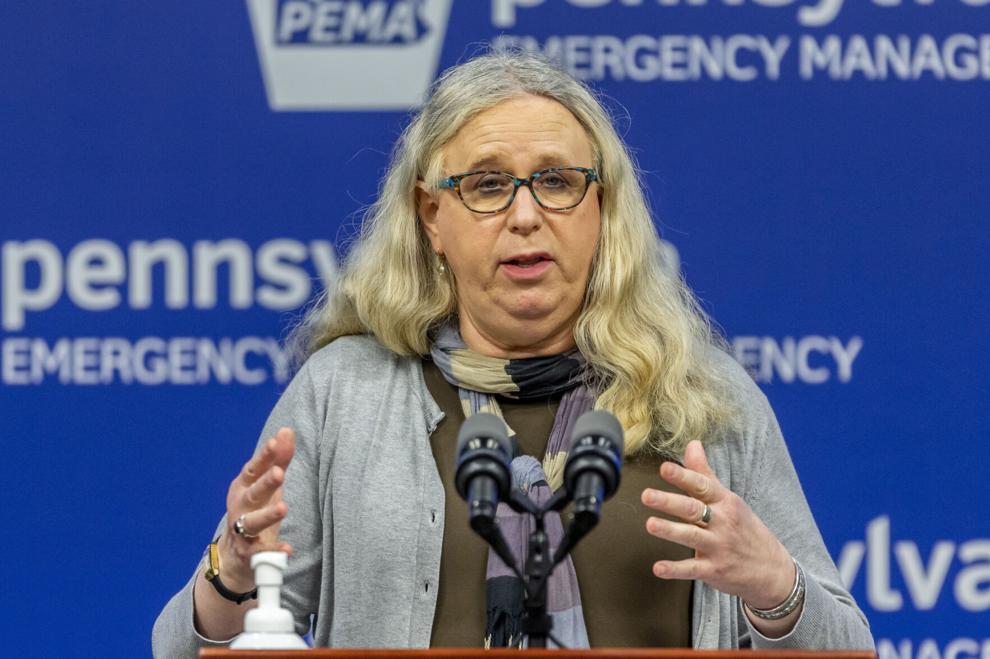 Department of Health Secretary Rachel Levine said Friday that Pennsylvanians need to remember hospitals are counting on their communities "to do the right thing" and follow health guidelines.
"There are not an unlimited number of hospital beds," Levine said Friday during a press conference. "More importantly, there are not an unlimited number of staff – doctors, nurses, support staff, EMTs.
"The people who make our health care system work are relying on you," she added. 
Local surge continues
According to state Department of Health figures, Cambria County had 1,306 positive cases over the past week.
State officials list deaths by counties of residence – unlike Lees' office, whose cases involve anyone who passes away within the county.
While Lees said his office has now handled 113 fatals involving people who were COVID-19 positive, the state put Cambria County's total at 103 Sunday.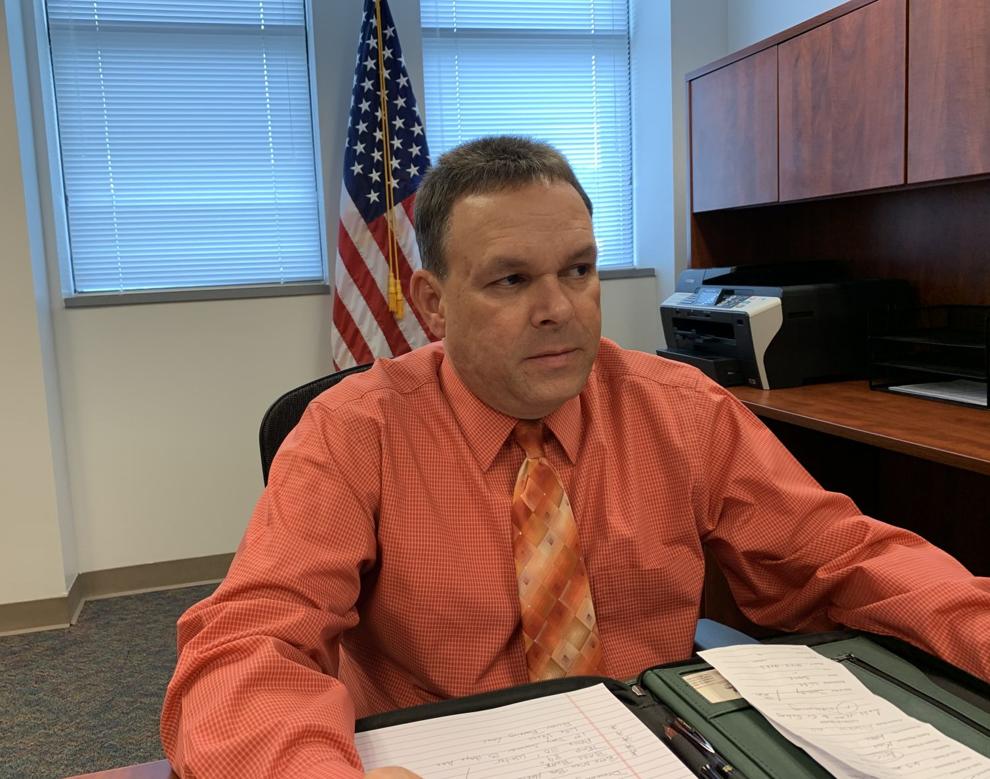 After recording 60 deaths over the course of the pandemic from March through Nov. 29, 43 Cambria County residents who tested positive for COVID-19 have died in the past seven days, according to the Department of Health's totals.
Statewide, Cambria's total outpaced 21 larger counties – seven of which have populations greater than 400,000 people – and more than 40 smaller ones, state figures showed.
At least 38 of Cambria's 103 COVID-19 deaths since March involve residents of nursing homes or personal care facilities.
Elsewhere, Bedford County lost six people over the weekend to bring its total to 50, while also adding 128 cases.
Bedford lost 26 residents in the past week who were COVID-19 positive, doubling its total, according to the state Department of Health.
Blair County added 330 cases, while Somerset County added 249 cases and two deaths.
Somerset County's death total is now at 23 after five this week.
Somerset County now has 2,461 total cases since March, 580 of them in the past week. Some of those cases have involved inmates and staff from the state prisons, which have added 67 (SCI-Laurel Highlands) cases and 41 (SCI-Somerset) cases over the past two weeks.
Indiana County now has 2,954 cases and 57 deaths.
Westmoreland County has 11,177 cases and 242 deaths after adding 632 cases and 14 deaths over the past two days.