SOMERSET – For some students, spring break is a chance to enjoy life.
For Caitlin Woods, it might be a chance to save one.
The Somerset woman was on a team of student nurses from three area programs volunteering on Thursday inside a makeshift mass vaccination clinic set up inside Somerset Area School District's Golden Eagle Fieldhouse.
"When I enrolled in nursing school in February 2020 ... I had no idea how much this pandemic was going to be impacting our lives now," said Woods, "but all this has done is push me more to become a nurse, because I want to help."
Woods and three fellow Somerset County Technology Center LPN program student nurses were among dozens of volunteers working at COVID-19 vaccination stations.
Nearby, students and faculty from the University of Pittsburgh at Johnstown and Clarion University's nursing programs in the region were also inside the fieldhouse Thursday, helping a line of local residents through nine separate stations set up by a group of local health partners.
Officials with Mainline Pharmacy, which is state-approved to administer COVID-19 vaccinations, worked with fellow members of the 1889 Jefferson Center for Population Health, Somerset Area School District and the Cambria-Somerset COVID-19 Task Force to hold the clinic for state-designated "Phase 1A" residents.
That meant setting up areas to check in people who arrived for Pfizer shots, register them and set up their vaccination cards, said Steven Pope, Mainline Pharmacy sales and marketing director.
One station of volunteers made sure that the vaccine recipients' next appointments were set moments before they sat down for their vaccines.
"And we never would have been able to do this without all of these volunteers," Pope said.
The Somerset clinic was stocked to vaccinate as many as 1,100 people Thursday, he added.
Elizabeth DeWitt was one of them.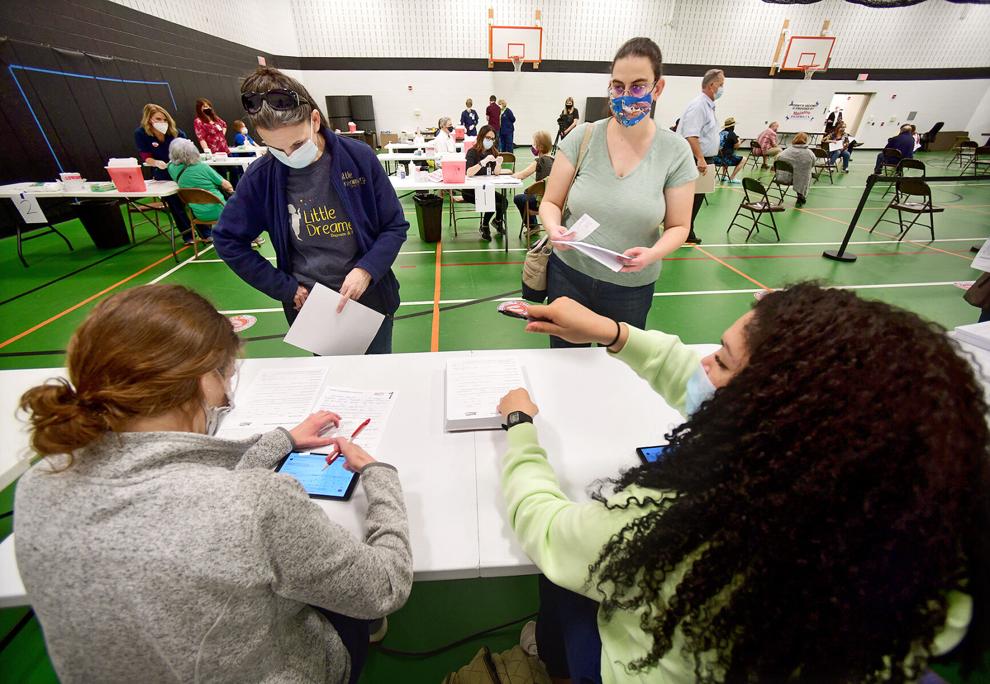 An immunocompromised child care worker, the Somerset woman said she'd been looking forward to her turn to join the pool of 4 million Pennsylvanians who've received at least one COVID-19 vaccination.
She said her eyes teared up as she received the injection – overwhelmed with relief that she'll soon have better protection from the threatening virus.
"Clinics like this," she said, "move us one step closer to beating this, and the sooner we can all go back to supporting our community and our local businesses, the better."
Student nurse Carrie Riley gave her the injection.
"COVID-19 is part of what led me to do this job. I want to help people," Riley said.
Nearby, an ever-changing stream of approximately 30 area residents was moving through the process during the lunch hour inside the fieldhouse – a welcome sign for Somerset Area School District Superintendent Krista Mathias.
The clinic was the first of its size to be offered outside a hospital setting in the county, and Mathias said the district embraced the idea of hosting it.
The wide-open fieldhouse was spacious enough to safely host the clinic without interrupting the school day – while also close enough to walk to for some members of their district community, she said.
"We know it can be difficult to travel for some people, so this gives us a chance to provide our community an opportunity to get vaccinations we know many of them want and need," Mathias said. "It's important to us, too, because we know the less COVID we have in our neighborhoods, the more normal our daily school operations will be."