At farmer Marty Yahner's Patton homestead, he has 36 cattle fed and finished, ready for market.
That's good for grocery stores that are short on beef due to COVID-19 panic buying, except Yahner's steers are in holding and getting fatter – on the verge of getting too fat – because the beef packing plants that normally buy from him are reducing operations, he said.
"We are going from bad to worse, real fast, " said Yahner, whose farm has been in the family for six generations.
While many businesses have been closed as a way to slow the spread of COVID-19, farmers, food manufacturers and grocery stores are tasked with continuing to provide what the government has called "life-sustaining" economic activity.
However, Yahner said Monday that he was told by buyers of both JBS and Cargill beef processing companies that they wouldn't buy his steers. JBS is reducing operations in Pennsylvania amid the pandemic, and Cargill has shifted operations due to demand.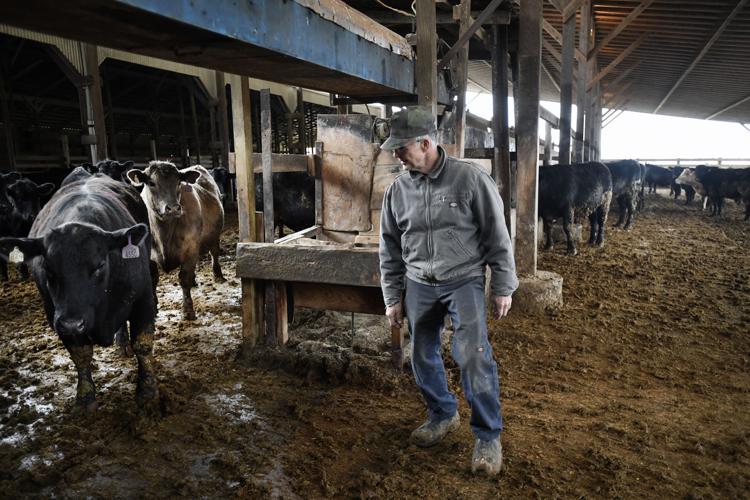 JBS responded with an email statement: "The JBS Souderton, Pa., beef production facility has temporarily reduced production because several senior management team members have displayed flu-like symptoms. ... We anticipate the facility will return to normal operations on April 14. ... We thank our team members and everyone who is helping to keep food on tables during this challenging time."
Yahner said holding his crop of steers longer makes it more likely that he'll lose money. It costs more to continue feeding those steers, and the fatter they get, the more likely they will receive a discount price rating from the USDA when they are sold to the slaughter – whenever that may be.
Cargill spokesman Daniel Sullivan said his company's processing plant in Bradford County shifted production to more ground beef to meet COVID-19 demand in grocery stores. That means there is less production of premium beef products that come from steers such as the ones Yahner has raised, though he couldn't speak to Yahner's situation specifically.
"Holy cow, here I am worse off than I was this morning," Yahner said. "At least I thought I'd be able to move cattle. It's bad. It's scary. If I'm in that boat, that means cattlemen all over are in it."
Yahner and his brother, Rick Yahner, operate the family farm. They "feed and finish" 400 to 500 steers annually.
The brothers sell cattle to processors where, Yahner said, thousands of employees slaughter thousands of cattle and cut beef to be sold in grocery stores across the East Coast.
But it's not the farmers, food distributors or grocery stores who make more profit from the increased demand in times like this, Yahner said.
'All about production'
Prices for food he said, really start at the processing plants that buy farmers' animals and add value by cutting them into portions, he said.
Distributors and grocery stores mark up the price to cover their costs, but margins are low, store officials said.
However, grocery stores often take criticism from customers who see price increases amid the pandemic, local grocery store officials said.
At grocery stores, anything perishable, anything used daily, anything that takes time to reproduce – beef and pork, especially – has increased in demand and become limited in supply, creating higher prices, said Gary May, director of sales and marketing for Ideal Market.
"Chicken supply has come back," he said. "Pork is limited. And beef is a long-term issue. It's all about production.
"People don't realize that two weeks ago, beef sales in the United States increased more than 70%. We are killing cattle at an alarming rate."
Whether it's beef or eggs, food prices at grocery stores follow the same principle as any other commodity, he said.
"When there is limited supply, it evokes a higher cost," May said, "and we as retailers get blamed for that. But we work on a low margin. We work on pennies on a dollar. It's a penny business."
'Depleted supplies'
At Market Basket in Richland Township, owner John Butler said not only are people panic-buying because of the COVID-19 outbreak, but they are becoming irritated with prices that he cannot control.
"There's been so much of a demand for eggs in the past couple weeks, it has depleted supplies," Butler said.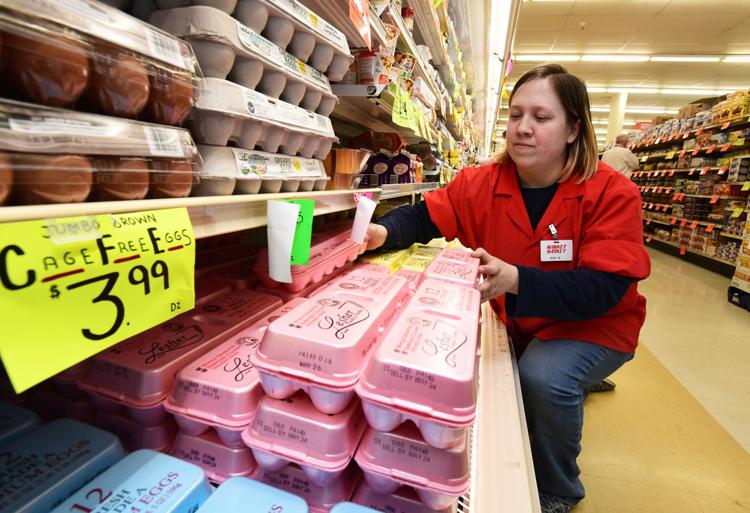 Butler said he was selling a dozen eggs for 99 cents prior to the pandemic. Now, he's buying them from his farmer that supplies him for more than $2.50 a dozen.
The mark-up or the amount he adds to cover overhead, however, has stayed the same, he said.
"Some of these people think I'm price-gouging," he said, "but if I buy it for 10% or 20% more, I will have to mark it up 20% more."
Distributors and their truck drivers are also part of the grocery supply chain that are seeing higher prices.
With a fleet of 65 trucks, Imler's Poultry, a food distributor based in Blair County since 1903, purchases large quantities of food from processors to supply stores in several states as well as local stores in Johnstown.
People 'stocked up'
Fred Imler senior, partner in Imler's Poultry, said he's never seen the price of eggs rise the way it has in the past couple weeks.
"We sell a lot of eggs to restaurants and retail stores across Pennsylvania and in five surrounding states, so we move a lot of eggs," Imler said. "They've gone up 40 cents a dozen in one week. I've been associated with the business for many years and I've never seen the price change that quickly."
He noted beef and pork products as other examples of grocery items that have increased in price.
"Ground beef has gone up $1.10 a pound over the last 10 days. Consumer hoarding created a shortage," he said. "Major retailers are very limited. There's very little meat there."
Once demand goes down, Imler said, the price is going to level off. However, he said he thought demand would have gone down by now.
"People have stocked up so much that I thought they might have slowed down already," he said, "but our demand from our stores across the state and states at the end of last week indicates demand is still very heavy."
'No one is driving'
At the farm, as Yahner continues to feed his cattle and wait for processing plants to pick up again, there's more for him to be concerned about.
He's also in the grain business, and the demand for corn is down.
"We, like many farmers around here, sell corn to the ethanol plant in Clearfield County," he said. "No one is driving, there's no demand for gasoline, so they are paying less for corn.
"It's another nail in the coffin."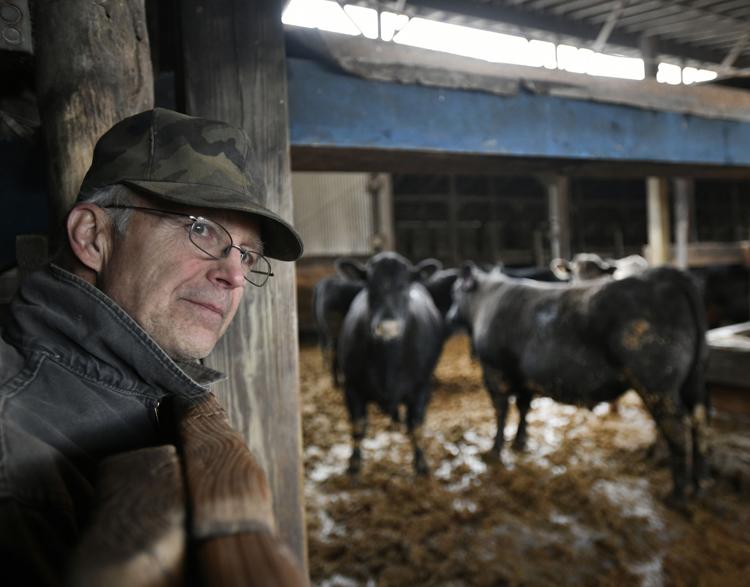 Pennsylvania Grain Processing in Clearfield County reduced its grind rate by 10% in response to uncertainty in the gasoline market, said Brian Kelly, the plant's corn buyer.
"As with the rule of supply and demand, price for corn has weakened," Kelly said. "We were paying farmers at the beginning of the month $4.40 to $4.50 a bushel. Now, we are paying $4.01."
However, Kelly said the plant has begun to sell ethanol to a different market – one that has been affected positively by the coronavirus.
"We've had interest for ethanol to be used in hand sanitizers as restrictions have been lifted on that," he said. "We have sold some to that market, which is a positive benefit."
The plant may be selling ethanol for hand sanitizer for few months, he said, while waiting for gasoline usage to increase.
"We are anticipating, once we get back to normal and people get back to work and driving around, that demand will rebound," he said. "The question is: When will all of that happen?"