Ohio is restricting liquor sales to out-of-state residents in counties bordering Pennsylvania.
Ohio Gov. Mike DeWine made the decision Monday to only sell beer and wine to out-of-state residents to prevent Pennsylvanians from coming into the state with the sole purpose of purchasing hard liquor. The order is designed to discourage traffic and help prevent the spread of COVID-19, an illness caused by the coronavirus.
The restrictions may create a sense of safety for Ohioans, but for thirsty Pennsylvanians, last call was at 2 p.m. Monday.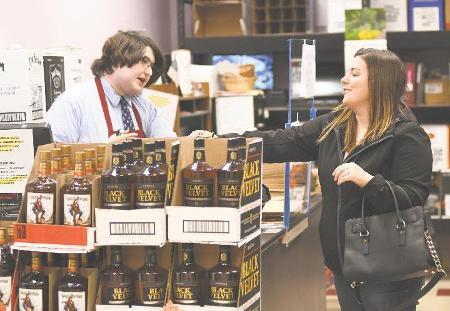 "Pennsylvania residents have been lining up to buy liquor right up until we hung the sign in our store," said Brian Lane, store manager at the Andover Sparkle Market. "A lot of these people are our regular customers and now we have to turn them away."
The news is better for stores like The Hanger in Jefferson, which only sells beer and wine.
"The restrictions do not affect us," said Steve Mihely, owner.
Stores in Ashtabula, Belmont, Columbiana, Jefferson, Mahoning and Trumbull counties are permitted to sell hard liquor only to Ohio residents. All of those counties border Pennsylvania or are split from Pennsylvania only by the West Virginia panhandle.
Sale of liquor to a person with a valid non-Ohio photo ID will only be allowed with additional information showing that the person resides in the state, including mail with the person's name and Ohio address on it, a bill with the person's name and Ohio address on it or a letter from an employer placing the person in Ohio as an essential employee.
DeWine's order comes less than two weeks after Monongalia County in West Virginia barred out-of-state residents from buying liquor. Two other West Virginia counties followed suit.
It also comes amid issues with Pennsylvania's online liquor sales, which began April 1. Pennsylvania Gov. Tom Wolf closed brick-and-mortar liquor stores on March 17 in an effort to stop the spread of COVID-19.