Just as so many of the area's student-athletes were disappointed when the PIAA shut down the spring sports season, I too, was crushed, especially when I realized that I would be among those that will miss my end-of-the-season pilgrimage to Seth Grove Stadium at Shippensburg University for the PIAA Track and Field Championships.
I have been making that late May trip since 2003 and have seen hundreds of podium-finish performances, dozens of top three contenders and my share of fantastic golden moments from so many of our area athletes in that time span.
In total, I have seen 17 area individuals and two Central Cambria girls 3200-meter relays win gold medals. Javelin has been the most prolific event with three throwers claiming gold.
I also had a string of nine straight seasons from 2003 to 2011, where there was at least one gold medal victor, and in 2007 I covered four, the most I've ever had in a championship weekend.
The focus of this first installment of three is the single-medal winners who earned their spots at the top of the podium.
• In 2003, Ligonier Valley senior Caleb Hood delivered the first gold-medal performance that I saw, winning the 300 hurdles race by holding off Jim Ross of Dunmore.
• Westmont Hilltop's David Mock and Forest Hills's Jake Strayer, both seniors, had been running neck and neck throughout the entire track season in 2004 building up to the finale.
Mock had beaten Strayer at the West Central Coaches Meet and the District 6 event, so it was not a huge surprise that the two were battling it out for the top spot in the 3200 final.
Mock, who had won the 2003 cross country crown, prevailed over Strayer to capture the title.
• In 2005, Windber senior Nate Kiss won the 110 hurdles final the hard way.
Kiss finished fourth in the preliminary round and held on for eighth in the semifinals, putting him in Lane 1, right by the outside fence, for the finals. Ideally, the top runners are in Lanes 3 and 4.
But the Ramblers hurdler came out with purpose in the final, and won with a time of 14.64, just ahead of Valley's Toney Clemons (14.74). Kiss joined his older brother, Jeff, who had captured the hurdles crown in 2002.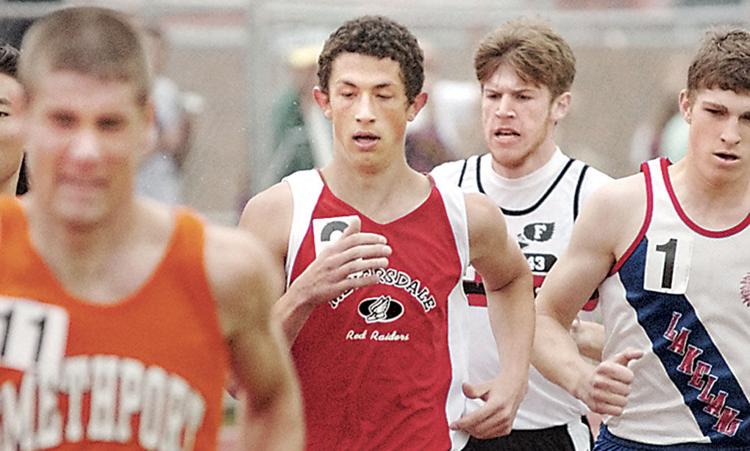 • Junior Mike Podlesnik running for Meyersdale, but hailing from the tiny school of Salisbury-Elk Lick, surprised the 2006 field of competitors by winning the 1600 run.
Podlesnik, one of just five runners to have a state qualifying standard time, entered the competition as the third seed and outdueled Kutztown senior Josh Neyhart to win in 4:18.64.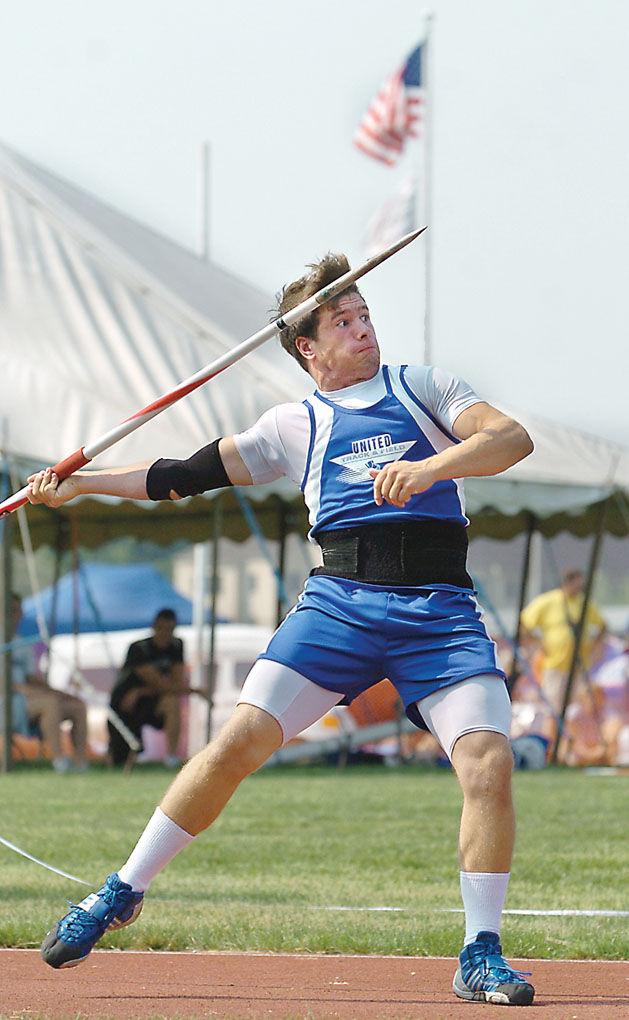 • In 2007, United junior Eric Skedel fought through his frazzled nerves to win the javelin competition with a throw of 198 feet, 10 inches.
"I was sure happy," Skedel said after the awards ceremony. "I didn't have the best mark that I wanted, but I went out there and I got the title, so that's all I wanted. Everybody came out to watch us and I hope I made them proud."
During the competition, Skedel injured his elbow.
"After my second throw – I was so nervous and everything – my form was off and my javelin was real stiff, so I hurt my elbow just a little," he said. "It's not real serious. It should be OK. I never had so many nerves before. I think that's what threw me off some."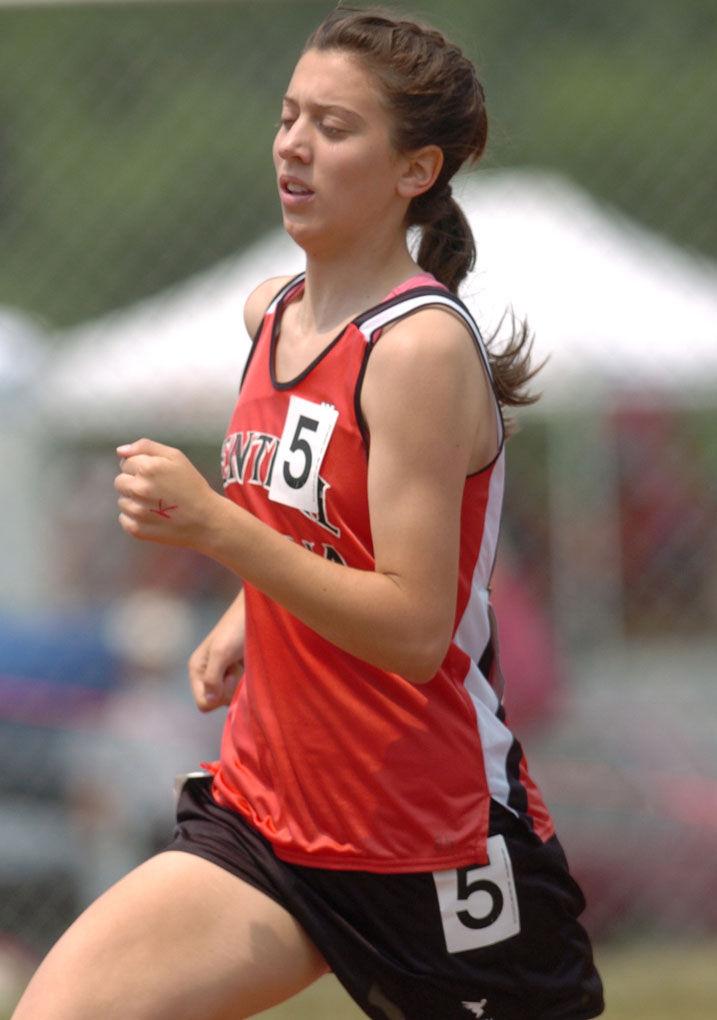 • The middle sister of the three running siblings from Central Cambria, junior Kelsey Seymour won the 2009 gold medal in the 1600 run.
Seymour pulled away down the front straight away to finish in a time of 5:01.89, while junior Kady Weisner, of Elk County Catholic, was second in 5:04.65.
"I felt this was the year that I could show everyone that I had state champion potential," Seymour said. "I built up my endurance a lot during the winter. I take the mental game from cross country to use in running this."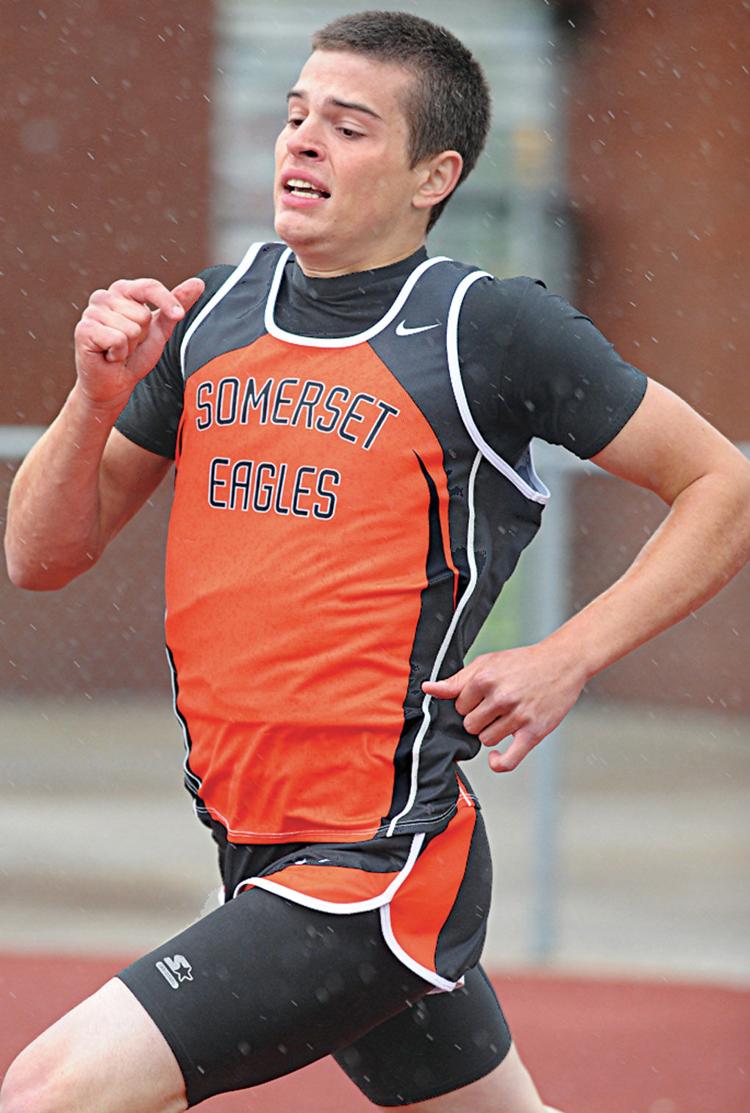 • In 2010, senior Kyle Younkin of Somerset made his second trip to the championships, winning the 400 meter race in a time of 48.03 to bring home the Golden Eagles' second state championship.
The website rodfrisco.com listed Kebbish – no first name given – as the A javelin champion in 1944, Somerset's only other winner up to this point.
"I came here planning to win this and had the confidence that I could because I was running real good at districts and at my conference meets and such," Younkin said after the awards ceremony. "I just came here with the mindset that I was going to come out on top.
"I'm really kind of overwhelmed and I'm tired. My legs are hurting a little bit, and it's really hot out here, but I'm really happy."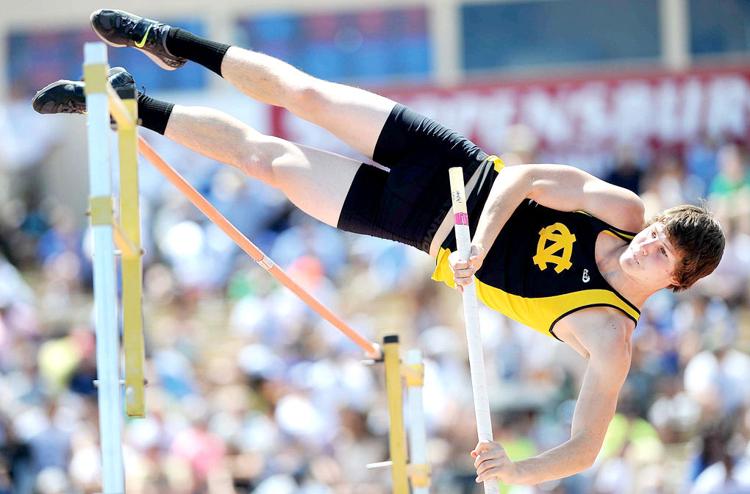 • Northern Cambria senior Gus Yahner had been raising the bar the entire 2014 season in the pole vault competition.
Yahner, the District 6 champion, entered the state competition as the top seed and left with the gold medal around his neck after being the first to clear 15 feet.
Second-seeded junior Chris Stone of Springfield, also hit 15 feet and finished second.
The Colts vaulter tied for sixth in 2013 at the PIAA championship meet.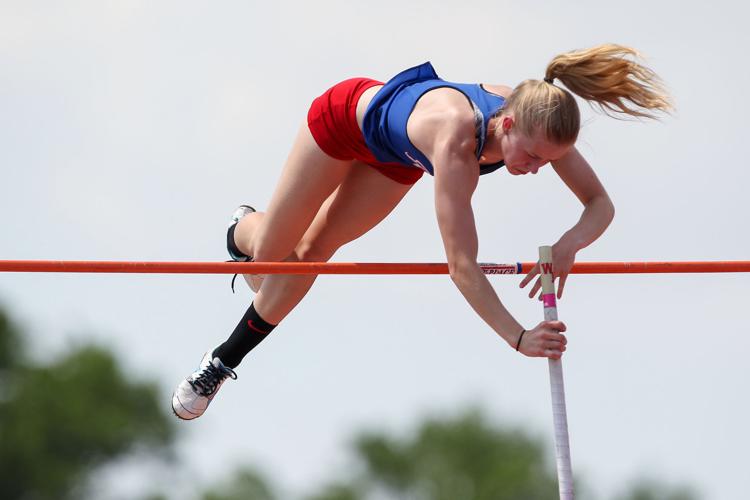 • In 2018, a pair of Richland athletes earned gold medals with senior Morgan Gossard claiming the title in the pole vault and senior Ethan Dabbs completing his journey in the javelin.
Gossard had lost her pole vault coach, Larry Layton, to pancreatic cancer in December 2017, and worked all season to get to the top of the podium, a dream of hers since she began vaulting.
She topped the field with a vault of 12 feet, 6 inches, a foot better than second-place finisher Kendall Grossman of Moniteau, accomplishing the feat with a pole that she borrowed from Westmont Hilltop.
"I wanted nothing more than to be able to come out here and end with a bang for my past coach," Gossard said after the medals ceremony. "It was honestly one of the best moments of my life so far."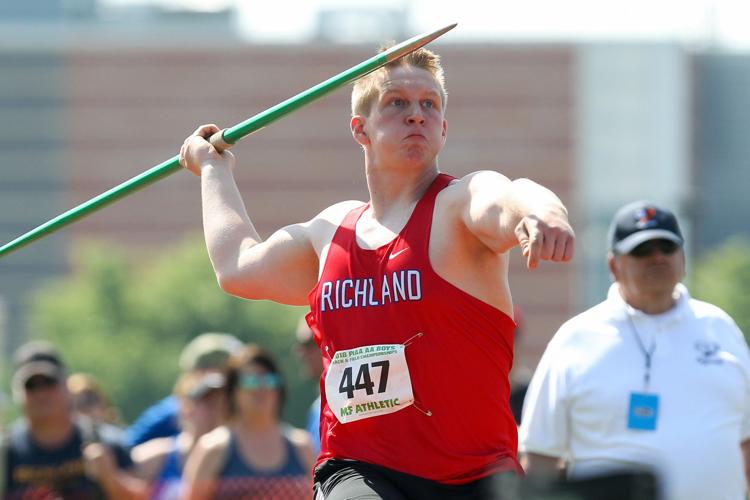 Dabbs was looking to overcome three years of frustration, when he had a career-best throw (at the time) of 217 feet, 6 inches for the win.
The Rams thrower was runner-up in 2017, was fourth when he was a sophomore and eighth as a freshman.
"It's been a long time coming," Dabbs said after the awards ceremony. "I don't even know how I feel right now. I feel amazing. This is the best feeling that I've ever had in my life so far."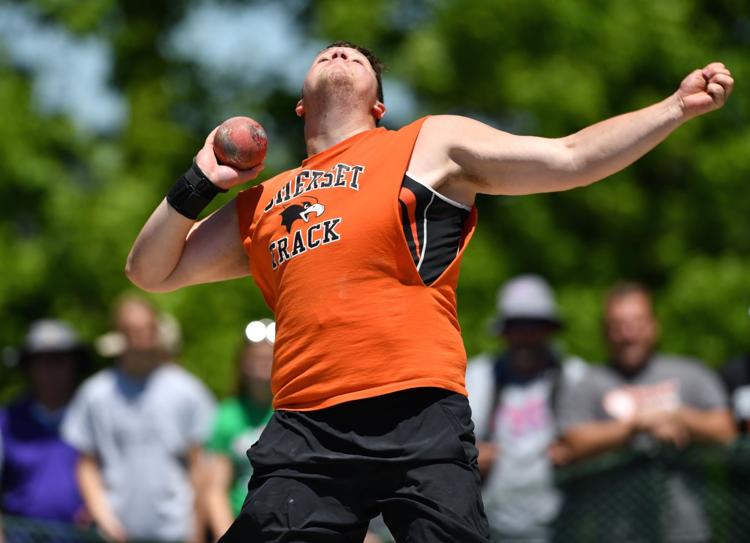 • Seniors Nickolas Hyde of Somerset and Maddie Murphy of Bishop Carroll both came into the 2019 competition as the top seeds and each won gold.
Hyde took the title in the Class AAA shot put while Murphy was crowned the Class AA triple jump champ.
Hyde, who was Somerset's third track gold medalist, had a winning throw of 65 feet, 6.25 inches, a personal best at the time. He was second in 2018.
"The competition was great," Hyde said after the podium ceremony. "They all came out and drove me and made me want to push and do better. It all came together at the right time."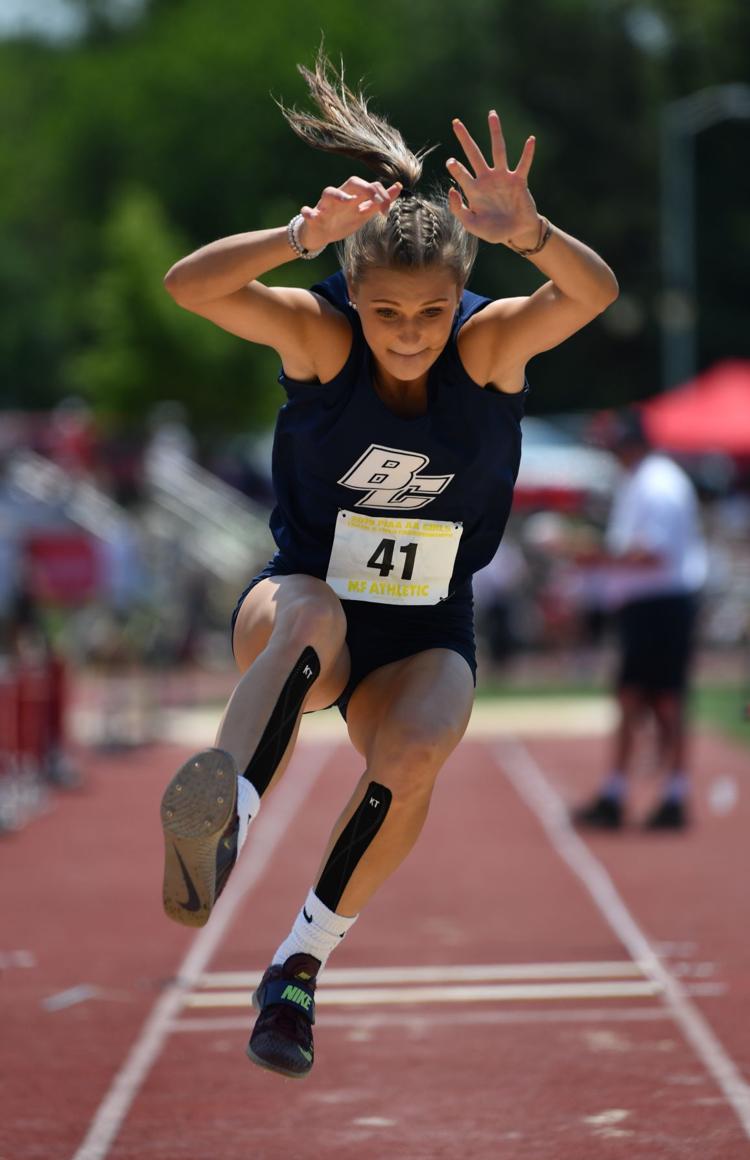 Murphy won with a jump of 37-10.75 to capture the first track and field gold medal in the history of the Ebensburg school.
"This is how I wanted to end my career," Murphy said after the awards ceremony. "I wasn't sure if I could coming in, but to finally get it feels really great."
Coming Friday: Twice as nice, the double winners.