As a man who spent four days trapped underground in 2002, John Unger might be considered something of an expert on miraculous rescues – and the perseverance it takes to survive.
But the Thomas Mills man – one of the famed Quecreek Nine – said he can only imagine what 12 Thai boys and their soccer coach experienced over the past two grueling weeks inside a flooded Mae Sai cave.
"Sixteen days trapped in there – that's a long time – way longer than what we went through," said Unger, 68. 
"I can only imagine how they felt. And they are just kids."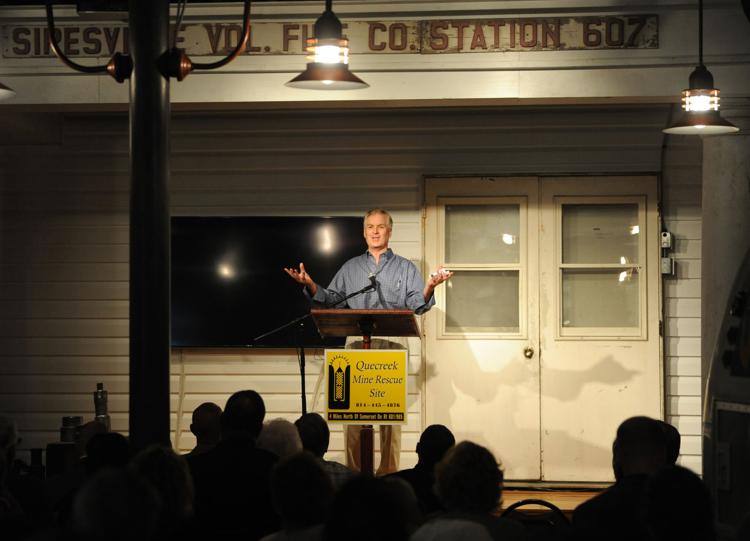 Unger and eight fellow miners spent 77 hours trapped underground inside a flooded deep mine after an accidental breach inside an adjacent, unmapped mine 16 years ago this month.
Much like this week in Mae Sai, Thailand, the Somerset County effort captured much of the world's attention and ended with celebrated rescues.
Former Pennsylvania Gov. Mark Schweiker witnessed the rescue with his own eyes in the summer of 2002, after spending most of four days on a tract of Somerset County farmland that turned into a rescue base.
This week, he found himself captivated once again as another heroic rescue unfolded 8,000 miles away. 
'Whatever it takes to survive'
Much like July 28, 2002, a mix of human perseverance and professional prowess led to a successful rescue operation, he said. No doubt, a little luck "and the lord" made a difference, too, Schweiker said.
"These boys had the fortune of having an intelligent team of divers who not only were able to find them, but navigate and create an exit route," he said. "To think that they were trapped inside a cave several miles from the portal ... and were able to swim their way to safety, there's probably a stroke of good fortune."
"Those kids," Unger added, "had to climb over rocks, swim underwater and crawl through the dark (over a span of) several miles."
Quecreek's rescuers, by comparison, "drilled 8,000 feet to get us," Unger said.
Survival instincts likely kicked in, sustaining the youth and their coach until they were able to escape, Unger said.
"It's something you cannot really explain unless you've been through it," Unger said. "Your whole body and your outlook just changes. You do whatever it takes to survive."
The trapped soccer players reportedly drank water from cavern stalactites to keep themselves hydrated.
'The odds they faced'
Schweiker said video footage last week of the boys still trapped in the cave will remain etched in his mind forever.
The children were dirt-covered and tired – yet smiling.
It was the face of renewed hope, he said.
It's the kind of emotions he remembers seeing on the faces of rescuers in 2002, after they drilled an airway into the Upper Kittanning coal panel where the nine miners had become cornered.
Until that moment, no one knew for sure if any of the nine miners had survived the July 24 breach.
Then came a tapping sound – nine precise sounds – on the metal air pipe that rescuers installed, letting the world know each of the men was still alive, Schweiker recalled.
"For 70 hours, we had no idea, and then that happened," he said. "It was enough to buoy everyone to keep going, to stay optimistic and to keep going," he said.
No doubt, there was a similar spark the moment those divers arrived in that Thai cave and found those youngsters alive, Schweiker added.
"Considering the odds they faced, something like that can make all the difference," he said.